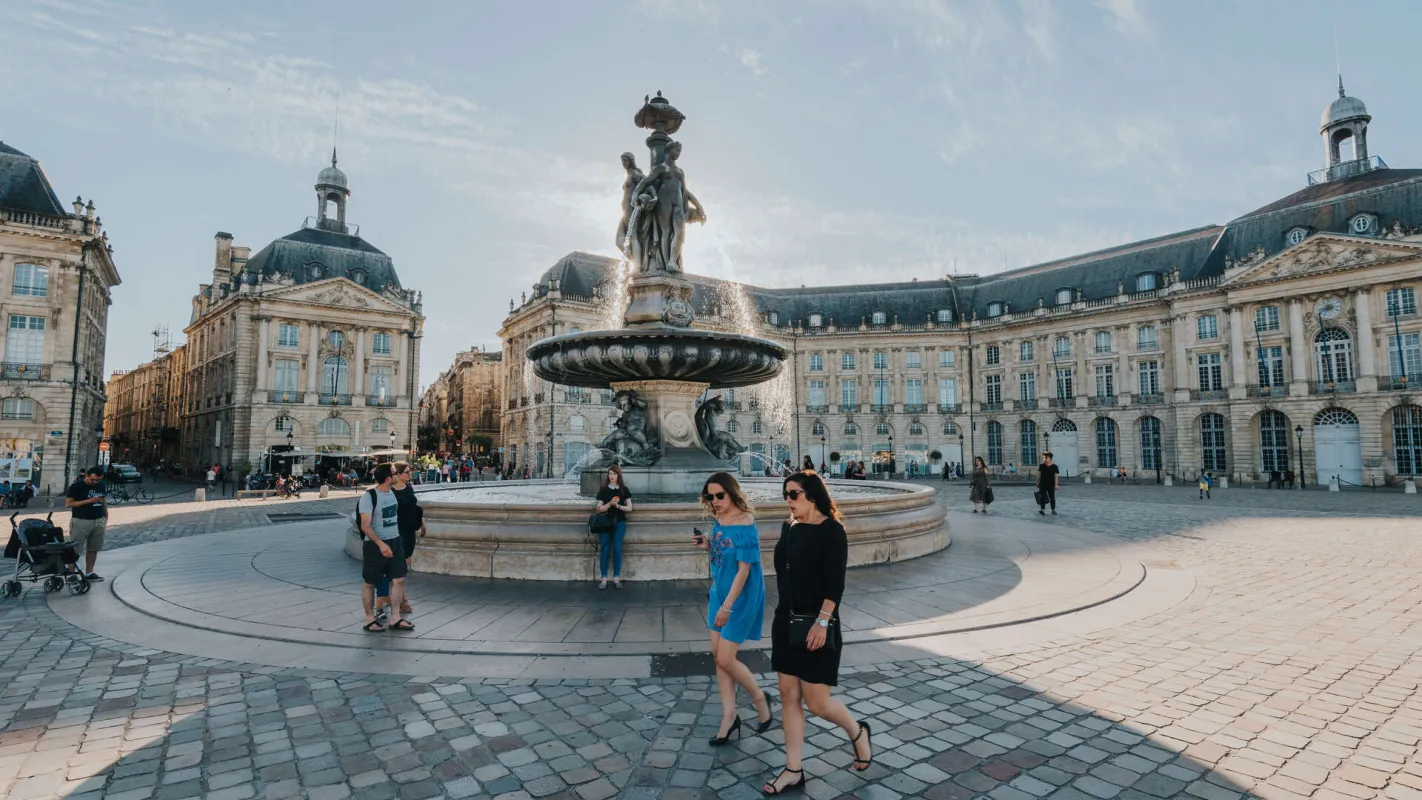 Walking through UNESCO-listed Bordeaux
Bordeaux cuts a fine figure, as evidenced by the city's classical and neoclassical architecture, which has dazzled for over two centuries. It was in recognition of the value and unity of the Gironde capital's 18th-century heritage that Bordeaux was awarded a place on UNESCO's prestigious World Heritage List in 2007. Far from resting on its laurels, the city has kept up this momentum through the urban project initiated in 1996 by the former mayor, Alain Juppé. Since then, the metropolis has undergone a transformation, revealing its charms for all to see.
Easy
5 km
3 H
In the city center

À pied
Today, Bordeaux is home to more than 350 structures that are nationally or regionally listed Historical Monuments (Monuments Historiques), including three religious ensembles that have been World Heritage sites since 1998, listed in the Routes of Santiago de Compostela category. Bordeaux's originality in this respect is shown through the size of the UNESCO-listed perimeter: 1810 hectares in total, which equates to almost half of the city's surface area. Moreover, the entirety of the city of Bordeaux, including the zones that stretch beyond the "les boulevards" (the inner city ring-road) and eight adjoining communes form part of a zone whose heritage is officially recognised as "of cultural significance".
Follow the bronze markers that make up our designated route and explore Bordeaux from top to bottom. Throughout this itinerary, act as your own guide as you take in the sumptuous private mansions, impressive residences, monumental gateways and architecturally harmonious facades, which together prove the breadth of the great designs of Intendant Tourny and his successors. Off you go!

The Port de la Lune route has been awarded a disability label ("Tourisme et Handicap"), and the itinerary is available online or in brochure form from the tourist office.

Would you like to explore the historic heart of Bordeaux in the company of one of our guides? Find all our guided tours on visiter-bordeaux
BORDEAUX: A MONUMENTAL ENDEAVOUR
Walking through UNESCO-listed Bordeaux
Maison Gobineau
Allées de Tourny