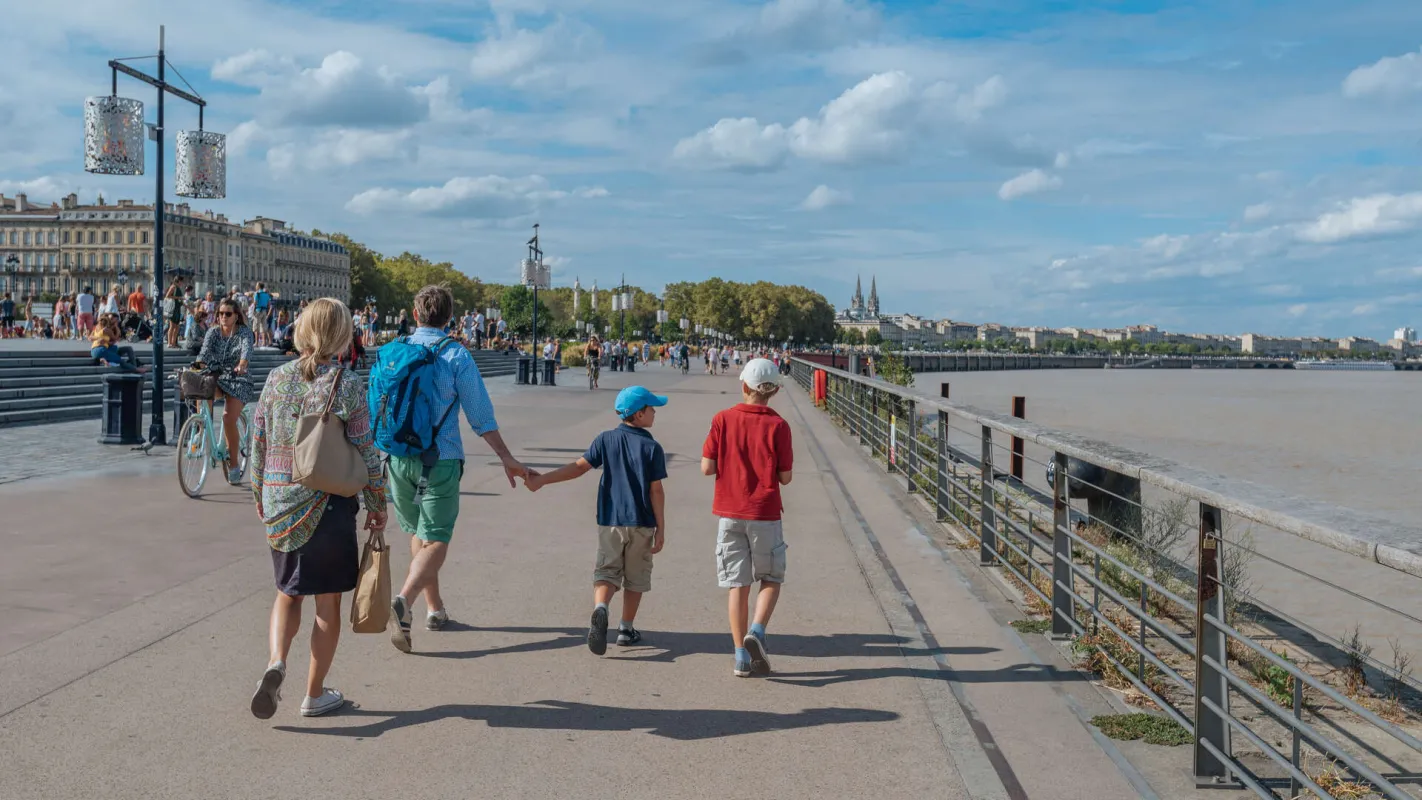 A weekend with the kids in Bordeaux
10km
2 giorni
Easy
In the city center
Bordeaux is a great city for children! From restaurants and museums, to historical architecture and many parks, the whole family can find its place in the streets of this city, filled with activities and outings for the kids. Here is how to discover Bordeaux with your family over a weekend.
Saturday
Morning
Day 1 / Morning
1
In the city center, many restaurants offer breakfasts catered to the whole family. OURS, Melle Simone and la Douce Parenthèse are all great spots to eat locally in a charming setting.
2
Next, head towards the Tourney alleys so as not to miss the departure of the little train. An electric locomotive, it will let you tour the city in a fun and ecological way! For 45 minutes, admire Bordeaux's historical center without tiring out the little ones' legs.

Allées de Tourny
3
Now it is time to picnic. Head back to Grands Hommes square, where you'll find everything you need for filling your basket. Next, it's off to the Public Gardens where you can spread out the picnic blanket and let the children enjoy the park's playgrounds.

Public garden
AFTERNOON
Day 1 / Afternoon
4
For your afternoon, what could be better than an imaginary pedestrian race for the little ones? Starting point: Bordeaux World Heritage, Place de la Bourse, from which little robins' trails will guide you through Bordeaux's ancient districts and unmissable monuments.

Place de la Bourse
5
For a typical Bordeaux snack, Pascal's is the spot to try "white dunes", a sweet and surprising specialty! Or for young food lovers, opt for an ice cream from "la Maison du Glacier" in Saint-Pierre Square, Bordeaux's reigning expert on the subject.
6
Afterwards, return to the quays and enjoy dipping your toes in the Miroir d'Eau, a work of art whose primary object is to reflect Place de la Bourse's beauty, but is also a blast for the kids to splash around in!
7
Finally, head to Bordeaux's right bank by following the quays towards the Pierre Bridge. Cross over as you admire the sunset glimmering over the left bank's white buildings! Continue walking through Angéliques Park where at last you can end your day at Chez Alriq, an open-air café and dance hall on the river's edge with a joyous, musical, and colorful atmosphere that's sure to delight the whole family! A playground is even set up for little ones.
Sunday
MORNING
Day 2 / Morning
1
Why not spend the day on a bicycle? Known for its many bike paths, Bordeaux is a cycle-friendly city. The Pierre Bridge, for example, is exclusively reserved for bikes. You can rent a VCUB (city bike) if the children are big enough or else seek out a bike rental shop.
3
Next, head to Stalingrad Square's boat launch and climb aboard a Bat3. For the price of a tramway ticket, you can sail across to the left bank (bikes are allowed on board).
4
Debark in Chartrons and enjoy the market on the quays (open until 2:30pm), the skate park, and the childrens' playground. Next, head to Pey Berland Square (via Quinconces Square, Cours de l'Intendance, and finally Vital Charles street) and admire Bordeaux from above by climbing up Pey Berland Tower!

5
The many markets are sure to have made you hungry. It's time to settle in at one of the square's restaurant terraces where the young ones can run around after their meal.
AFTERNOON
Day 2 / Afternoon
6
Next it's on to the Aquitaine Museum, or Museum of Decorative Arts and Design, depending on your interests. Both museums offer special tours for children.
7
Now it is the long-awaited snack time! Time to taste THE Bordeaux specialty at the Toque Cuivrée (Saint-Projet Square): the famous canelés. To enjoy them, head back to Camille Jullian square. Here, the children can safely stretch their legs around the central statue while you sip a glass at one of the square's many outdoor patios.