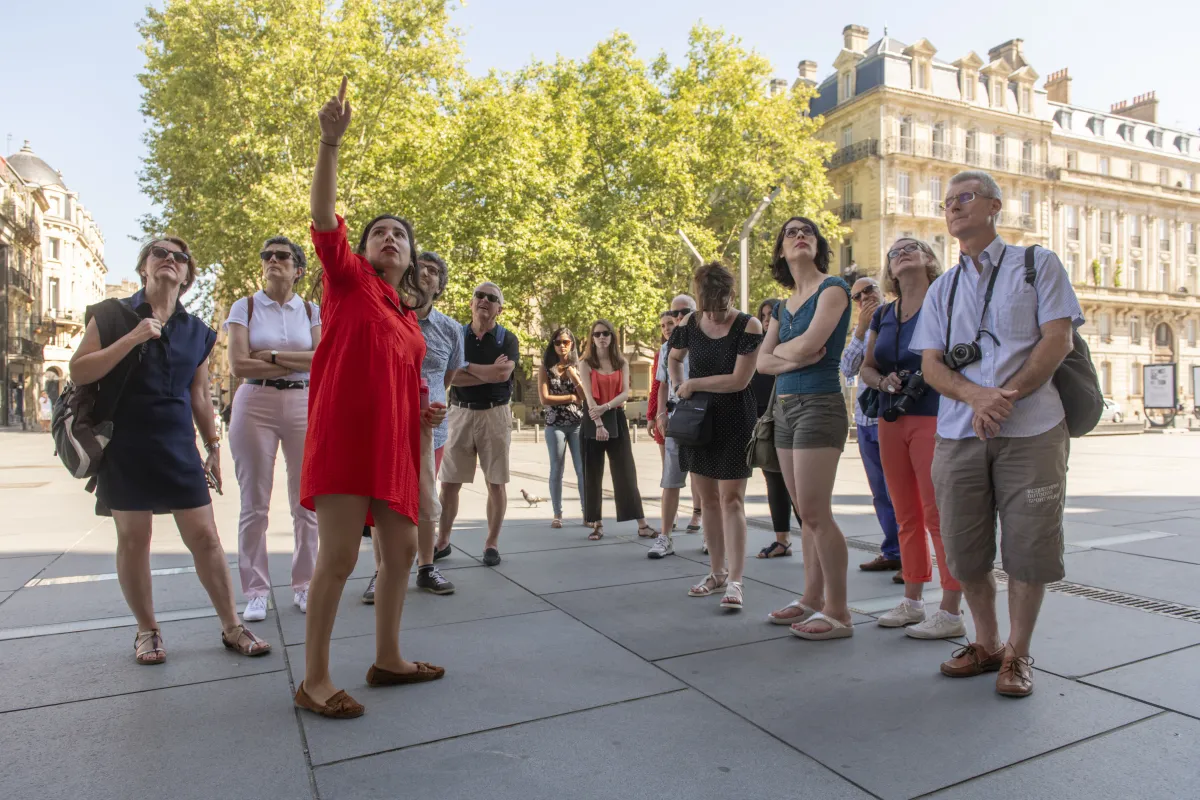 PROFESSIONALS & GROUPS : LET US GUIDE YOU !
Discover the wonderful Bordeaux World Heritage site, recognized by UNESCO, as well as its attractive lifestyle: 18th century urban design, architecture, the importance of the river throughout history, the city's contribution to the development of ideas, and its place in history.
Explore the city's exciting, contemporary districts! Imagine Bordeaux 2030 and the major projects to be delivered.
Walking, with a bicycle, by coach, on a boat, open-top bus...
Our guided tour service will help you devising a tailor-made program, in French, English, German, Spanish, Italian, Russian, Portuguese, Dutch....
All our guided tours are headed by professional guides, holding the official guide card.
We invite you to a delightful discovery of Bordeaux!
BORDEAUX, THE UNAVOIDABLE
Discover the historic city centre with a knowledgeable guide. The guided walking tour includes some of the city's most remarkable 18th century architecture, as well as the highlights of the UNESCO World Heritage area.
A panoramic guided tour which offers you a panorama of the architectural trends of the city from the Middle Ages to the present day.
A full day program : in the morning, start with a city tour, and during your walk, why not adding a tasting of local delicacies (wine, cheese, oysters, Aquitaine caviar, chocolate, cannelé cakes...); after the lunch, carry on your visit with the guided tour of a museum or a monument -different options-, and the further discovery of Bordeaux's heritage, or choose a boat trip.
Do not hesitate to contact us !
SOME SUGGESTIONS OF GUIDED TOURS
EXPLORING THE SURROUNDINGS
The gateway to the vineyards
We provide tours of one of the most prestigious vineyards in the world, customized to delight wine lovers and connoisseurs, as well as people looking for a relaxing outing. An invitation to taste the infinite nuances of Bordeaux wines in châteaux known for their remarkable architecture.
A few ideas:
Wine and heritage in Saint-Emilion,
The Médoc, prestigious home of Great Growths,
The Graves vineyards, on the outskirts of Bordeaux,
From the Médoc to Bourg and Blaye region, the vineyards on both banks of the river,
L'Entre-deux-Mers, between historical castles and châteaux,
The Sauternes wines, so sweet !
Escape to the Arcachon's Bay
The Arcachon's bay is a fascinating world with multiple landscapes: oyster ports, sandy beaches, pine forests, a famous peninsula and the highest dune in Europe. Its towns and villages, Arcachon, Gujan-Mestras, Lège-Cap Ferret... invite you to discover their many attractions in an enchanting setting.
If you wish to:
Book a guide, a tailor-made tour,
Organize a program for your group,
Arrange customized transport,
We will be happy to help you !
CONTACT
Caroline GUERIN, Emilie BOUILLON, Camille BARDINET, Catherine DEJARDIN
groupes@bordeaux-tourisme.com / + 00 33 (0)5 56 00 66 12
Opening hours: Monday to Friday from 9.00 am to 1.00 pm and from 2.00 pm to 6.00 pm
BROCHURES & TOOLS