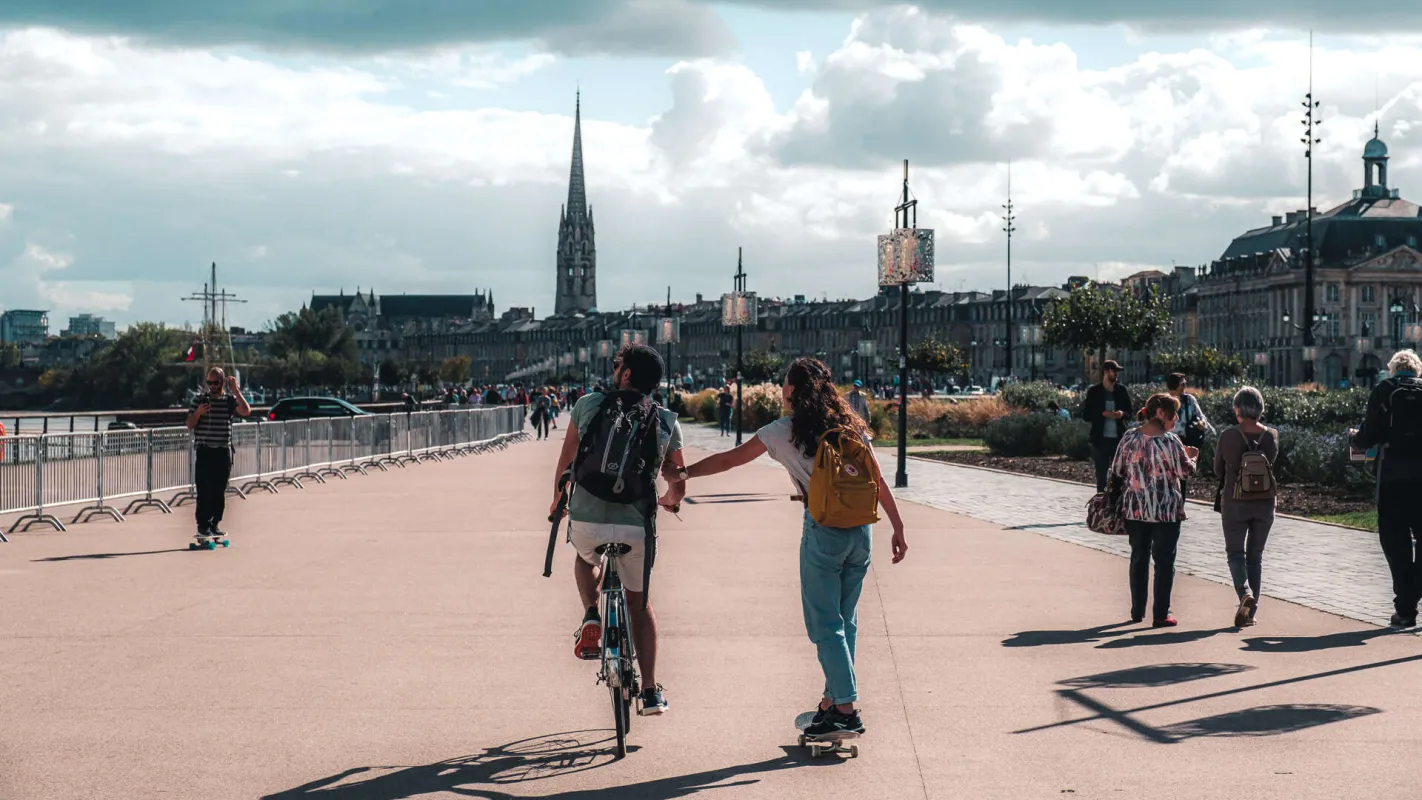 The left bank quays overlooking the Garonne
A walk along the river will put you in touch with Bordeaux's 2,000 year-old history as a port city.
THE LEFT BANK QUAYS
The quayside in Bordeaux is one of the most magnificent waterfronts in the world thanks to beautiful 18th century façades lining the river and numerous listed historic buildings. They are the heart of an outstanding urban ensemble designated a World Heritage Site by UNESCO in 2007.
This part of the city with its various facets is defining a new lifestyle for the entire Bordeaux area. The lawns, parks, and gardens along the Garonne have become great places to take a walk, ride a bike, go shopping or simply relax and enjoy oneself.
The Saint Michel sports park and the skate park are great places to enjoy a little exercise in a unique setting. The Miroir d'Eau reflecting pool across from Place de la Bourse has several children's play areas and illustrates the quays' fun and magical atmosphere.
QUAI DES MARQUES
Weekend shopping? This is the ideal place to go shopping with the family... and also to enjoy a drink on a café terrace overlooking the Garonne, weather permitting!
Everything here is open on the weekend: 33 boutiques, 13 restaurants, cafés with outdoor tables and deck chairs, a merry-go-round, ice cream parlour, etc. This is definitely where to go for an enjoyable weekend. The Bordelais know a good thing when they see it – and how can one resist "factory outlet" prices right there, on the banks of the Garonne?
All brands are sold at unbeatable prices. The Quai des Marques slogan is "It's chic to spend less"! It's convenient to go there too, because there's a car park and tram stop nearby. And as if this were not enough, the fine view of the majestic Jacques Chaban-Delmas bridge alone makes it worth coming here. People who are not into shopping can also enjoy brunch at an outdoor café all year long.