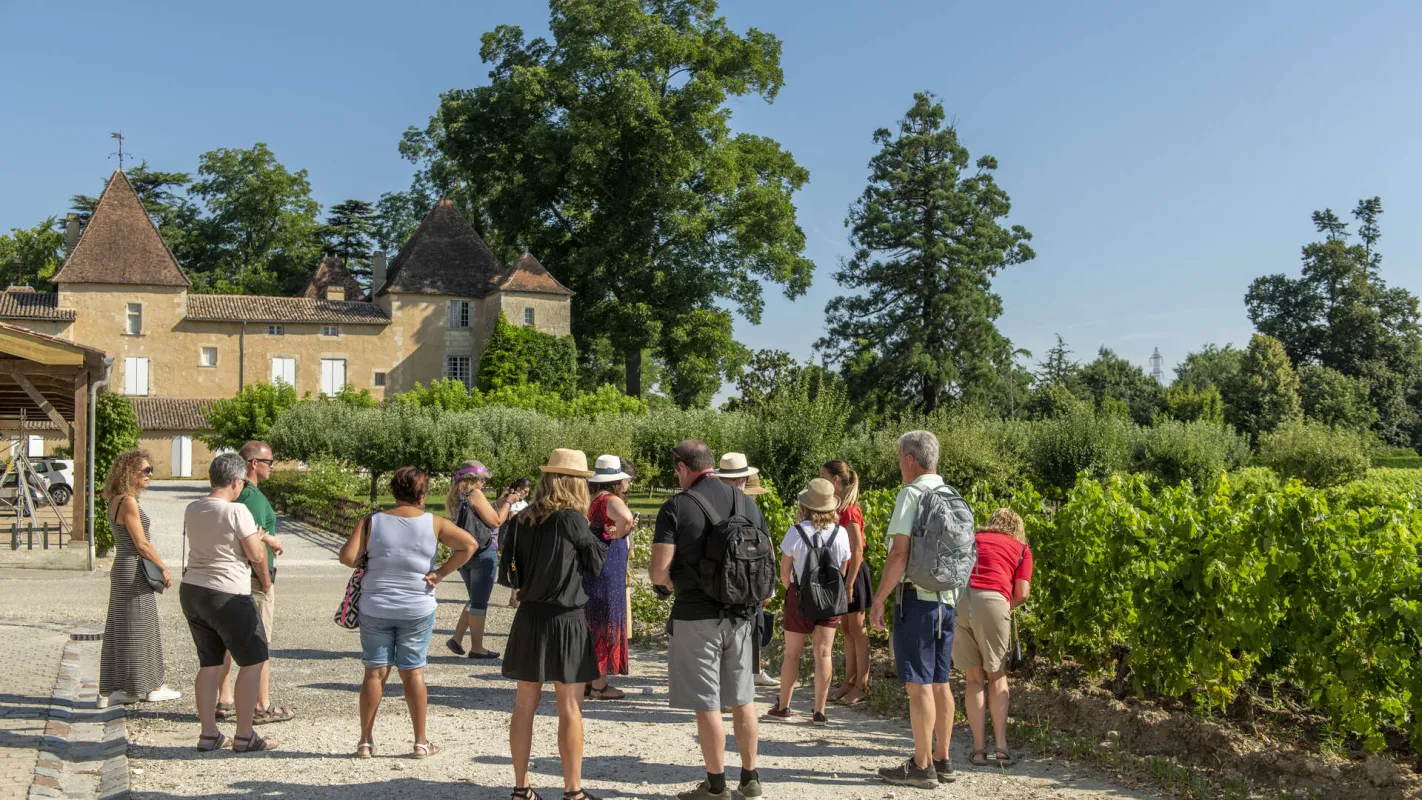 Welcome to the Château
Its name is beautifully calligraphed on the label of the wine bottle. Though it does not necessarily have turrets, the "chateau" is always an AOC winegrowing estate. Apart from that, what else do you know about châteaux? All you have to do is knock at the cellar's door! Many proud and passionate estate owners offer day tours, fun games and activities, or unusual tasting sessions. An excellent way to discover their profession and their unique terroir. Keen to join the visit?
Enjoy a wine tour with friends
A perched tasting session at Château Rayne Vigneau!
Enjoy a 1er Grand Cru Classé de Sauternes from the top of a tree! A professional will supervise the climb to the top of a bicentenary cedar tree. Once at the top, contemplate the breathtaking view of the Sauternes vineyard and the Ciron valley. This unusual setting reveals itself to be an excellent spot to taste an intensely fresh wine with a long finish.
From 7 years old (no tasting for minors)
Château de Rayne Vigneau
4, Le Vigneau, Bommes
+33 0 5 56 76 64 05
Learn more
A tasty treasure hunt at Château Bardins
Une activité de plein air à découvrir en famille ou entre amis dans l'univers Bucolique du Château Bardins. Après avoir formé deux équipes, munis d'un plan et d'une feuille de route, vous êtes invités à un jeu de piste privatif à travers le vignoble et les bois. De belles surprises gustatives et culturelles vous attendent ! Après l'effort, le réconfort, une visite des caves suivies par une dégustation des Pessac-Léognan Blanc sec et rouge ou du jus de raisin bio, maison. L'équipe gagnante repart avec une bouteille de vin ou un pot de miel maison, à vous de choisir !
Enter the bucolic world of Château Bardins and enjoy an outdoor activity with family or friends. After having formed two teams, each in possession of a map, take part in a private treasure hunt through the vineyard and the woods. An array of tasty surprises await! After the hunt, enjoy a well-deserved visit of the cellars followed by a tasting of Pessac-Léognan dry white and red wine or home-made organic grape juice. The winning team can choose to go home with a bottle of wine or a homemade honey pot!
Château Bardins
Chemin de la Matole, Cadaujac
Learn more
Discover the châteaux of Bordeaux with the whole family
Become an apprentice winemaker at St Emilion!
At Château Cormeil-Figeac, children aged 3 to 15 years old can take part in a fun workshop to discover the vines and the winemaking process. The children will go into the vineyards to harvest grapes, leaves, stones and will learn about the roles of each element. They will also learn how to taste grape juice like pros, they will paste labels on the bottles, and cap them. Meanwhile, parents will have a chance to taste two different wines produced at Château Cormeil-Figeac.
Château Cormeil-Figeac
Saint-Emilion
(+33) 05 57 24 70 53
An interactive treasure hunt at Château d'Agassac
Equipped with an audio and video iPad, the little ones will try to free Princess "Etoile" imprisoned for centuries in a turret of the Château... Meanwhile, adults will have the opportunity to learn more about the wines and the history of the Château, which dates back to the 13th century. After the game, enjoy a picnic (to be booked in advance) in the shade of the century-old trees in the park of the Château offering superb views of the ancient fortress.
Château d'Agassac
15, rue du Château d'Agassac LUDON-MÉDOC
(+33) 05 57 88 15 47
Learn more
A romantic tour of the chateaux
Stroll in the vintage garden of Château Larrivet Haut-Brion
It all started with a flower created at the request of the owners of the Château, homage to their three daughters. This is how the rose "Les Demoiselles de Larrivet Haut-Brion" was born. In 2015, scenographer and landscape designer Soline Portmann was invited to craft a garden dedicated to the world of wine. A unique garden that one could "appreciate just as one appreciates a good wine". This beautiful installation of red-painted sticks is reminiscent of vine shoots. The colours evoke the "different shades of wine, according to their vintage and cycle of ageing": from white to yellow for the white wine, and from dark red to rust-coloured for the red wine. You can visit the château alone or with a guide. The tour ends with a tasting session.
Château Larrivet Haut-Brion
84, avenue de Cadaujac, Léognan
+33(0)5 56 64 75 51
Learn more
An ampelographic bicycle ride at the Château Marquis de Terme
This scholarly term refers to the science of grape variety identification. It is indeed a precious science since all Bordeaux wines are blends of several grape varieties. In the vineyards of Chateau Marquis de Terme, you will learn to distinguish the rows of Cabernet Sauvignon, Merlot, and Petit Verdot during a guided bike ride among the plots. You will then be invited to visit the château (the fermenting rooms and barrel storehouses) and finally taste the different vintages of Château Marquis de Terme, accompanied by local treats (sweet or savoury depending on your taste).
3 route de Rauzan, Margaux
tourisme@chateau-marquis-de-terme.com
+33 (0)5 57 88 30 01
Learn more