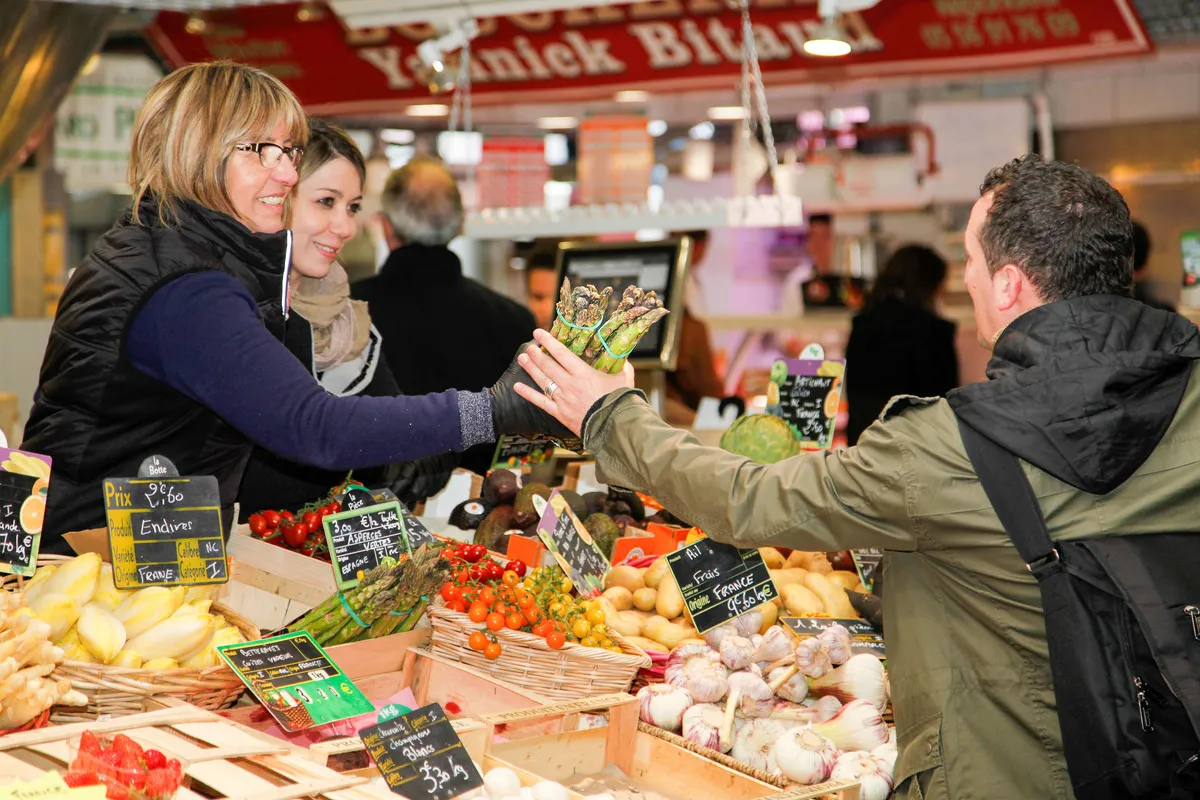 The markets of Bordeaux Métropole
Because all good things must end with food, Bordeaux and its metropolis will fill your basket with fresh and local produce in no time. A treat for the eyes and the taste buds, forget about restaurants for now! A place for visitors and locals to come together, the markets offer a multitude of flavours to enjoy on the go or to take away. By browsing the stalls, you'll experience an explosion of colour, taste local flavours and immerse yourself in the typical Bordeaux way of life. Order a seafood platter from Chez Jean-Mi, head to the outdoor market of Les Chartrons to enjoy some oysters from Arcachon Bay with a view over the Garonne river, stroll through the Halles de Bacalan indoor market opposite La Cité du Vin. We will take you on a tour of the markets in the city and the surrounding area!
Outdoor Bordeaux markets
Quai des Chartrons Market 
It is one of the most popular (some even come here for the their Sunday jog), trendy and pretty markets in the city. And the view over the Garonne river will only confirm this further! The numerous stall-holders offer many possibilities, so you can find what you're looking for amongst florists, booksellers, crafts... And enjoy something to eat overlooking the most famous river in the south-west, with foodstuffs from here and elsewhere. 
Number of stalls: 70 

Quai des Chartrons, Bordeaux 

Sundays 7am - 1pm for food and 7am - 4pm for restaurants, crafts, flowers, etc.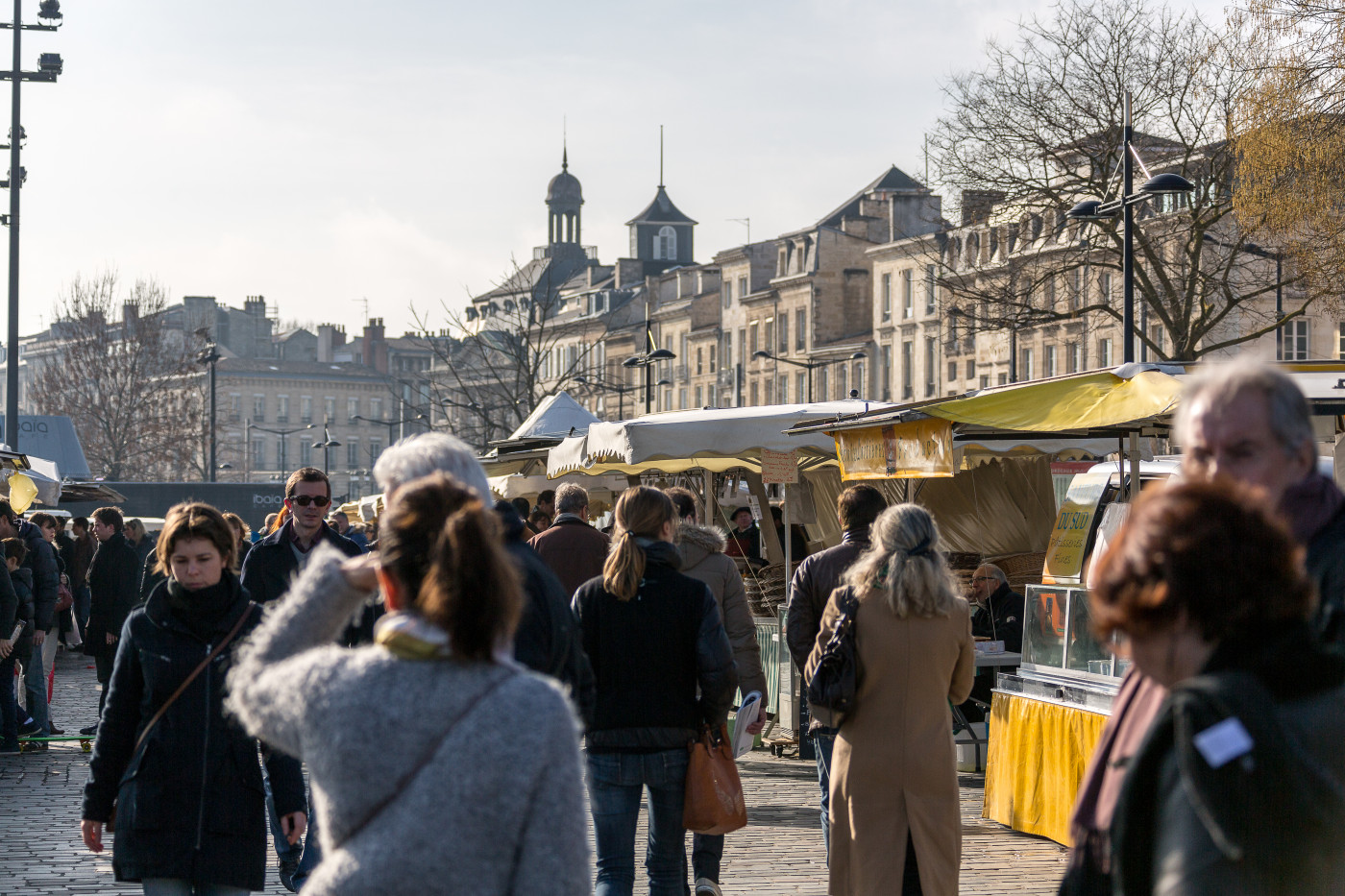 Saint-Seurin Farmers' market 
Once upon a time, there was an organic market on Place Lucien Victor Meunier. In 2018, it moved to Place des Martyrs de la Résistance and became the Saint-Seurin market. Every Friday morning, it brings together producers (organic or not) and lovers of good food. On the menu for your basket: fruit, organic vegetables, local produce, tastings and chattering beneath the shade of the plane trees! 
Number of stalls: 19 

Place des martyrs de la Résistance, Bordeaux 

Fridays 7am - 1pm 
Saint-Augustin Markets 
There's a new addition to the family! As well as the traditional Wednesday morning market of Saint-Augustin, a second session on Saturdays from 7am, which began 2021. A dozen or so traders, mostly local producers, will be delighted to welcome you with a smile, and make you drool with their selection of delicious products! 
Number of stalls: Around 12 

Place de l'Eglise Saint Augustin, Bordeaux 

Wednesdays 7am - 1pm and Saturdays 7am - 1pm (producers) 
Neuf and Royal Markets of Saint Michel 
Every week, visitors have the choice between the colourful delicacies at the Neuf market and all types of items at the Royal market. Crockery, trinkets, furniture, etc. A subtle mix of delicious smells (the promise of a sumptuous meal!) and pretty colours to brighten interiors. Since April 2022, the two events had to reschedule while the Flèche de Saint-Michel had a makeover. 
Number of stalls: 17 (Neuf) and 160 (Royal) 

Quai des Salinières, Bordeaux (Neuf) - Quai des salinières (non-food market) and Place Canteloup and Meynard (food), Bordeaux (Royal) 

Mondays 8am - 2pm (Neuf) - Saturdays 8am - 2pm (Royal)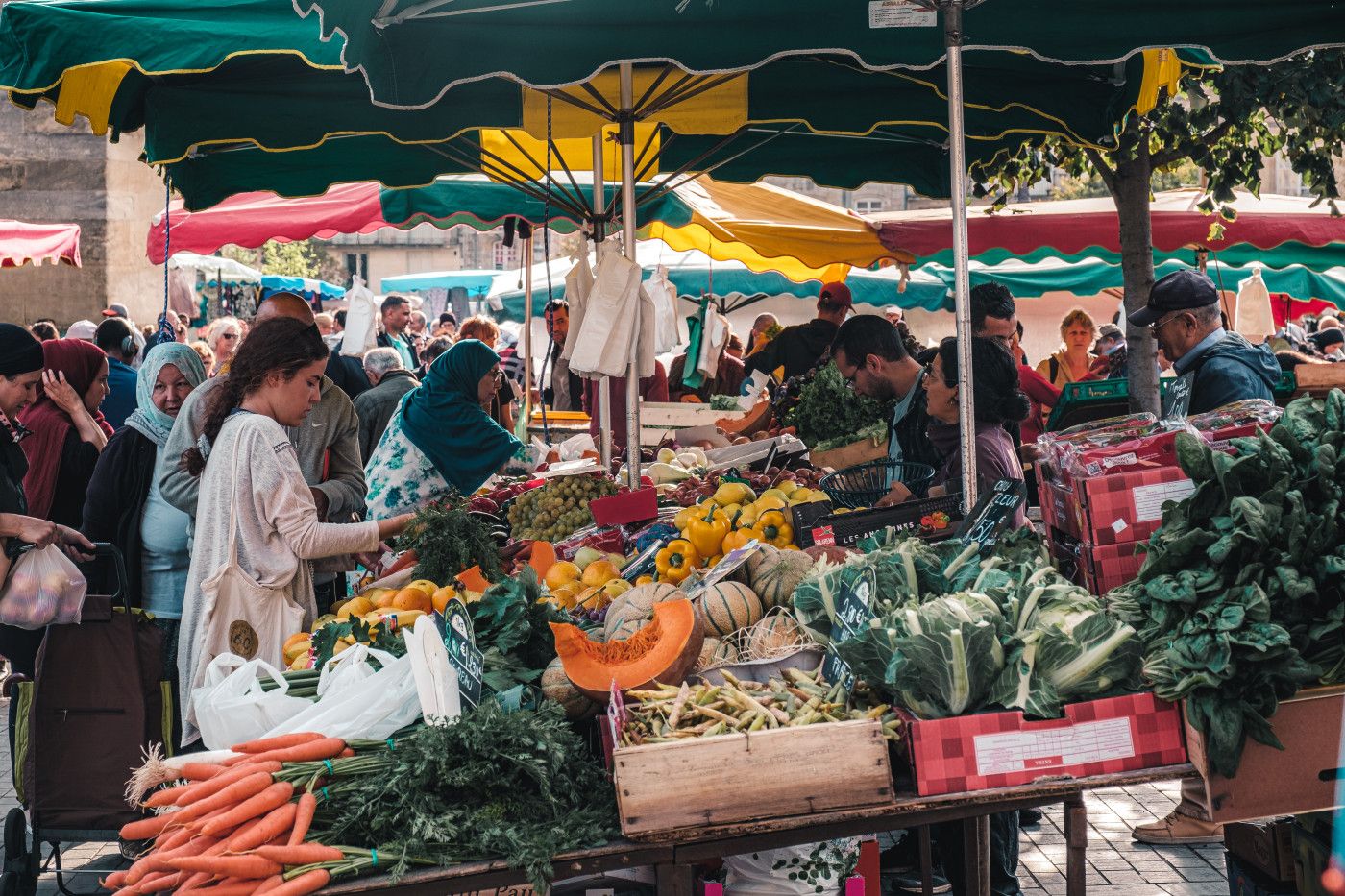 Pouyanne Market 
It's not the size that counts or that makes or breaks the quality of a market! The wacky Pouyanne market is proof of this, bringing together 10 or so traders on Sunday mornings. Early-birds and night-owls can enjoy the first light of day with the stands of producers selling food and regional produce in the heart of the Saint-Genes neighbourhood: roast chicken, delicacies from La Reunion, cheeses and fresh fish, organic fruit and vegetables... A little market that is worth the detour! 
Number of stalls: 10 

Parvis Louis et Henri Pouyanne, 166 Cours de l'Argonne, Bordeaux 

Sundays 7am - 1pm 
Calixte Camelle Market 
It feels like the south coast and more specifically Provence, which these plane trees that have endured for many centuries.  And yet, we are in Bordeaux, on the right bank. Nestled in the district of La Bastide, this local market has meat, fish, bread, cheese, jam, wine and vegetables for all gourmets. Others may also find shoes for their feet, clothes for their bodies, tablecloths for their homes, or bags for their hands... 
Number of stalls: 19 

Place Calixte Camelle, Bordeaux 

Thursdays 7am - 1pm 
Pey Berland Markets 
The time has come for markets at the foot of cathedrals! Since 2021, the famous Place Pey Berland square has returned to the tradition of old markets installed next to churches. On the programme: two shopping sessions per week. Set up opposite the Palais Rohan, at the base of the majestic Saint-André cathedral, the fifteen or so stalls will make your mouth water. Fruits and vegetables, cheese, meat, honey, bread, sweets, prepared foods, fish, wine, flowers, etc. Come on Wednesdays for the farmers' market and Sundays for the traditional market. 
Number of stalls: 15 

Place Pey Berland, Bordeaux 

Wednesdays 8am - 2pm (producers) and Sundays 8am - 3pm (traditional)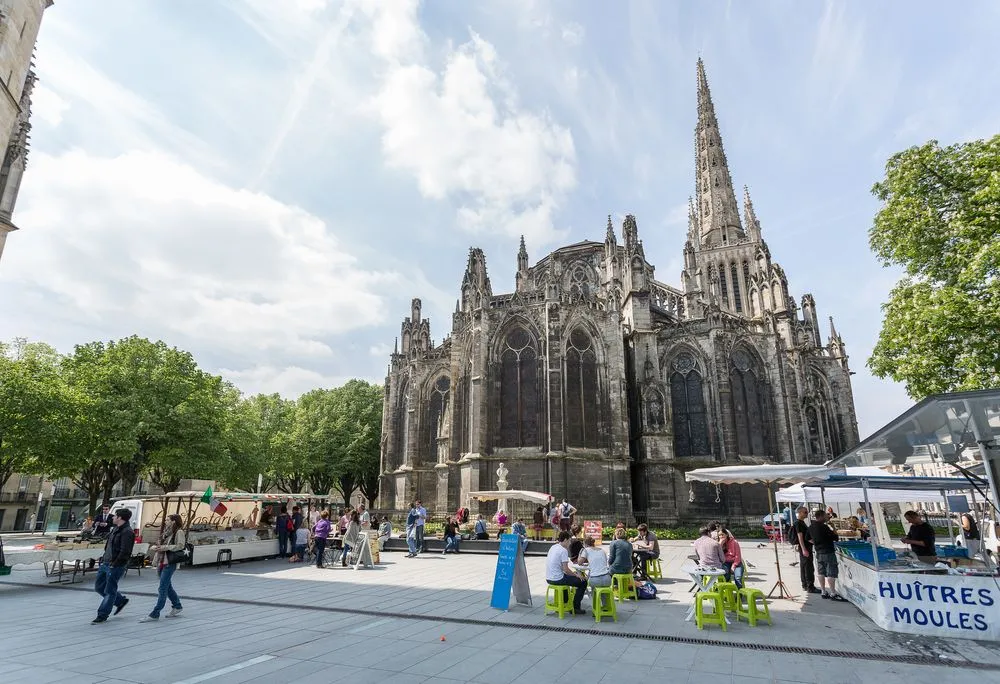 Allée Serr Market 
Why not swap your Friday night drink with some outdoor shopping? This is the unusual experience that the Allée Serr Market offers. Perfect for unwinding after a tiring week. The 8 traders will be delighted to help you fill your fridge for the weekend! 
Number of stalls: 8 

Allée Serr, Bordeaux 

Fridays 2pm - 7pm 
The organic markets of Bordeaux  
Saint-Amand Market 
Born in 1996 in the heart of the Caudéran district, the organic Saint-Armand market owes its existence to 7 producers. The association of the 1901 Law now regroups twenty or so traders with diverse and varied specialities. As well as traditional fruits, vegetables, fish or meat, there are dairy products, honey, fruit juices, bread, groceries, pottery and basketwork. A whole programme! 
Number of stalls: 23 

Place des Martyrs de la Résistance, Bordeaux 

Saturdays 7am - 1pm 
Green market 
It is impossible to provide an exact address for this slightly different market... As a roaming and intermittent market, it takes over several locations in the Gironde capital every month or so, depending on what is available. An association of the 1901 Law, it has set itself the goal of promoting local crafts free from animal exploitation. Therefore, you'll find plant-based food products, and vegan non-food products sold by carefully selected exhibitors.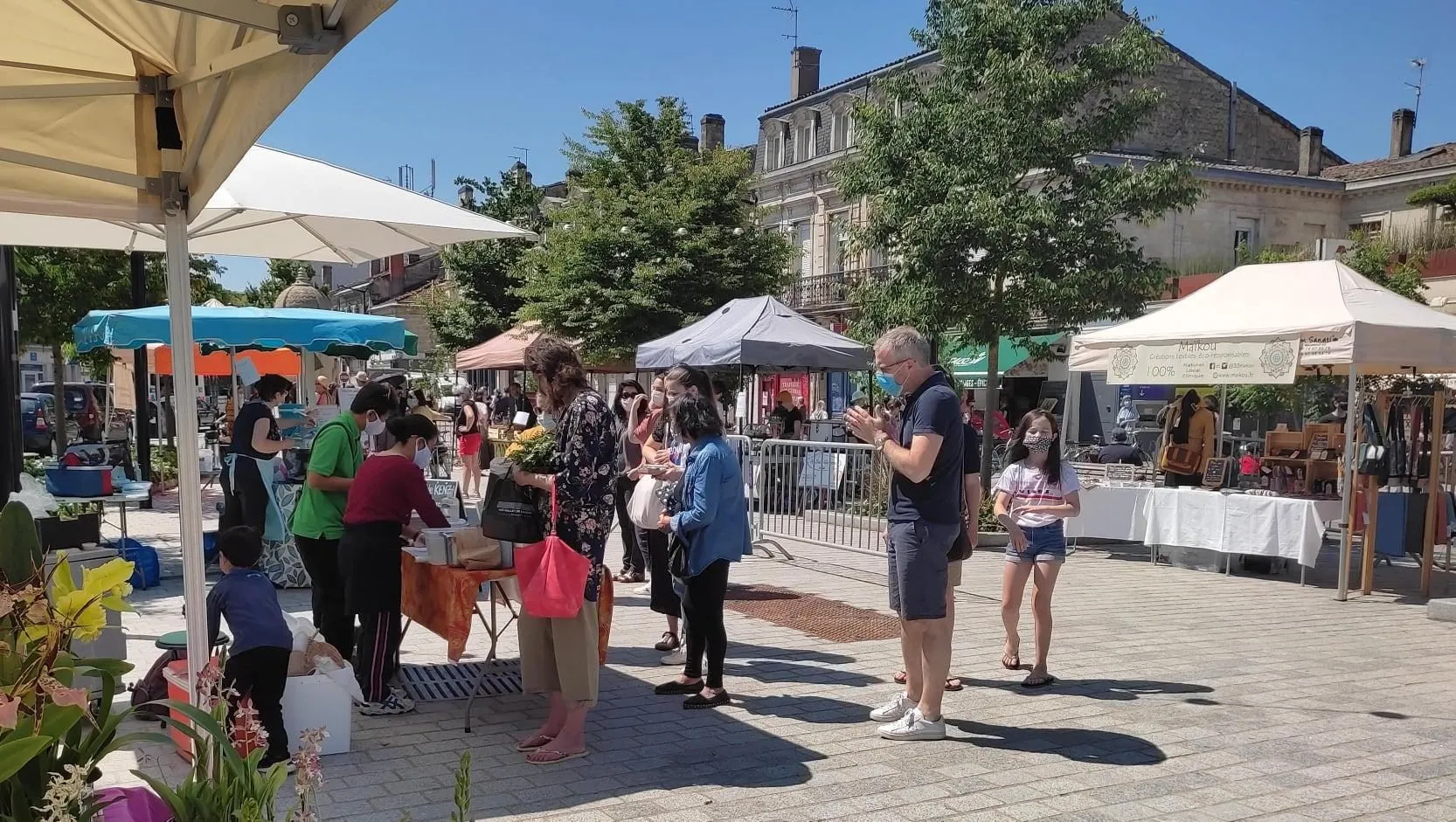 Organic markets on the docks 
Every Thursday, twenty or so stands are grouped together along the Chartrons docks, so that you can savour, taste and strongly appreciate the organic agricultural food products, cut flowers or plants, as well as craft materials. 
Number of stalls: 21 

Quai des Chartrons, Bordeaux 

Thursdays 7am - 1pm 
Indoor and covered markets 
Boca FoodCourt 
Half market, half French-style food court, the Boca joined the Bordeaux family in 2018. Here, the principle is simple: you can come here to stock up on solid or liquid delicacies and enjoy them on site at the large tables available. Easy-going and friendly, the Boca has 9 caterers, a beer wall, a cocktail bar and many event throughout the year. 
Number of stalls: 9 

Euratlantique, Quai de Paludate, Bordeaux 

Every day from 10.30am (the closing time depends on the day)  
Les Capucins Market  
The largest and possibly the most famous market in the city, the "Capu" market goes back several hundred years and represents the tradition of local retailers. Nicknamed the "Stomach of Bordeaux", as it generated such a significant activity, Les Capucins Market offers a wide range of fresh and high-quality products to take-away or enjoy on site. You can come and enjoy a seafood platter, nibble on some tapas or simply have a coffee. A magical place, a must-see during your stay, where you can stroll between the stalls and fill your basket with local specialities (or from elsewhere). 
Number of stalls: 81 

Place des Capucins, Bordeaux 

Tuesday to Friday 6am - 2pm - Saturdays and Sundays 5.30am - 2.30 pm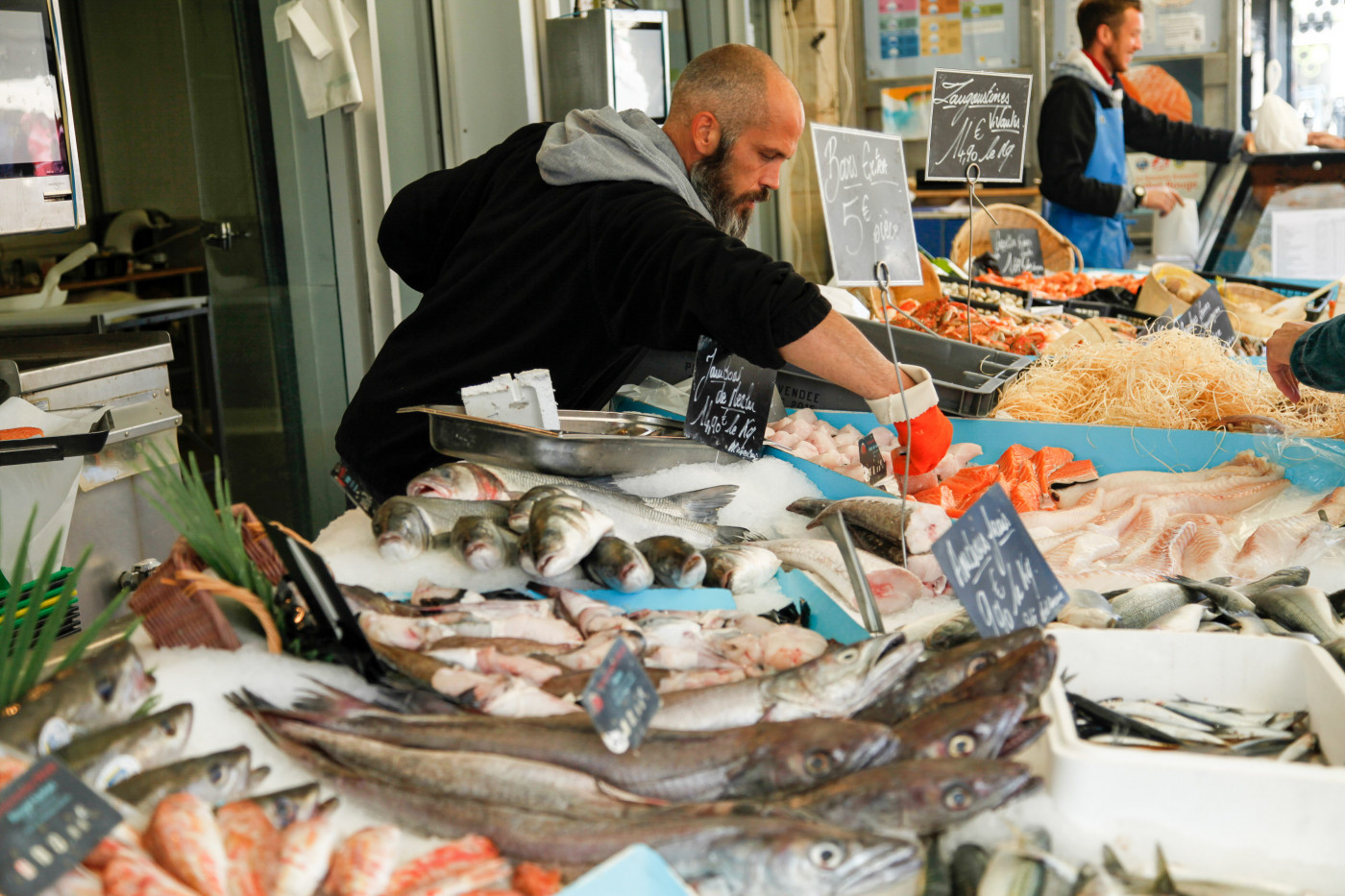 Les Halles de Bacalan indoor market 
One of the most recent gems in Aquitaine, which opened in November 2017. From Tuesday to Sunday, it welcomes customers opposite the beautiful Cité du Vin. As well as the 23 artisans who produce delicious products all year round, there are several places to eat, where you can enjoy your finds on site. Organic bread, mature cheeses, fresh fish, homemade ice-cream, rotisserie, wine merchants and tapas, Les Halles de Bacalan indoor market, which is often brimming with life, is the place to be for hearty eaters. 
Number of stalls: 23 

10 esplanade de Pontac, Bordeaux 

Tuesday to Sunday 
Les Halles de Talence indoor market 
The younger sister of Les Halles de Bacalan, Les Halles de Talence joined the family in 2018. 15 independent artisans/traders and caterers prepare their delicious products to the delight of locals and tourists. As well as doing some shopping, you can enjoy a drink and some tapas from Tuesday to Sunday. Cherry on the cake: the Michelin-starred Chef Vivien Durand has been here since 2020! What's more, the tram stops just in front and you can extend your getaway with a walk in Parc Peixoto.  
Number of artisans: 15 

Place Alcala de Henares, 316 bis cour de la Libération, Talence 

Tuesday to Sunday 
Les Chartrons Market  
Intimate and friendly. These are undoubtedly the adjectives which best describe Les Chartrons covered market. Installed on the aptly named market square, the premises are perfect for doing your weekly shop under shelter! Fishmonger, greengrocer, cheesemaker, seller of Greek products, oyster seller, poultry farmer/seller of roast meat... The 6 adorable traders promise you the very best of local terroir in a building that was completely renovated in 2019! 
Number of artisans: 6 

Rue Sicard, Bordeaux 

Tuesday to Saturday 7am - 1pm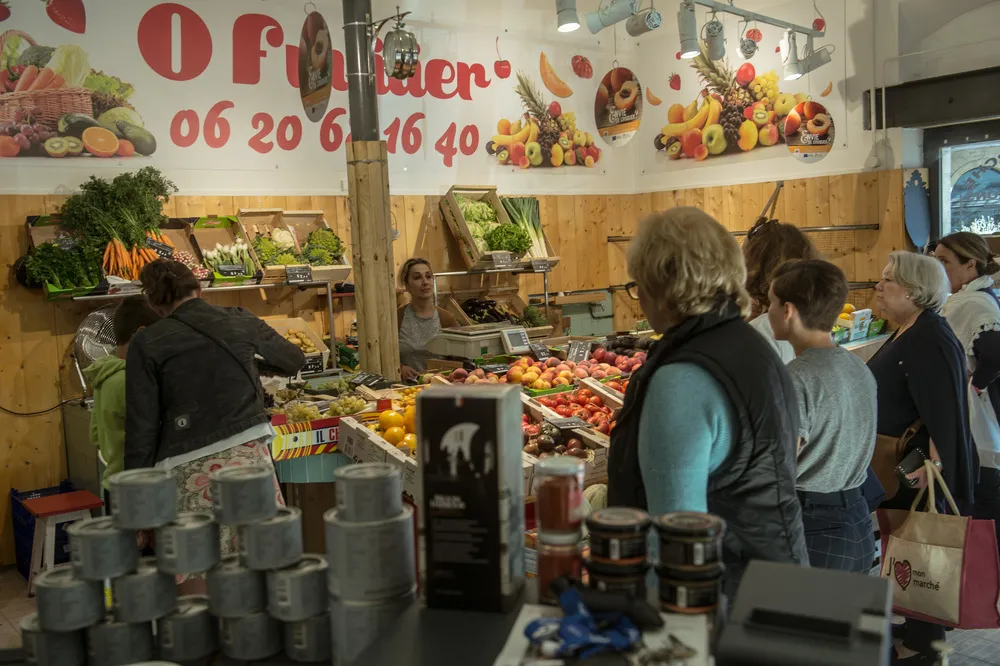 For more information or to help you find your way amongst these multiple options, please take a look at this map !
A few markets in the metropolis 
Lormont Market 
Sheltered beneath the Aquitaine bridge, Lormont Market is directly beside the banks of the river Garonne. From the city centre of Bordeaux, this product supply market is accessible via Bat3, the TBM's water taxi service. 
Number of stalls: 7 

Place Aristide Briand, 33310 Lormont 

Saturdays 8am - 1pm 
Bègles Market 
It's Wednesday, it's okay! It's okay to spend your money on the sixty odd traders, some of which are regular and others are just passing through, on the Cours Victor Hugo in Bègles. As well as the usual food products, there is an organic section for food lovers. Two other markets are organised in the town: place César Franck on Fridays and place du XIV on Saturdays. 
Number of stalls: around 60 

cours Victor Hugo, Bègles - Bus Liane 15 - Barrière de Bègles 

Wednesdays 7.30am - 1pm 
Bassens Market 
With its 120 regular and 30 occasional traders, the Bassens Market is the biggest in the Bordeaux area. It puts the emphasis on food stands, quality and the symbiosis of foodstuffs. It's impossible to not find what you're looking for!  
Number of stalls: 150 

Place de la Commune de Paris, Bassens - Bus Liane 7 - Lamartine stop 

Sundays 8am - 1pm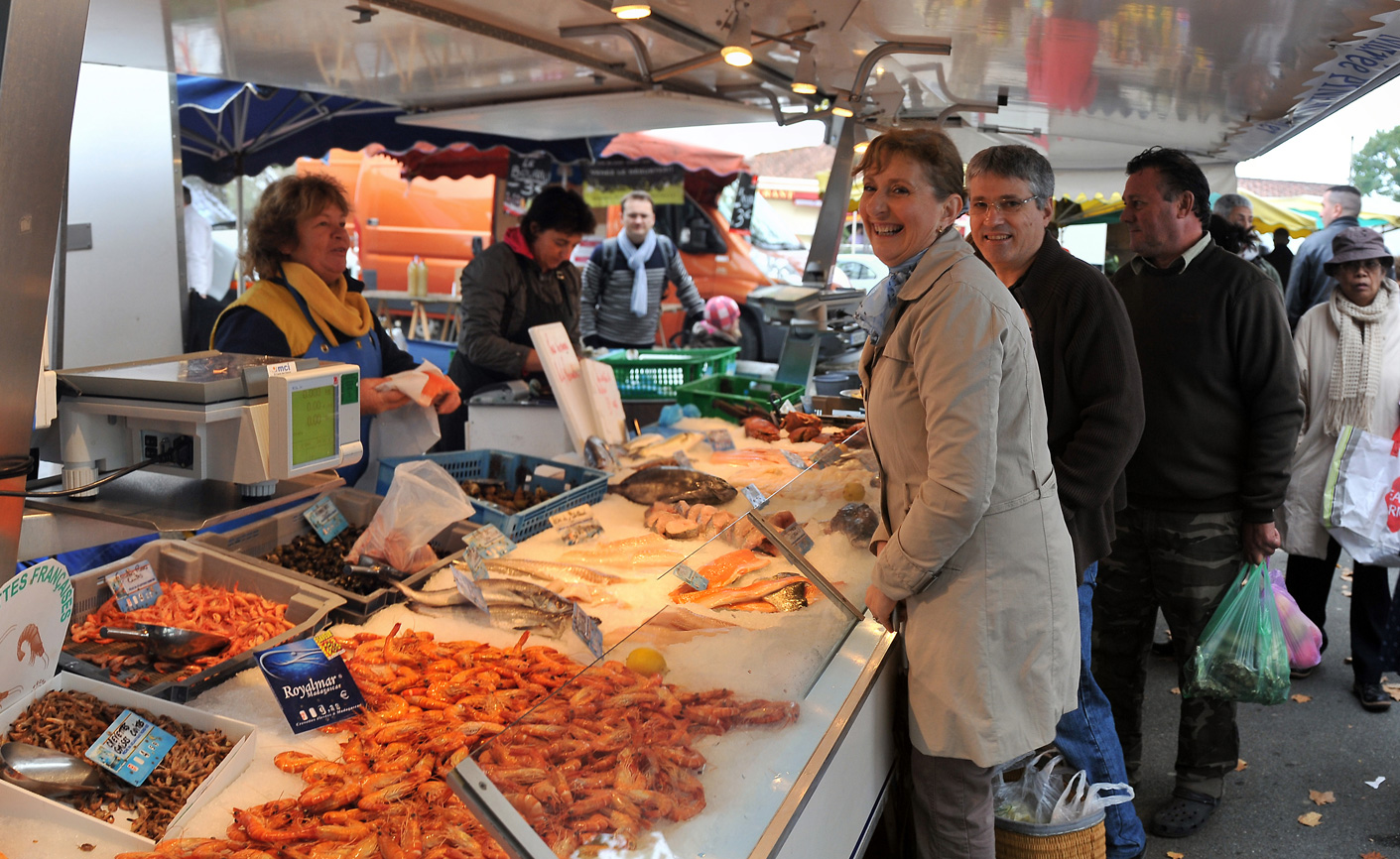 Bourrec Market in Pessac
Located in the city centre on avenue Pierre Wiehn, Bourrec Market is one of the biggest in the metropolis. Around 150 traders travel from Gironde and neighbouring departments to offer their products: local and exotic (Caribbean, Italy, Asia) foods, clothes, shoes, leather goods, artisanal products... 
Number of stalls: around 150 

7-1 Avenue Pierre Wiehn, 33600 Pessac - Tram B - Pessac Centre 

Sundays 8am - 2pm  
Eysines Market 
Over 60 traders and producers await customers on Sunday mornings. Butchers, fishmongers, cheesemakers, fruit and vegetable producers, florists... Perfect for getting your shopping done with joy and good humour. 
Number of stalls: around 60 

Place florale, Eysines - Bus lianes 2, 35, 41 - Stop: place florale 

Sundays 8am - 1pm 
Gradignan Market  
Very popular amongst Gradignan locals and those from neighbouring villages, the "made in Gradignan" market welcomes fifty or so traders, offering food, flowers, as well as clothes and other accessories. 
Number of stalls: 55 

Rue de Rochefort, Gradignan - Bus Lianes 10, 36 - Stop: Rochefort 

Saturday mornings 8am - 1pm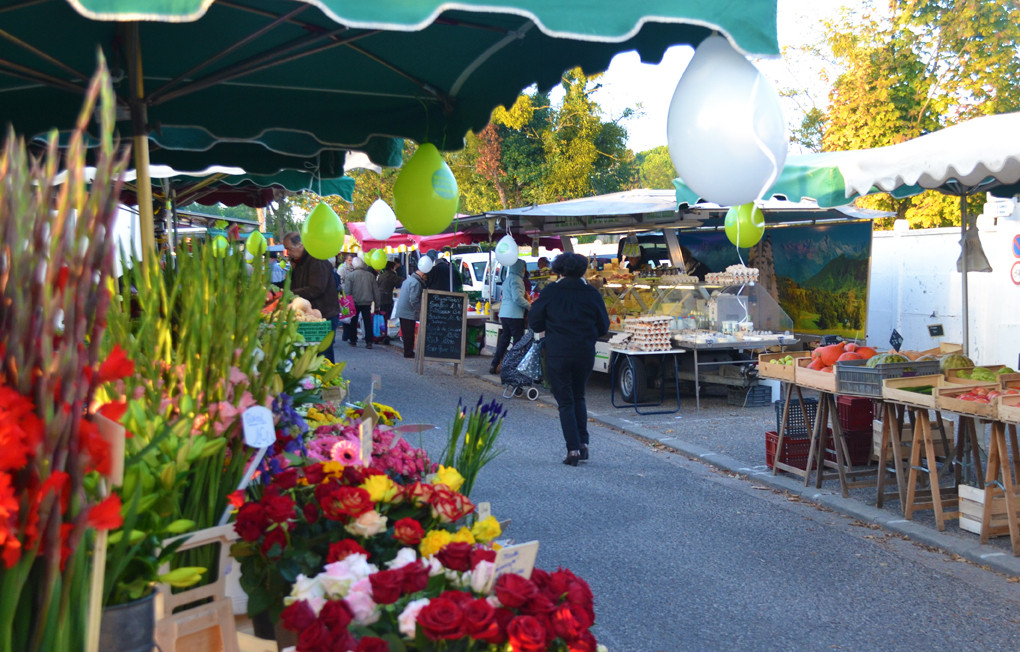 Discover all the markets of Gironde on a map and take your pick amongst all the markets in the department in a single click.