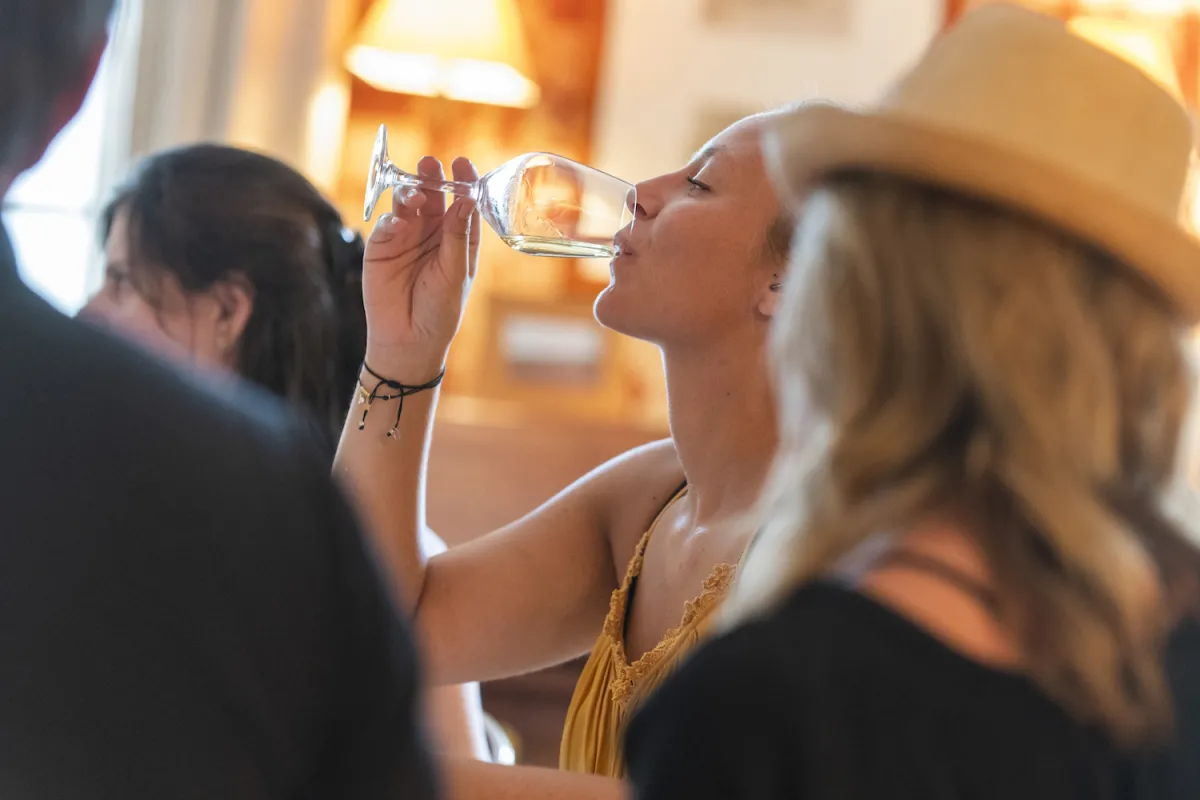 1, 2, 3, taste!
To drink wine, just raise your elbow. Wine-tasting, on the other hand, requires a little bit of training and practice! During tasting workshops, you will learn to observe the wine, its colour, and its aromas. You will also have a chance to guess its composition, and discover the art of blending, wine-waiting, or food and wine pairing. Embark on a one-way initiatory trip into the fascinating world of wine.
Learn the basics in a stress-free environment
Le Métropolitain is a trendy and friendly wine bar established on the Cours d'Alsace-et-Lorraine. The bar offers several tasting experiences, including a beginner's introduction to the art of wine-tasting. Participants can learn to "taste wines by going through the different tasting mechanisms: visual, olfactory, and gustatory. They discover the vocabulary of wine tasting, decipher the terms noted on the labels to facilitate your purchases and assimilate the principles of food and wine pairings." Quite something! This introductory session takes place in the excellent company of fine wine and delicious culinary delights.
Le Métropolitain
49, Cours Alsace-et-Lorraine, Bordeaux
Learn more
Stimulate your five senses
Put your senses in motion during this playful and initiatory tasting session at Château Pape Clément, a Grand Cru Classé de Graves situated in Pessac. Entitled "L'éveil des sens" (which translates as "The awakening of the senses"), the tour shows the evolution of the vineyard over time. It allows participants to touch the very substances that make up the terroir, smell the oak-scented cellars where vintage wines are in the making. Of course, the experience would not be complete without a tasting session. You will have a chance to taste single grape varieties and learn about the aromas of each one. During the final tasting, discover how sound can influence our appreciation of wine.
Château Pape-Clément
216 avenue Dr Nancel Pénard, Pessac
+33 (0)5 57 26 38 38
Learn more
Discover food and wine pairings
After a small workshop to "warm up your senses", an oenologist from the Ateliers de Bacchus will introduce you to the essential principles of food and wine pairings - i.e., colour, similarity, complementarity. A tasting session will follow. Depending on your preferences, you can opt for the wine and cheese or wine and chocolate workshop. You can even choose to compose your tailor-made pairing workshop. "It's interesting how a wine that we initially didn't like takes on a whole new flavour with a bite of cheese!" says Pauline Robin, the founder of Les Ateliers de Bacchus.
Les ateliers de Bacchus
61 rue Raymond Bordier, Bordeaux
(+33) 06 61 85 00 80
Learn more
Make your own Bordeaux wine "cuvée"
Laetitia Ouspointour is a winemaker in Bordeaux and founder of L.O Wine. She holds a tasting aptitude diploma. During a half-day session, she will first introduce you to the practices in the vineyard and the cellar: an opportunity to learn more about the grape cycle and the different winemaking stages. Through this entertaining and educational session about the different grape varieties and their aromas, you will discover the art of blending, the cornerstone of Bordeaux wines. Like a conductor, equipped with pipettes, you will compose your own oenological symphony and go home with a bottle of the wine you crafted!
L.O Wine
Atelier à l'École Vatel
4, cours du Médoc, Bordeaux
+33 (0)6 16 92 07 38
Learn more
Awake the sommelier in you!
Are you keen to learn how to manage and compose your wine cellar? How to understand labels, decant wine, and serve it by the book with the right accessories? Discover everything you need to know about the art of the sommelier, how to host your guests and to do honour to this age-old beverage.
Sommelier Workshop 3
(book here)
Bordeaux Wine School
3, cours du XXX Juillet, Bordeaux