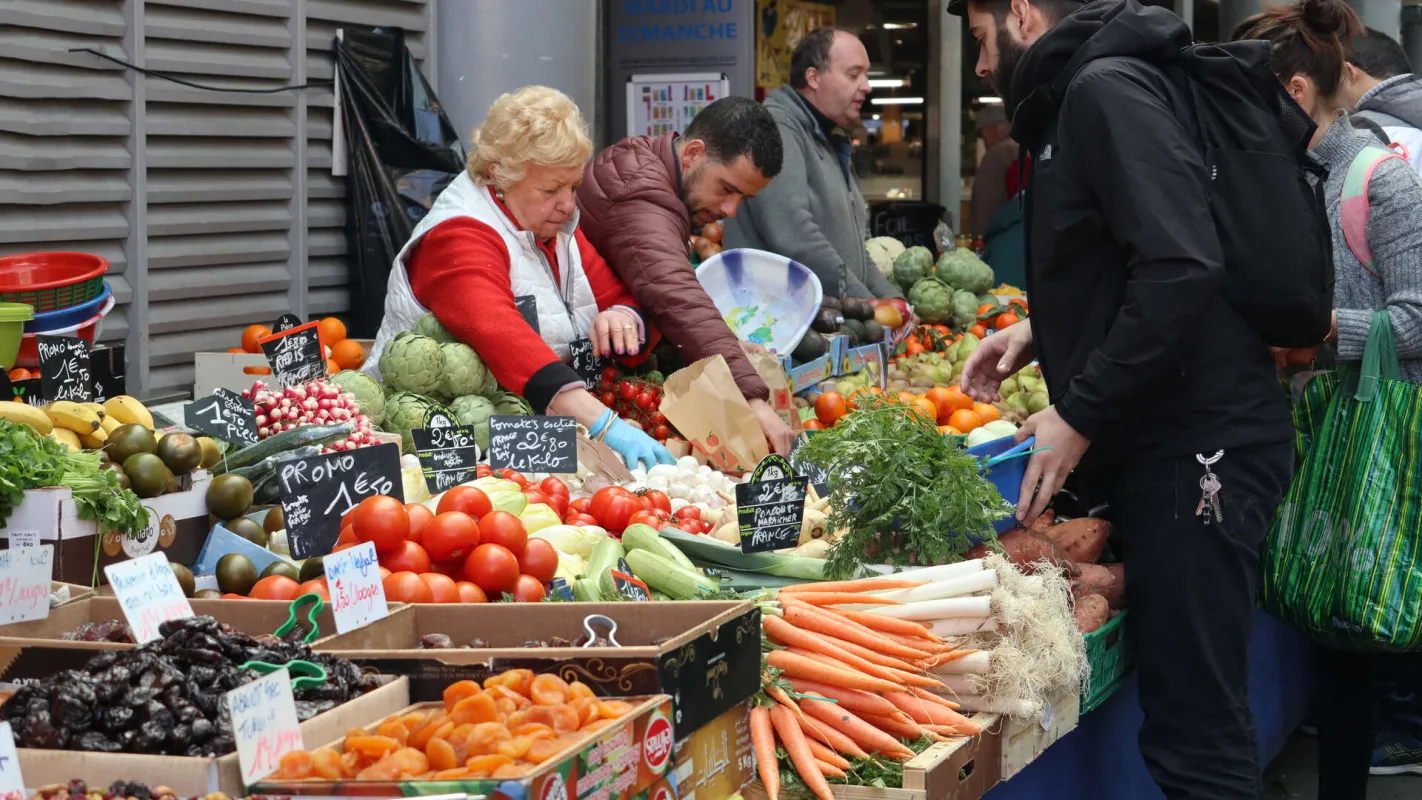 Local vegetables from Bordeaux's biggest market
Mouthwatering, strangely shaped carrots, plump butternuts, bundles of leeks, spinach and chard, shallots by the fistful… Ideas for recipes take shape before Antoni Martinez's well stocked stand. Open from Friday to Sunday in Bordeaux's largest market's, the Capucins, main aisle, the market gardener sells products he has cultivated with care in the Gironde region, not far from Réole.
More than 12 years at the Capucins Market 
On Antonio Martinez's farm, those who work in the fields are also behind the stand at the market. "Antonio has four employees", explains Mickaël Bellamy, head of agricultural cultivation for the small business, present only at Capucins. "A friend of mine worked in the markets and told me about 'Capu', that space for a stall was opening up. We took advantage of the offer just to try it out… and 12 years later we're still here!" tells the farmer, who can no longer see himself going elsewhere to sell his vegetables, even if it means an extra hour's commute each morning that he heads to Bordeaux's biggest market. "The atmosphere, the way people are friendly and unassuming, is really important for me", he adds, and he would know! Mickaël has gotten to know all of the market's vendors, from the butchers and fishmongers, to cheesemakers and grocers.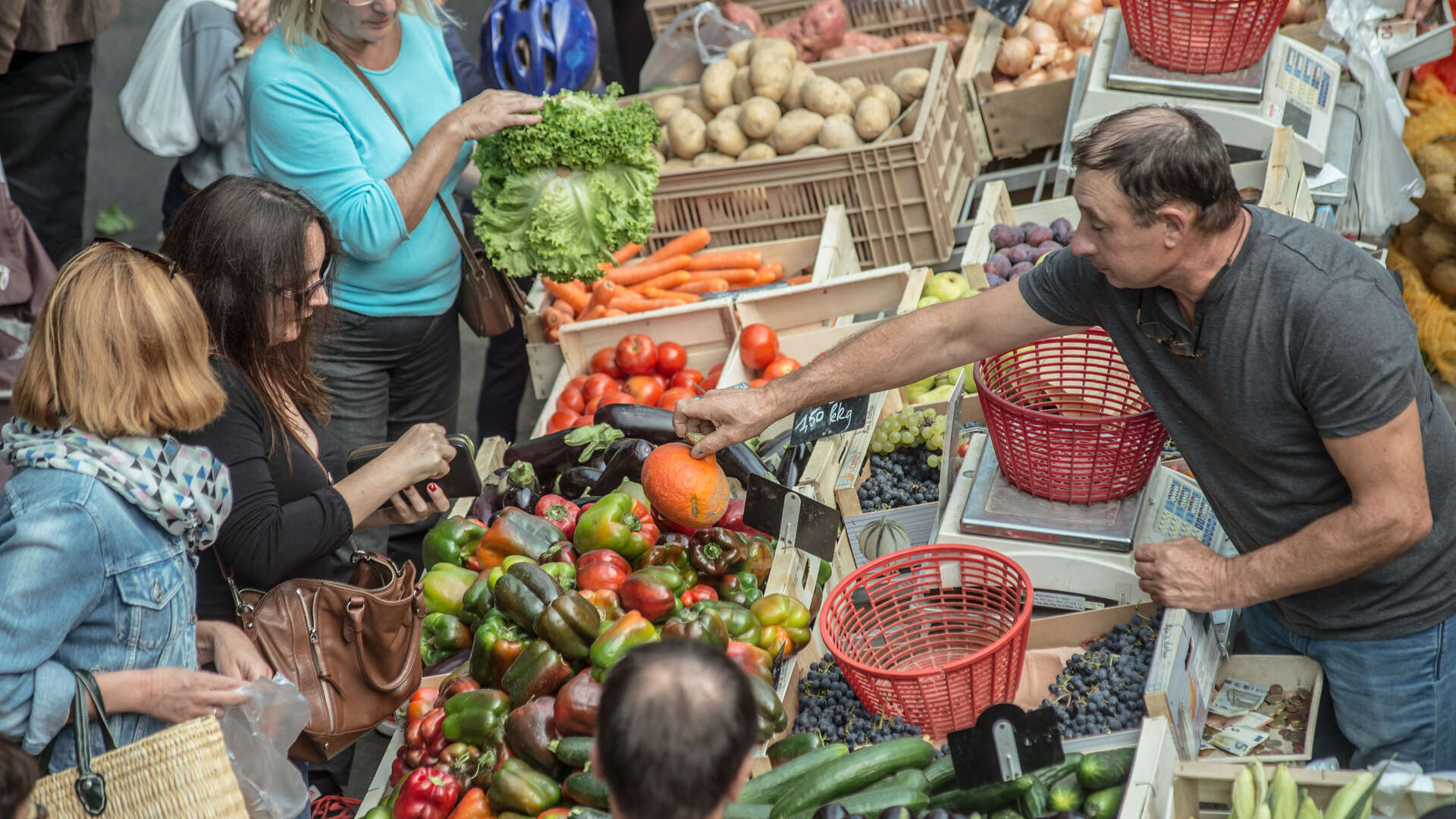 Fresh and local products 
To run a stall at Capucins Market, the small team must get organized. "When we come to sell here on Friday, Saturday, and Sunday, two workers stay on the farm to harvest products for the next day. What you see here was in the ground yesterday morning!" explains Mickaël Bellamy. "I can't see myself doing anything else! […] our relationship with clients is really important to me. We know one another and often chat," adds the young man who doesn't hesitate to pull out his phone to show us pictures of bean sprouts or a strawberry that's fallen victim to a caterpillar. "Clients like to know how things are growing, and we let them know about weather risks," the farmer concludes.
Authentic products!
To protect his pesticide and herbicide free vegetables, he allows for a bit of copper, sulfur, or Bordeaux mash, "but if the plant isn't sick then we don't touch it!" assures Mickaël. For the farmer, veggies don't have to be perfect to be delicious. His carrots, though oddly shaped, are delicious. Same goes for the summer tomatoes. "They don't look perfect but ripen under the sun and not under greenhouse plastic," he explains. 
A local process
When weather conditions impact harvest, the farmer looks to other producers, "whoever is closest geographically," like Meilhan-sur-Garonne for apples and turnips, Sainte-Bazeille for kiwis, or Médoc farms for endives. As for lemons and oranges which aren't native to the region, Antonio Martinez pays tribute to his home of Andalusia where he works directly with a small-scale, local producer.
A market of regulars
From his stand in Capucins, Mickaël Bellamy greets and smiles at clients, "almost all regulars!" and is happy to give ideas for recipes and introduce his rarer vegetables when called upon. "The red kuri squash is very delicate to cultivate and so I sowed Shiatsu seeds instead. It's a beautifully deep green squash of Mexican origin, delicious as a soup with a bit of light cream at the end of cooking and teaspoon of balsamic vinaigrette when served to bring out the hazelnut flavor!" Once over the initial surprise, clients keep coming back for the product. Like Muriel and her son Arno who both love this funny squash, "it's a bit tough to peel but gives up the fight after you boil it for a few minutes!" Muriel has been a stand regular for years now. "Antonio's and Mickaël's fresh vegetables are pesticide free, harvested locally, and most importantly, sold with a smile!"