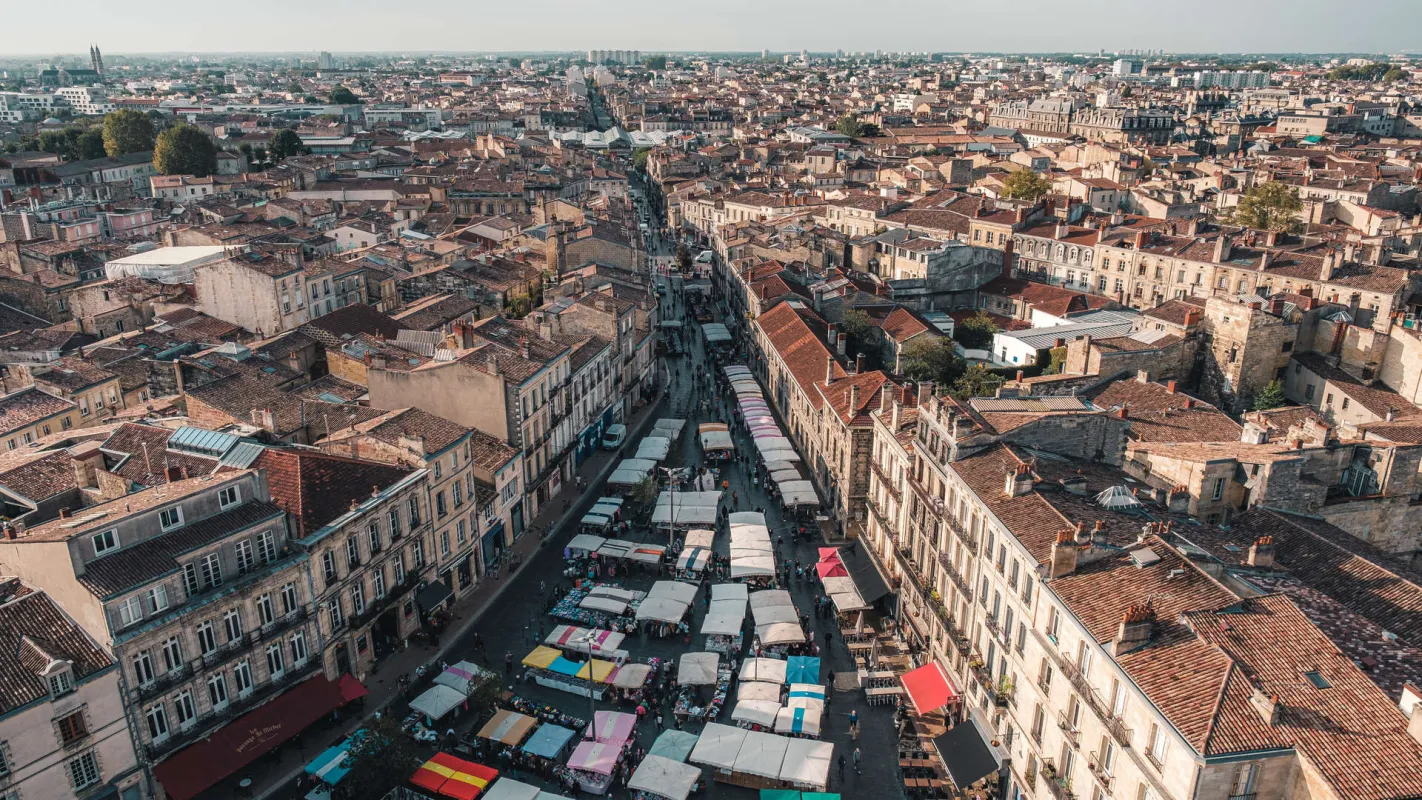 Bordeaux's flea markets and antique shops
To limit the tendency for overconsumption, how about giving a second life to neglected objects? Bordeaux is packed with a myriad of antique and second-hand shops. The city has something to delight every collector, vintage-lover, and bargain-hunter! Here's our little guide to second-hand shopping in Bordeaux.
L'ENTREPÔT ST GERMAIN: AN ANTIQUE SHOP THAT WILL TAKE YOU "BACK TO THE FUTURE"
Discover this vast warehouse situated in the Saint-Jean district. Even if you don't find the '60s lamp of your dreams, at least you'll get a chance to travel back in time. The objects and furniture for sale are arranged by period, allowing you to explore the vintage wonders of a 1970s living room, amongst other gems.
EXPLORE LE DÉNICHEUR, BORDEAUX'S TREASURE TROVE OF ANTIQUES
Located in the heart of the city's Saint-Pierre quarter, the antique shop "Le dénicheur" is a place you won't forget. From floor to ceiling, every square centimetre is filled with all kinds of objects. From plastic smurfs of the 80s to vinyl records, vintage bicycles, or old advertisements, "Le dénicheur" is bound to satisfy young and old bargain-hunters alike!
12 rue de la cour des aides, Bordeaux.
AU SON VERT: THE ONLY CONSIGNMENT SHOP IN BORDEAUX DEDICATED TO MUSIC!
Located on the right bank of the Garonne in Bordeaux, Au Son Vert is the only consignment shop in the region that sells musical instruments and related objects. The owner, Arthur Plata, is a former graphic designer and music enthusiast. He is always keen on sharing his passion for music with music lovers passing through!
THE ANTIQUE DEALERS OF THE VILLAGE NOTRE-DAME: A CHIC BARGAIN-HUNTER'S DEN
The village Notre-Dame is located in one of Bordeaux's most iconic districts: the Chartrons. Created a little over thirty years ago, "le Village," as the locals call it, has become the first gallery of Antique shops in the South West of France.
Here, curiosities dating from the 17th to the 19th century will delight bargain hunters. Discover the harmonious display of paintings and sculptures, clocks and silverware, furniture and decorative objects, and more.

61-67 rue Notre Dame, Bordeaux
+33 5 56 52 66 13
THE MUST-SEE FLEA MARKETS OF SAINT MICHEL IN BORDEAUX
Take advantage of a Sunday morning stroll in Bordeaux to go bargain-hunting on one of the city's squares, at the foot of the Saint-Michel spire.
The must-see flea markets of Saint Michel have been welcoming antique dealers and bargain-hunters since the 1970s. Here, you can find everything from bicycles, African masks, tableware, or even vinyl records while enjoying the beauty of Bordeaux.
WELCOME TO THE MECCA OF SECOND-HAND SHOPPING
Located in an atypical building in the heart of the Saint Michel district, this place is swarming with art-deco objects, trinkets, silverware, or vintage furniture. Housed in a former banana ripening factory, it welcomes 19 antique dealers, bric-a-brac dealers, and artists who exhibit their curiosities across this 650-square meter space.
15 Place Canteloup, Bordeaux​
+33 5 56 74 01 84
A TIMELESS JOURNEY INTO THE "CITY CENTRE"
A cabinet of curiosities in its own right, this boutique takes you into a wondrous, timeless universe. For the past thirty years, Jean-Pierre and Dominique have been filling this place with all kinds of treasures. Taxidermy enthusiasts will be delighted to find fox heads nestled between two hats.
The myriad of objects on display includes stereoscopes, jewellery, clothes... Almost everything except furniture.
26 rue du parlement Sainte-Catherine, Bordeaux
THE TREASURE HUNTER'S CALENDAR
Whether you're a collector or a lover of vintage objects, take note of the bargain-hunting highlights in Bordeaux:
Tuesday, Thursday, Friday, and Sunday from 6 am to 4 pm.
Big sales take place in March, June, September, and December.

Early march

Spring: End of April / early May.
Autumn: End of November / early December.

End of October

Early November at the Hangar 14.
To make sure you don't miss any dates, visit vide-greniers.org