Forecasts of port calls in bordeaux
Having grown over many years, Bordeaux has become an unmissable port of call, with more than 40 calls in total confirmed for 2020. Each time a boat arrives into Bordeaux, the passengers are always subject to the same spectacle: the Jacques Chaban-Delmas bridge rising 117 metres to allow the boat to pass through.
NOTICE
This timetable displays the berthing and unberthing of the ships. For information, the Chaban-Delmas bridge will rise approximately one hour before the arrival and one hour after the announced schedule.
JUNE
From 11/06 (1pm) to 13/06 (12.30am) - CRYSTAL SYMPHONY - Bordeaux
From 14/06 (8.00am) to 14/06 (6.00pm) - AIDA AURA - Le Verdon
From  15/06 (4.15am) to 16/06 (4.00pm) - CORINTHIAN - Bordeaux
From 29/06 (3.30pm) to 01/07 (4.30pm) - SYLVER SPIRIT - Bordeaux
JULY
From 05/07 (9.00am) to 06/07 (8.45pm) - CORINTHIAN - Bordeaux
From 14/07 (11.00am) to 14/07 (9.00pm) - NORWEGIAN JADE - Le Verdon
From 22/07 (10.15am) to 23/07 (9.00pm) - SILVER WHISPER - Bordeaux
From 25/07 (12.15am) to 26/07 (12.00am) - BRAEMAR - Bordeaux
From 27/07 (2.15pm) to 28/07 (2.00pm) - SPIRIT OF DISCOVERY - Bordeaux
AUGUST
From 12/08 (2.15am) to 13/08 (13.30pm) - MARINA - Bordeaux
From 14/08 (7.00am) to 14/08 (12.00am) - DEUTSCHLAND - Le Verdon
From 14/08 (4.45pm) to 15/08 (4.30pm) - DEUTSCHLAND - Bordeaux
From 14/08 (5.00am) to 14/08 (12.00am) - SEVEN SEAS SPLENDOR - Le Verdon
From 14/08 (5.15pm) to 15/08 (4.15pm) - SEVEN SEAS SPLENDOR - Bordeaux
From 16/08 (6.45am) to 17/08 (6.15am) - AMERA - Bordeaux
From 17/08 (11.00am) to 17/08 (6.00pm) - AMERA - Le Verdon
From 19/08 (9.15am) to  20/08 (8.00am) - WORLD VOYAGER - Bordeaux
From 21/08 (10.45am) to  22/08 (10.30am) - BREAEMAR - Bordeaux
From 22/08 (10.15am) to 23/08 (7.00pm) - WIND SURF - Grattequina
From 21/08 (8.00am) to  21/08 (7.00pm) - SEVEN SEAS NAVIGATOR - Le Verdon
From 23/08 (12.15am) to 25/08 (11.45am) - CRYSTAL SYMPHONY - Bordeaux
From 27/08 (3.00am) to 27/08 (3.00pm) - VEENDAM - Bassens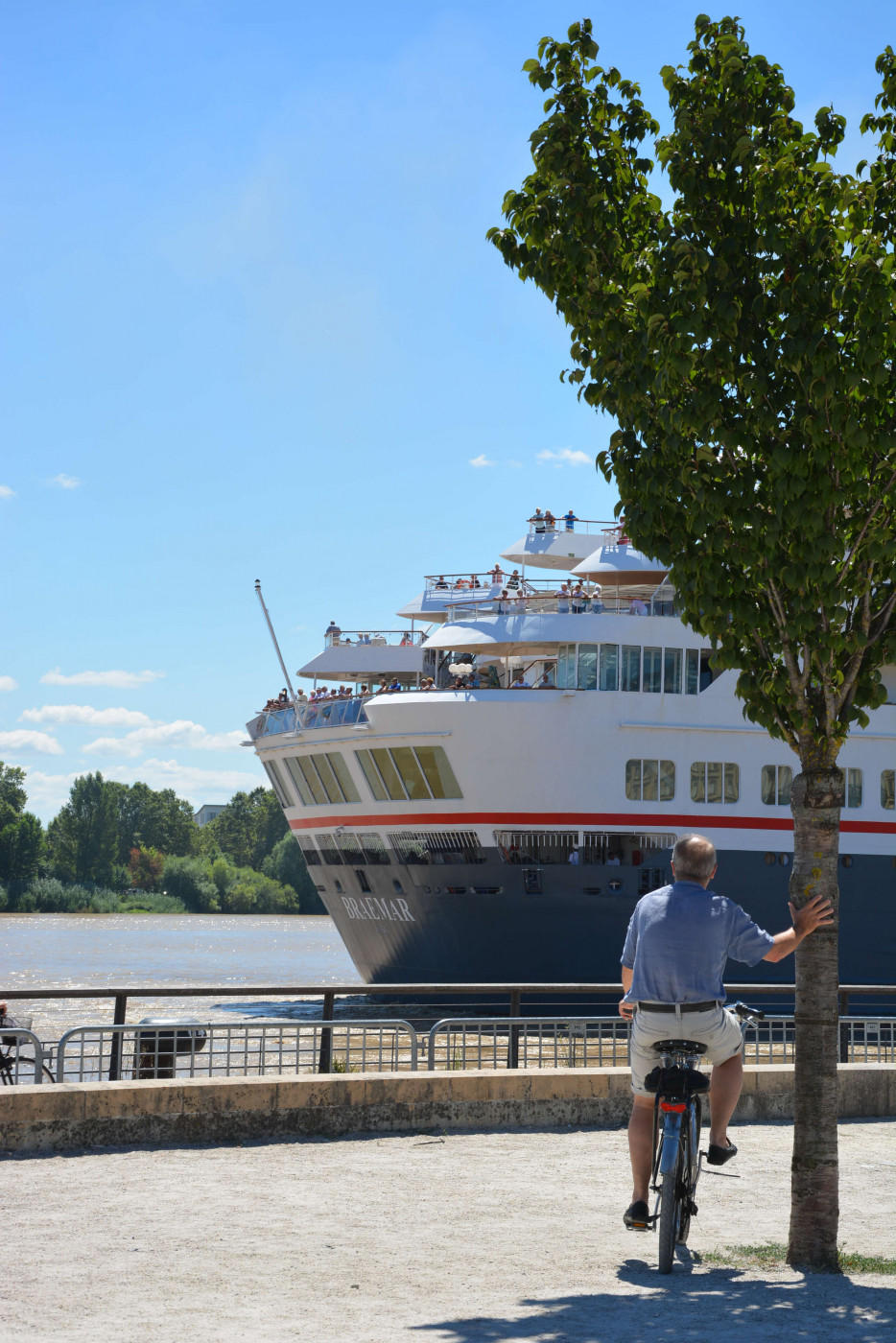 SEPTEMBER
From 02/09 (9.30am) to 03/09 (8pm) – SEVEN SEAS SPLENDOR – Bordeaux
From 04/09 (10.30am) to 05/09 (9pm) – AZAMARA PURSUIT – Bordeaux
From 10/09 (1.15am) to 11/09 (1am) – ASTOR – Bordeaux
From 11/09 (2.45pm) to 12/09 (2pm) – SIRENA – Bordeaux
From 12/09 (7pm) to 12/09 (9pm) – SIRENA – Le Verdon
From 12/09 (3.30am) to 13/09 (4pm) – CORINTHIAN – Bordeaux
From 13/09 (5.15am) to 15/09 (5.30am) – AZAMARA QUEST – Bordeaux
From 19/09 (10.30am) to 21/09 (10.30am) – SILVER SPIRIT – Bordeaux
From 19/09 (10.45am) to 20/09 (10.30am) – BRAEMAR – Bordeaux
From 20/09 (6.30am) to 20/09 (8.30am) – ASTORIA – Pauillac
From 20/09 (11.30am) to 21/09 (11am) – ASTORIA – Bordeaux
From 19/09 (11.30pm) to 20/09 (6pm) – DUMONT D'URVILLE – Bordeaux
From 20/09 (9pm) to 20/09 (11pm) – DUMONT D'URVILLE – Pauillac
From 24/09 (2am) to 25/09 (2.30pm) – SEVEN SEAS EXPLORER – Bordeaux
From 27/09 (6am) to 28/09 (5pm) – MARINA – Bordeaux
From 28/09 (7am) to 29/09 (6.15pm) – SIRENA – Bordeaux
From 28/09 (6.45pm) to 29/09 (6pm) – FRIDTJOF NANSEN – Bordeaux
From 30/09 (7am) to 30/09 (7pm) – DUMONT D'URVILLE – Bordeaux
From 30/09 (9.30pm) to 30/09 (11pm) – DUMONT D'URVILLE – Pauillac
From 30/09 (8.30am) to 30/09 (3pm) – ALBATROS – Le Verdon
From 30/09 (8.45pm) to 01/10 (7.45pm) – ALBATROS – Pauillac
OCTOBER
From 01/10 (9am) to 2/10 (8pm) – SPIRIT OF ADVENTURE – Bordeaux
From 05/10 (10.30am) to 05/10 (9.45pm) – CLIO – Bordeaux
From 05/10 (10.45am) to 06/10 (10.15am) – BRAEMAR – Bordeaux
From 05/10 (11.15pm) to 06/10 (6.30pm) – DUMONT D'URVILLE – Bordeaux
From 06/10 (9pm) to 06/10 (11pm) – DUMONT D'URVILLE – Pauillac
From 07/10 (10.45am) to 07/10 (9.45pm) – ROTTERDAM – Bassens
From 09/10 (11.45am) to 10/10 (12.30am) – BREMEN– Bordeaux
From 10/10 (7am) to 10/10 (9.15am) – NAUTICA– Le Verdon
From 10/10 (2pm) to 11/10 (2.30pm) – NAUTICA– Bordeaux
From 16/10 (8.40am) to 17/10 (8am) – ARTANIA – Bordeaux
From 17/10 (1pm) to 17/10 (7pm) – ARTANIA – Le Verdon
NOVEMBER
From 27/11 (7am) to 27/11 (6pm) – CROWN PRINCESS – Le Verdon
Last update: May 05, 2020