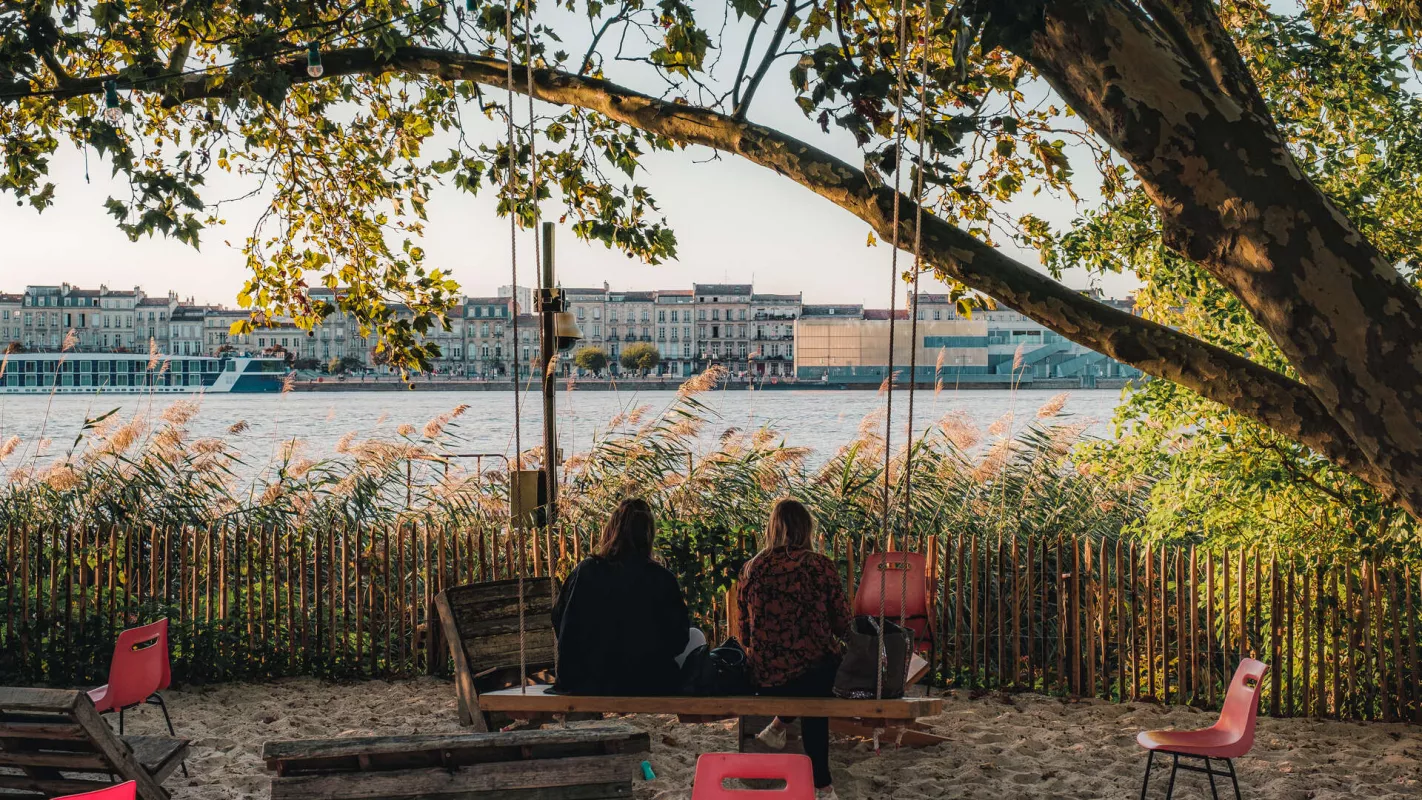 Drinking and eating on the river
Slicing across the city of Bordeaux, the Garonne is a fascinating river. Accessible on foot, by bike, rollerblades, skateboard, or scooter, the riverside offers many beautiful panoramas of the Port of the Moon's architecture, observable from different angles. A stopover along the quayside allows you to quench your thirst for a breath of fresh air while enjoying a musette, a cruise, delicious gastronomy, or maybe a few snacks and refreshments.
An eyeful of water
Dance 'til midnight on the riverside at the Guinguette Chez Alriq
Are you looking to find an authentic "guinguette" spirit in Bordeaux? Head to the heart of the Parc des Angéliques on the right bank of the Garonne. For more than two decades, people have been coming to this halo of greenery, nestled away from the urban frenzy. An excellent place to eat, drink, dance, or enjoy one of the eclectic concerts taking place. World music is often on the menu.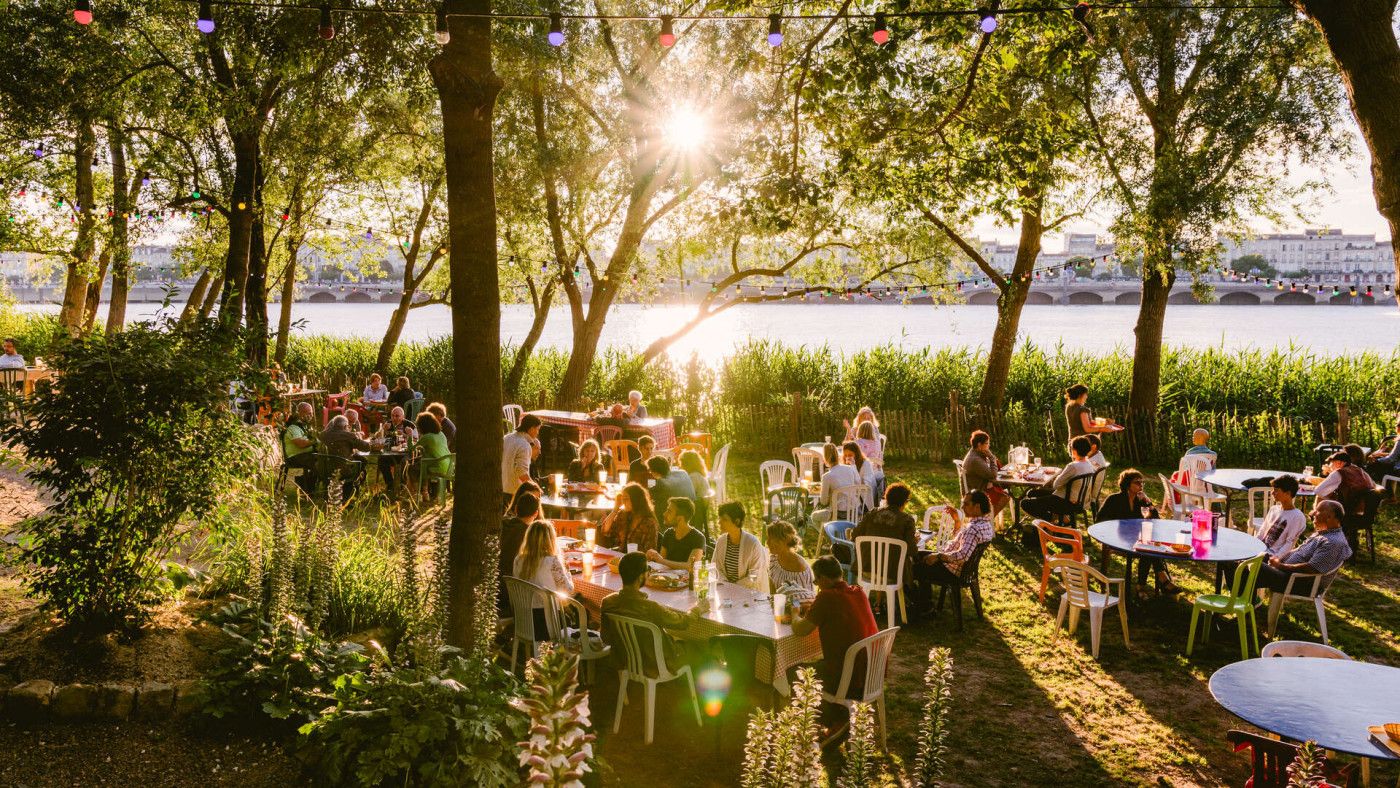 Read more 
Quai des Queyries
Open from may to september
+ 33 (0)5 56 86 58 49
Cruise along the Garonne with Bordeaux River Cruise
This river cruise company offers several discovery cruises and restaurant evenings aboard its red and black-coloured fleet. Sail along Bordeaux's illuminated quaysides during a gastronomic evening, embark on a river cruise to the Isle of Patiras for lunch, or opt for a boat trip on the Gironde estuary to discover local wines and vineyards. The choice is yours.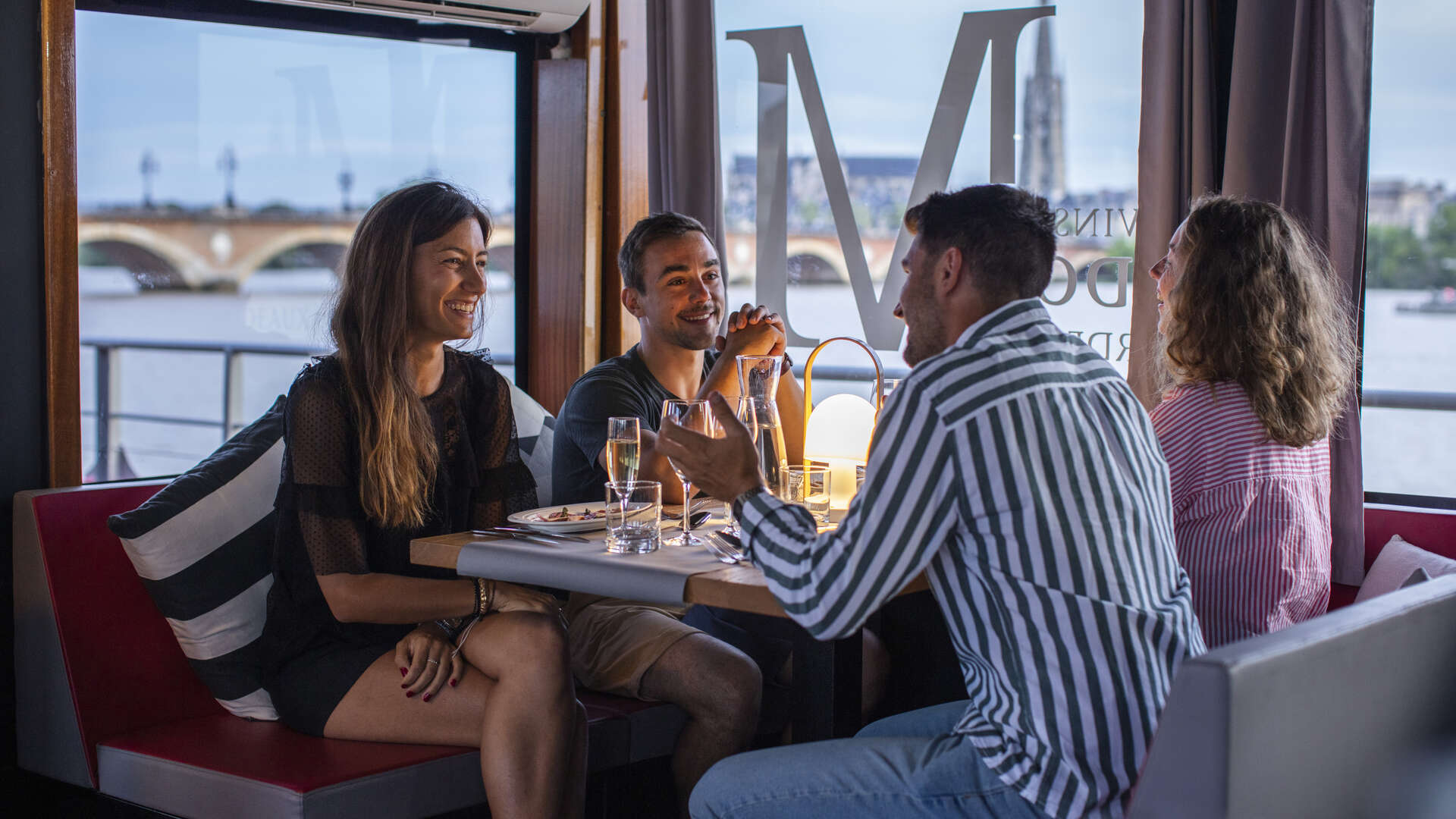 Read more 
Beach vibes at Les Chantiers de la Garonne
Dating back to 1902, this former shipyard has recently morphed into a peaceful haven that is bound to delight seafood lovers. Depending on availability, warm up your taste buds with oysters, shellfish, shrimps, sardines, and catfish while sipping on a local beer or a glass of organic wine. Did we mention you are comfortably seated in a deckchair, your feet in the warm sand, contemplating the sunset? For the more sporty ones, a petanque ground is available if you're up for a game with friends.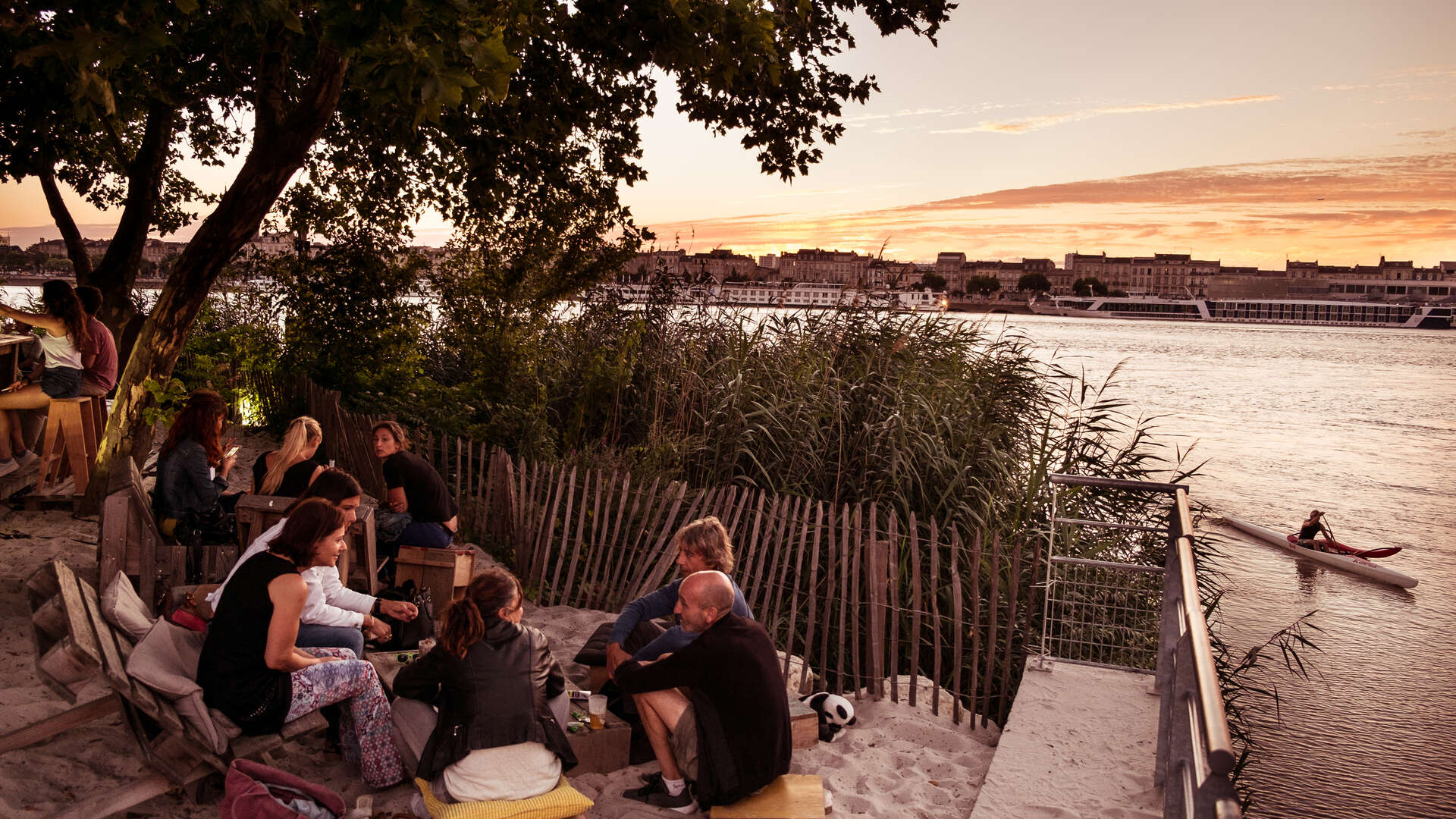 Read more 
An organic and locavorian restaurant in Bordeaux: La Belle Saison
Trained in Paris by Christian Constant, having worked in the kitchens of the prestigious Hôtel du Palais in Biarritz and the Hôtel de Sèze in Bordeaux, Jean-Christophe Martinez joined the team of this country-style restaurant facing the Garonne River. In the chic and bohemian setting of La Belle Saison, which opened in May 2019, the Chef crafts a refined seasonal cuisine inspired by the flavours of yesteryear.
Read more 
75 Quai des Queyries
+33 (0)5 57 80 33 33
I.BOAT: Bordeaux's trendiest restaurant 
Situated north of Bordeaux opposite the submarine base, the iconic ferry is Bordeaux's vibrant haunt of hybrid cultures. Attracting night owls and party-goers thanks to its club and regular concerts, the boat also houses a canteen offering street food specialities. The terrace, heated in winter, is the ideal spot to sip on a drink and contemplate the view of the Bassins à flot quarter.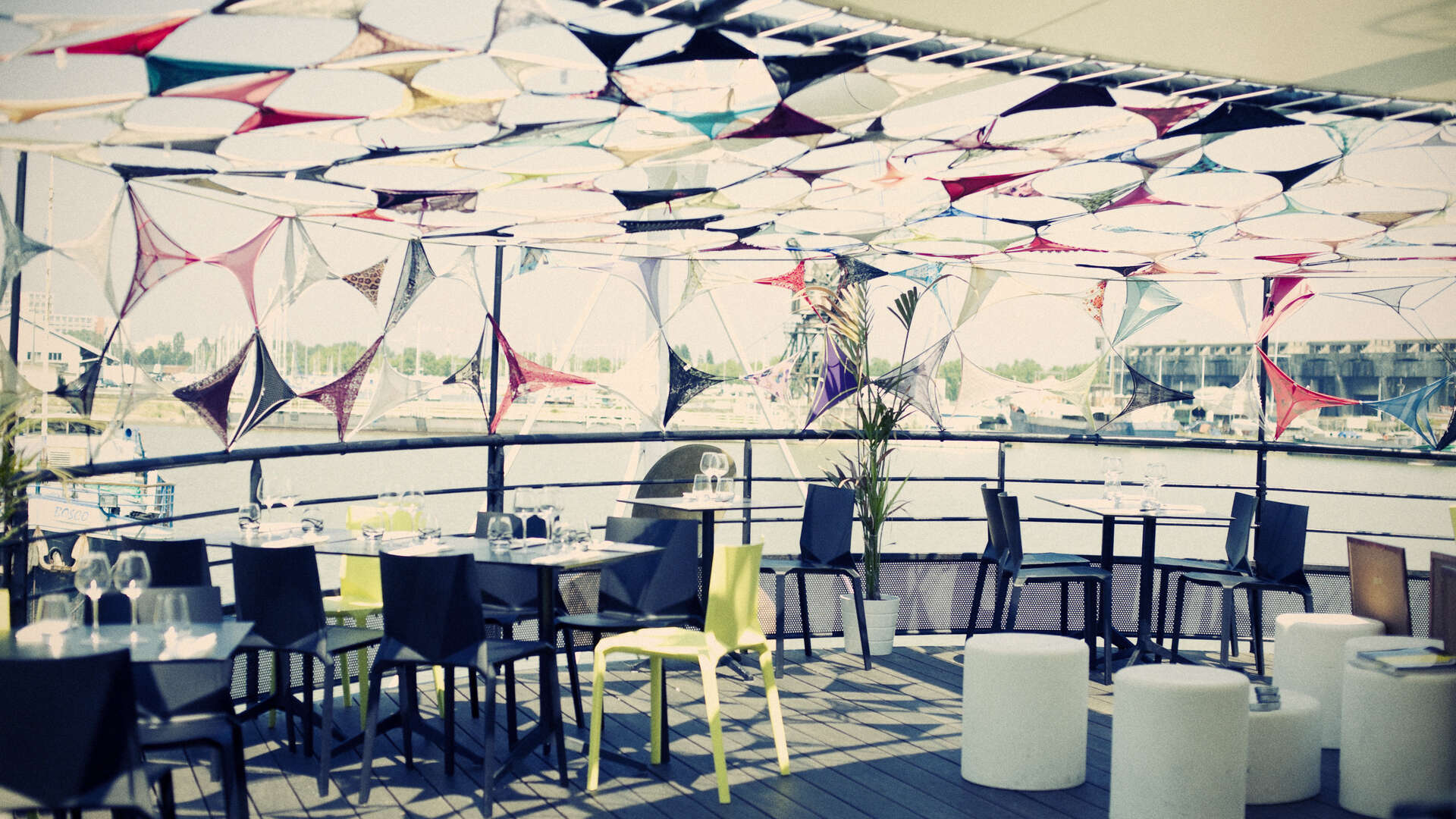 Read more 
Enjoy panoramic views of the Garonne at L'Estacade
Established in front of the city's Place de la Bourse, this house on stilts welcomes you in a sleek glass decor. Exuding a zen and chic atmosphere, the restaurant boasts a unique panorama of the river and the city. The seasonal, à la carte dishes skilfully blend Mediterranean and Atlantic flavours. Make sure you book in advance and don't hesitate to ask for suggestions on food and wine pairings.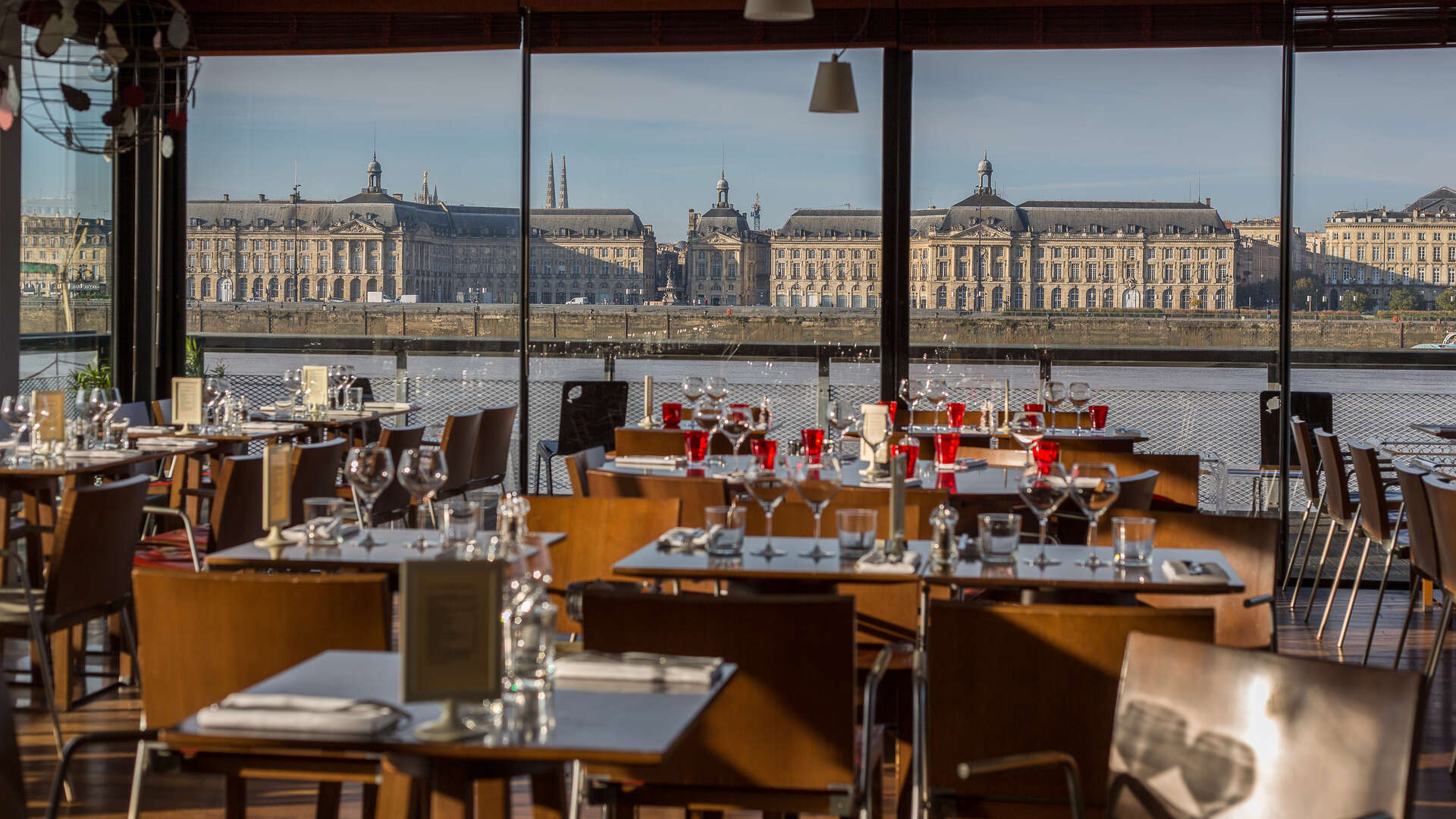 Read more 
Quai des Queyries
estacade-restaurant.com
+33 (0)5 57 54 02 50
On the riverside with Le Café du Port
Located on the banks of the Garonne, Le Café du Port is housed in a former boathouse converted into a restaurant at the end of the 1990s. It features a lovely terrace and boasts otherworldly views of the stone bridge and the Flèche Saint-Michel. Discover its seasonal cuisine, both traditional and refined, with a menu that changes every three months. Enjoy a free parking valet service at both lunch and dinner (except on Sunday and Monday evenings).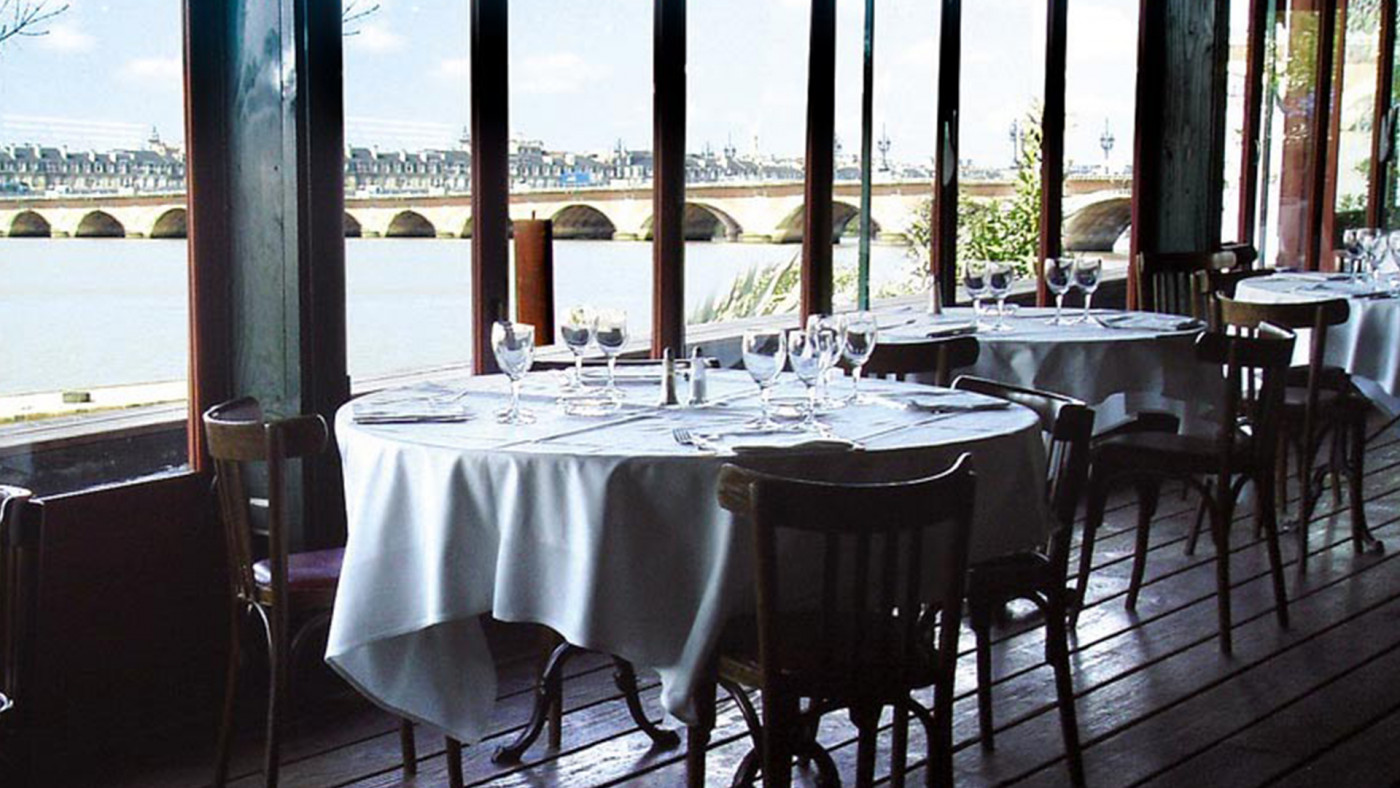 Read more