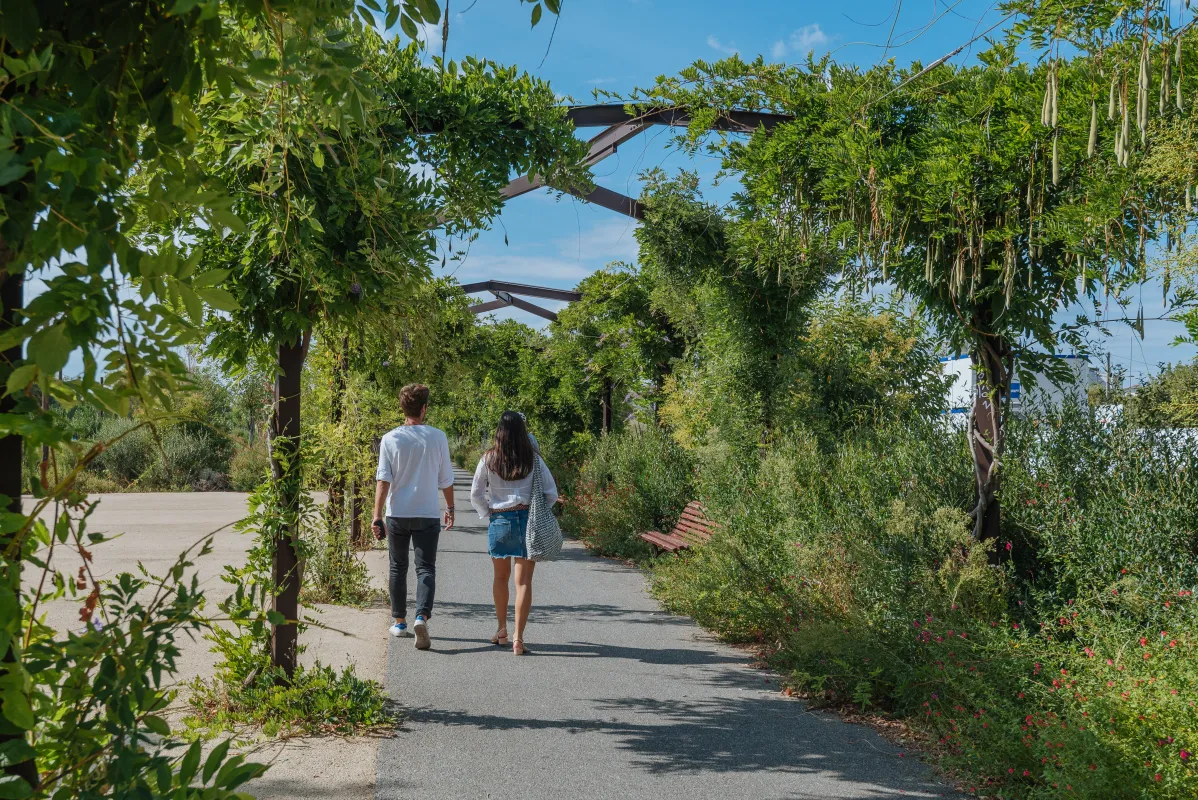 Angéliques Park
On the Garonne's right bank, Angéliques Park is a real "green river," ideal for walks, picnics, and playing in the fresh air.
Angéliques Park, return to nature
Between the Saint-Jean and Chaban-Delmas Bridges, nature has regained its rightful ground on the banks of the Garonne. Once wine territory (the Queyries vineyard sat here), and military and industrial zone (flour market in 1852, turned Niel barracks in 1876, and mills in 1921), today the space is filled by a 3.5km stretch of trees (ashes, maples, wild cherry woods, and hornbeams) where one can stop and admire white stone buildings along the opposite bank. More than 70,000 plants reside in Angéliques Park, whose name comes from the estuary's Angélique flower: an endemic species, discovered in 1860 by the British botanist James Lloyd. The plant had all but disappeared when in 2007 it was named an endangered species. You'll notice these small white petals perched upon long stems throughout the park as you stroll along the Garonne.
Different landscapes in the Angéliques Park
Imagined by the landscaper Michel Desvigne (between the stone bridge and Chaban-Delmas bridge) and landscapers Patrick Ecoutin and Pascal Cribier (from the Saint-Jean bridge to stone bridge), Angéliques Park is made up of three distinct landscapes. Quai de Queyries: open, tree-lined fields offer shaded areas for pastoral breaks. Quai de Brazza: fields give way to cobblestones (where old railway lines give a glimpse into the city's ancient forms of commerce), and a bike path alongside pedestrians. Finally, quai Deschamps, where the park evolves into a long, wisteria-covered pergola. Between this green tunnel and Garonne's embankment you'll find densely planted spaces and grass covered expanses leading to stairs to the Saint-Jean bridge.
Lots of nature, and a little culture too
Note that if Angélique Park highlights first and foremost nature and fresh air, there is also culture to be found here. On the path leading up from the Bat3 boat dock to the Belle Saison restaurant, a plaque lies in honor of the young Bordeaux poet Jean de la Ville de Mirmont, mowed down at only 28 on the Chemin des Dames battlefield in 1914. In the open field a few feet away, facing the entrance of the Botanical Gardens, a bust of Toussaint-Louverture sits in honor of the father of Haitian independence and to remind Bordeaux of its history in slave trading. Finally, educational signs are interspersed throughout the park to give insight into the riverbank's flora and fauna.
READ MORE