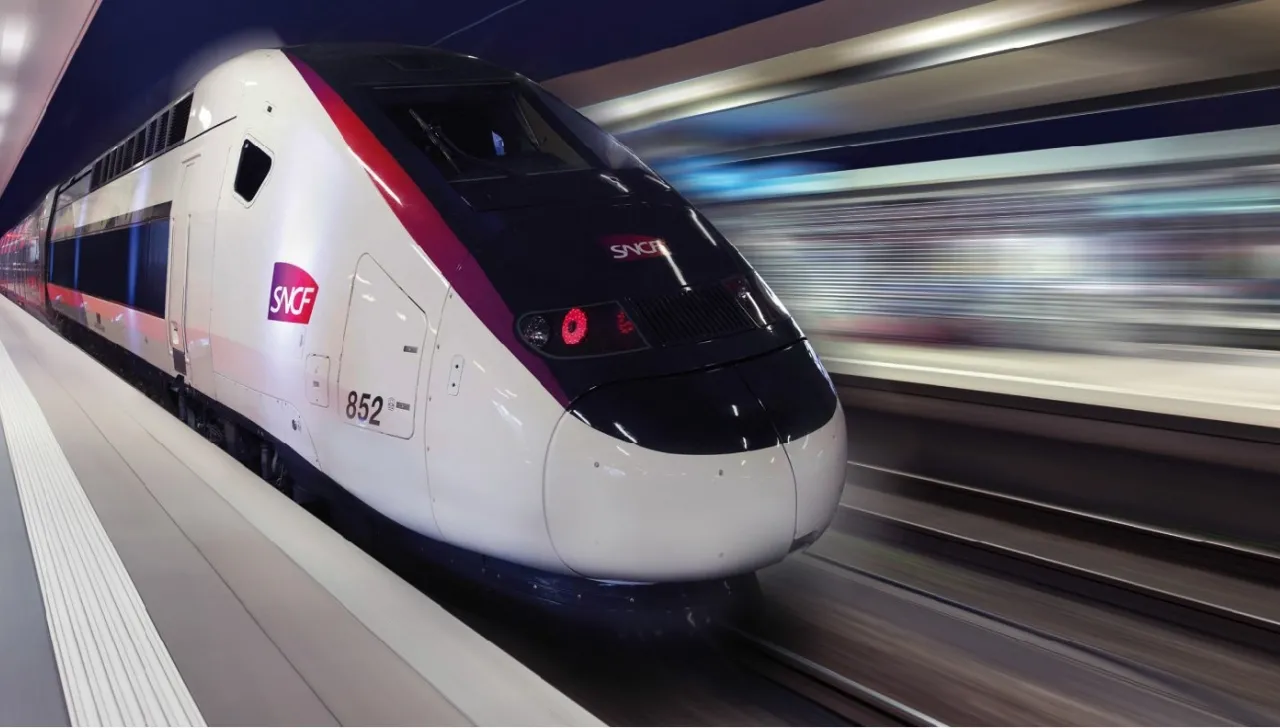 LGV Paris - Bordeaux line: timetables, fares and frequency
The High Speed Line, inaugurated in 2017, has put Paris just 2 hours 04 minutes from Bordeaux. There are 33 round trips a day between Bordeaux and the French capital, carrying 35,000 passengers. Spending a weekend in Bordeaux from Paris without taking your car has never been easier or more comfortable. Arriving in Bordeaux from Paris by LGV? We've got all the information you need for a slow, low-carbon stay in Bordeaux.
THE HIGH SPEED LINE BETWEEN PARIS AND BORDEAUX IN FIGURES
The 302 km high-speed line extends the south-west branch of the LGV to Bordeaux. There are more than 33 daily round trips between Paris and Bordeaux, 18.5 of which are direct. The high-speed line travels at 320 kph and links the two cities in 2 hours 04 minutes.
PURCHASE AND PRICE OF TRAIN TICKETS
Tickets are sold online from €25.
You can order your tickets directly from the sncf-connect.com website.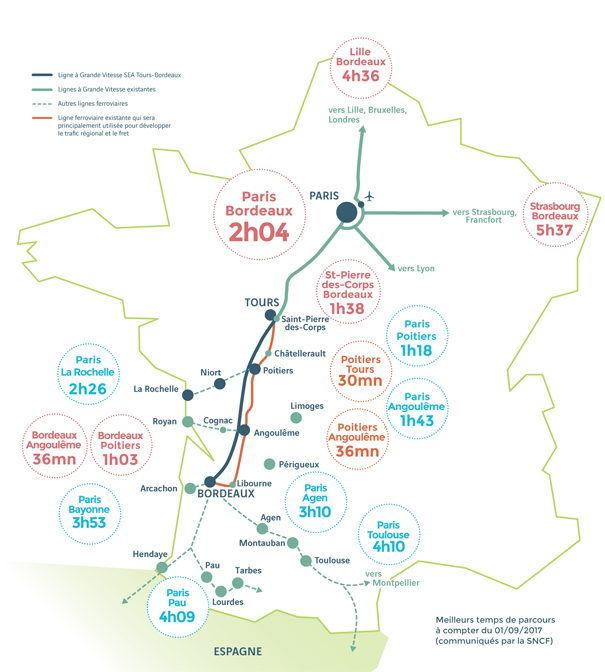 TIMETABLES AND JOURNEY TIMES PARIS - BORDEAUX
The TGV INOUI and TGV OUIGO depart from Paris Montparnasse and arrive at Bordeaux's Saint-Jean station. The first trains leave Paris around 6am, the last around 9pm. The commercial offer has evolved since the launch of the LGV, with a low cost Ouigo ticket service.
NUMBER AND PROFILE OF TRAVELERS
Since it opened in 2017, the LGV Sud Europe Atlantique (SEA) between Paris and Bordeaux has been a huge success, attracting more than 3.8 million extra passengers a year (+2.6 to +3.5 million were forecast).* Business travelers, families and tourists all have a broad profile, and trips are made for both leisure and business purposes.
* source: LISEA socio-economic observatory
At Bordeaux station, intermodality and disability
When you arrive at Saint-Jean station, you can easily reach the city centre by tram. Lines C and D take you to the Place des Quinconces in around ten minutes. If you don't have a lot of luggage, you can also borrow a self-service bike. The station is opposite the tram stop, on the corner of rue Saint-Vincent-de-Paul and rue Charles Domercq. Here's all the information you need about this hire option.
A free assistance service is available for people with disabilities (PWD) and people with reduced mobility (PRM). Go to the "Assistance Voyageur Handicapé" reception point. When you arrive at your destination, you will be accompanied from your seat on the train to the station exit, your seat on the connecting train, the station taxi rank or any other place of your choice within the station. When you leave, an assistant will accompany you from the station to your seat on the train.
Are you continuing your journey from Saint-Jean station? Bus, long-distance coach, airport shuttle, taxi or car hire, find out all about intermodality at Bordeaux station here.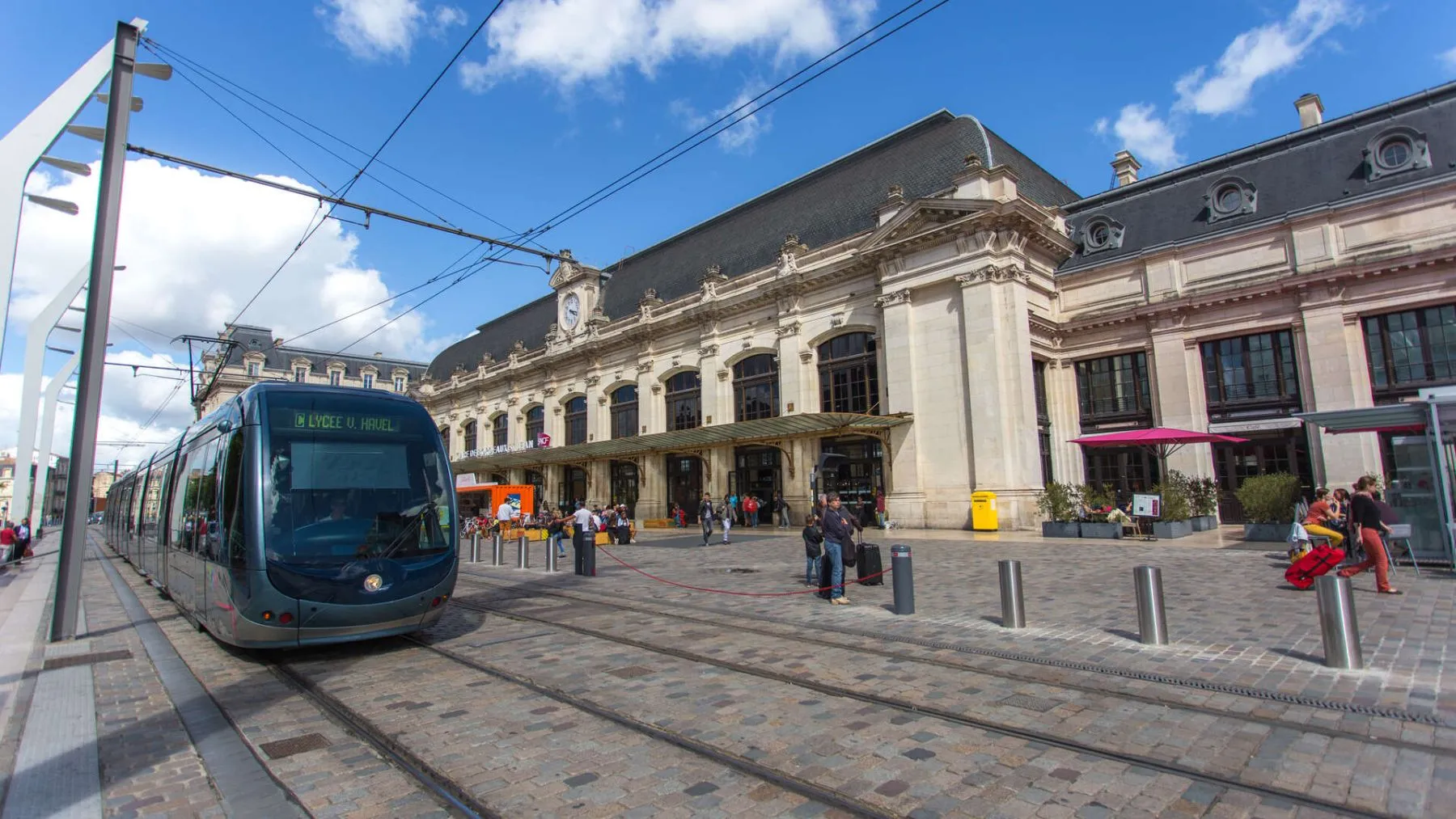 Dormir et manger près de la gare de Bordeaux
​​​​​A few tips for your car-free holiday
By choosing to travel by train, you've already made a big effort! Trains pollute 8 times less than cars and 14 times less than planes (source: ADEME), making them an excellent alternative. Once you're there, let's keep up the good work! You'll find all the information you need for a low-carbon holiday on our website, and our holiday advisors can tell you all about low-carbon transport, service providers and activities on the spot. Here's some inspiration:
Bordeaux is only 60 kilometres from the Atlantic coast or the Arcachon Basin. There's no need to miss out if you don't have a car. Here are 5 alternatives for getting to the beach.
In Bordeaux, the tourism industry is redoubling its efforts to make its activity more sustainable.Thanks to recognised labels, you can easily identify those who are committed to reducing their CO2 emissions and helping to make their sector more virtuous.Whether you're looking for accommodation, catering or leisure facilities, follow the little green leaf on our website to find out which players are committed to a sustainable approach.
Good news for wine lovers who prefer to leave the car in the garage: in Bordeaux, the vineyards are just a bike, tram, train and bus ride away! Fancy a weekend of wine and soft mobility? Here are our ideas!
Bordeaux is a city that relies on cycling, and since the summer of 2023, the city has proudly held the "Ville à vélo" label, awarded by the Tour de France organisers. The label's four bicycles, the maximum possible, reward "an exemplary cycling promotion policy". So all you have to do is hop on a bike and follow our tips for a slow-paced cycling holiday.