Bordeaux by skateboard - Tips by David Manaud
There's no doubting that Bordeaux is skater-friendly, and they often flock to its smooth surfaces! David Manaud is a well-known figure in the Bordeaux skating world. As a photographer and a project manager for a skateboard brand, he gives us his tips for Bordeaux's best skating spots!
Where are the best spots for skating around Bordeaux?
One of the best street spots is on Place Pey Berland, and after that it's the red square on the quays, opposite Place des Quinconces. There's also the steps on the Monument aux Girondins, on Place des Quinconces. Finally, there's an classic 80s and 90s spot, "le Koenig", on the terraces of Mériadeck. Generally, skaters meet up there after 5pm so as not to bother the people who work around there during the day!*
What about any skate parks?
The best spot, especially when it's raining, is the Darwin skate park, as it's under cover. But be careful of the noise; when you spend the whole day there, your head
is buzzing in the evening! There are also skate parks in Caudéran and Villenave d'Ornon which are very nice. The Bordeaux skate park is soon going to have a new look and is undergoing restructuring works. It has massively contributed to skating's popularity in the city because it is one of the only ones in the centre, located on Quai des Chartrons. Finally, with an added cultural element, you can try out Zoom on Cours du Médoc. Not only can you skate, but you can see an exhibition as well.
Where do skaters meet up to go for a drink?
The pub for skaters is Molly Malone's, and they also run into each other at La Vie Moderne. To dance, they generally head to the I-boat.
Which skate shops would you recommend?
The Riot skate-shop opposite the skate park on the quays is one of the oldest in Bordeaux and has a global reputation, as it sells brands that are hard to get hold of. You also have Sirop d'érable, which is a tiny skate shop in the city centre on Cours Alsace-Lorraine. Finally, I recommend Transfert on Rue du Palais Gallien, which must be the oldest skate shop in Bordeaux. It has to be at least 25 years old. It has kept a rock'n'roll style, rooted in an 80s-90s skating ambiance.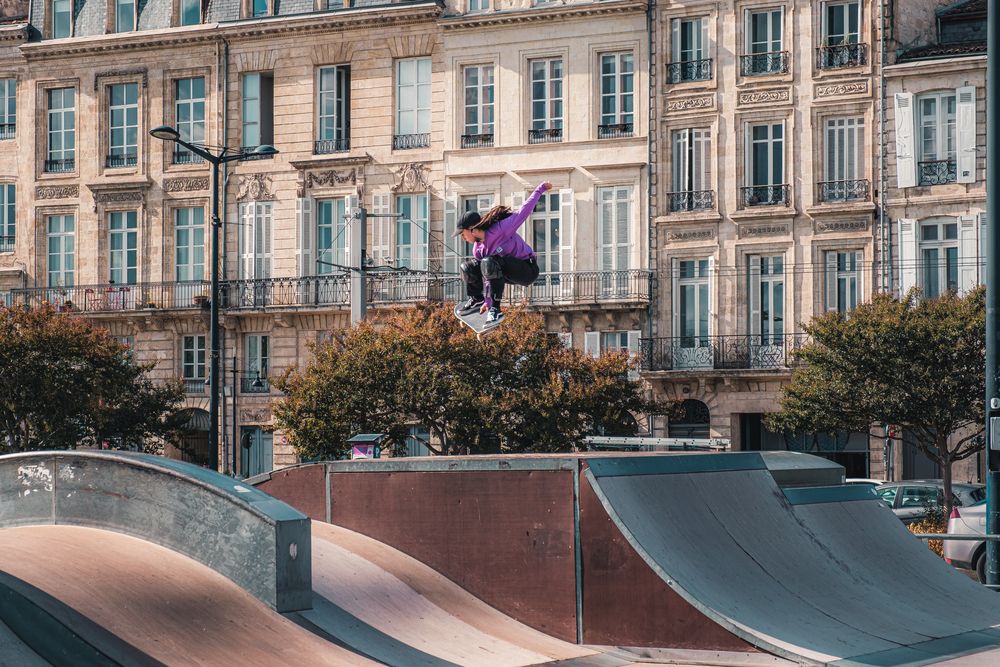 What about any Bordeaux skateboard brands?
The most well-known is Magenta. It was created in Paris but the team have since settled in Bordeaux. There's also Rave, a new up-and-coming brand that's getting recognition across Europe. Finally, I might mention the brand that I started with three other friends who are also photographers: Diapo. We work with the agency Artprint, who use silkscreen printing to print our photos on skateboards. We can do whatever we want; you can even see my mum and my cat on some of our boards!
 ADDRESS BOOK
Le Koening - Terrasse du Général Koenig, Bordeaux
Skate-park de Darwin - 87 Quai des Queyries, Bordeaux
Skate-park de Bordeaux Caudéran - Rue Domion, Bordeaux
Skate-park de Villenave d'Ornon - Plaine des sports de la Junca, Chem. de Cadaujac, Villenave-d'Ornon
Zoom - 5 bis Cr du Médoc, Bordeaux
Molly Malone's - 83 Quai des Chartrons, Bordeaux
Riot skate-shop - 81 Quai des Chartrons, Bordeaux
Sirop d'érable - Cr d'Alsace-et-Lorraine, Bordeaux
Transfert 109 - Rue du Palais Gallien, Bordeaux
* As part of the experimental 'Skate(z) zen' initiative, which aims to build a dialogue between city-centre residents and skaters, skating is allowed at precise times in the city centre's large open spaces: from 11am to 8pm on Wednesdays and Sundays on the following squares: Place des Commandos de France, Place Pey-Berland, Place Rohan.