A wine tourism experience in Bordeaux
A grape massage, a night in a barrel, a wine tasting trail, wine conferences, mountain biking through vines, or a comic book painted with wine... Wine tourism in Bordeaux offers a myriad of creative, fun, and surprising ways to discover the vineyard, its richness and its history.
Sleep in a barrel
At the gates of Saint-Emilion, on the vineyards of Château de Bonhoste, two giant barrels stand in the middle of the vines. These livable vats, specially designed by the prestigious cooperage Seguin Moreau, will be your new home for the night! Normally used for the maturing and vinification of wines, the barrels have been turned into cosy cocoons with a view of the vineyard. The tour includes breakfast, a guided tour of the Château de Bonhoste, and a wine tasting session. Love at first sight guaranteed.
Château de Bonhoste
33420, Saint Jean de Blaignac 
+ 33 (0) 557841218 
To know more about it
Discover vinotherapy at Caudalie
The expert vinotherapists at Spa Caudalie use the virtues of grapes, particularly rich in polyphenols, a natural antioxidant, to offer a range of original body care sessions. From treatments with grape and red vine extracts and essential oils to activate circulation to a massage with grape seed oil or a hand massage with fresh grape pulp, discover the very best of grape-based care. Combined with the virtues of Les Sources de Caudalie's warm waters, this renowned Spa offers the very best of vinotherapy. 
Les Sources de Caudalie
Chemin de Smith Haut Lafitte, 33650 Bordeaux - Martillac  
+33 (0) 5 57 83 83 83
To know more about it
Discover Saint-Emilion and the Cordeliers Cloister by electric Tuk-Tuk
The 14th century Cordeliers Cloister, an architectural masterpiece located in the heart of Saint-Émilion, is listed as a Historic Monument. Sparkling wines have been produced there since 1892 using the traditional method, in three kilometers of underground galleries. Guided tours on foot or by electric tuktuk are also organized from April to October to visit the wine tourism site and its underground galleries, the village of Saint-Emilion and end with a tasting of vintage crémants accompanied by a Saint-Emilion macaroon.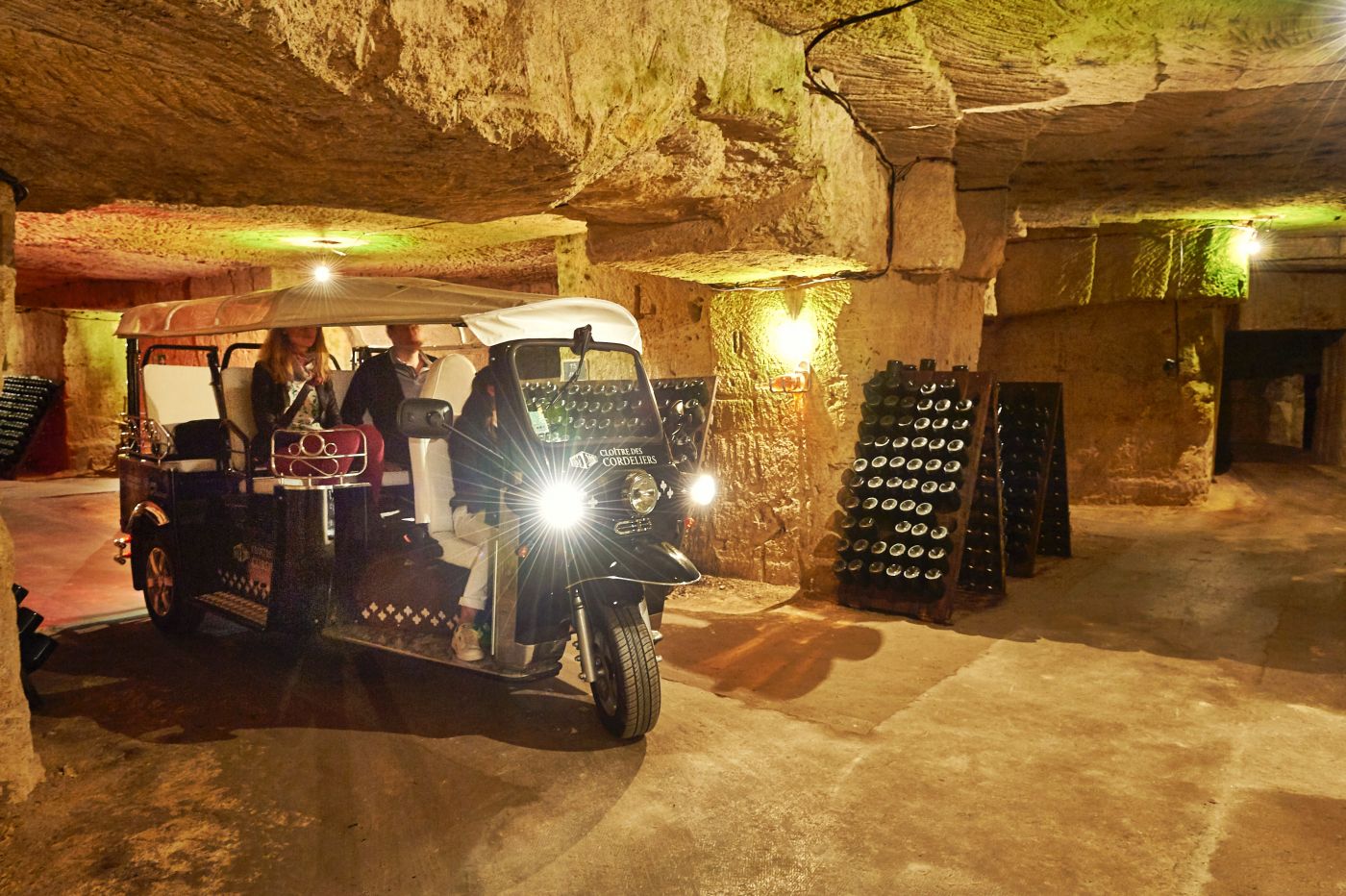 Reservation on the website Cloître des Cordeliers
2 bis rue de la porte Brunet, 33 330 Saint-Emilion
+ 33 (0) 5 57 24 42 13
The Harvest of Knowledge
Every first Tuesday of the month, at 7 pm, the curious of all stripes, wine aficionados, along with art and history lovers meet at the Cité du Vin. They come to attend a conference organised as part of the "Vendanges du Savoir" (Harvest of Knowledge) and hosted by researchers. An opportunity to discover the current explorations of scholarly research into the world of vines and wine. From wine in painting to the history of the AOC regulations and the role of wine in health, the list of lectures is long! These conferences will expand your perception of this unique beverage. 
La Cité du Vin 
Esplanade de Pontac, 134 quai de Bacalan, 33000 Bordeaux 
+33 (0) 5 56 16 20 20 
To know more about it
A mountain bike tour of the vineyards
If you're keen to cycle your way through the vineyard, a mountain bike tour is an original way to observe the local fauna and flora. Departing from the Les Batailleurs campsite, the 15-kilometre trail will take you across beautiful vineyards and valleys. Perched on your bike, you will be able to enjoy the landscape at your own pace. A stop at an AOC winegrower (each week a different château welcomes you) will be the occasion for a tasting session in a warm atmosphere.
Bookings at the Campsite : €18/person (includes bike rental and tasting) 
2 promenade du Bourdieu, 33350 Castillon-la-Bataille 
+33 (0) 5 57 40 42 83
A tasting tour in Bordeaux
Best enjoyed with family or friends, a tasting tour of Bordeaux blends historical anecdotes with tasting sessions in the company of seasoned wine merchants. It's an excellent alternative if you don't have time to visit the vineyard. At the end of this walk in the heart of Bordeaux, you will know when the first vines were planted in the region, you will master the basics of wine tasting, and learn all about the wine-related origins of the iconic "cannelé" pastry! At each tasting stop, kids can enjoy activities adapted to their age: making little men out of wine corks, magical colouring-in, and word jumble.
« Bacchus Wine Tour », Les Ateliers de Bacchus
61 rue Raymond Bordier, 33200 Bordeaux
+33 (0)6 61 85 00 80 
To know more about it