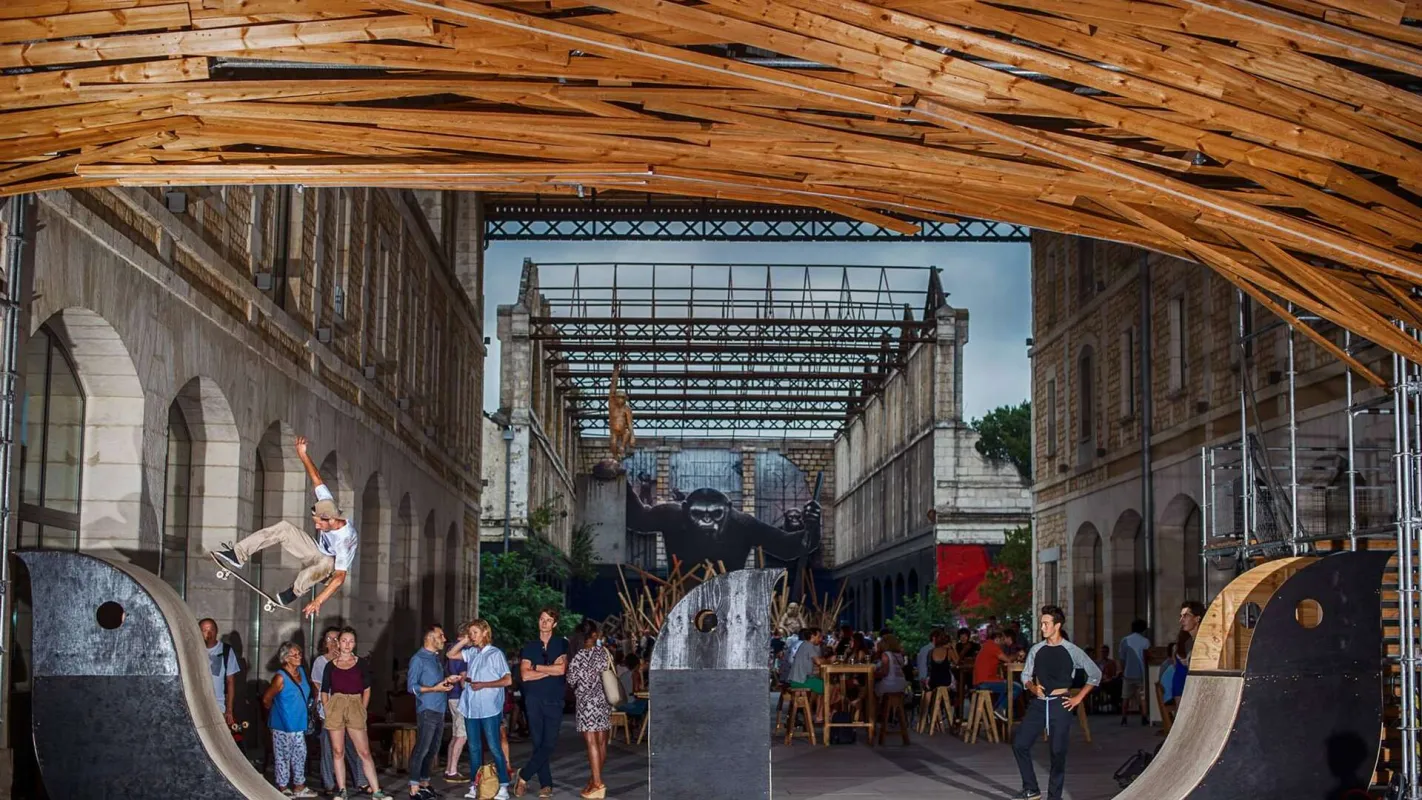 Darwin, an alternative and inspiring urban ecosystem
Located on Bordeaux's right bank, in the Bastide district, this former military barracks is now eco-rehabilitated and has become one of the most visited places in the city.
An unprecedented sociological experiment, Darwin and its many components are difficult to sum up, and attract as many different profiles as innovative projects. Between skaters and street art enthusiasts, green economy entrepreneurs, fans of electro music, biodiversity advocates and Sunday brunchers, everyone has a unique place.
"Darwin is a village square in Bordeaux's right bank. Coming here is like coming to the future," explains its founder, Philippe Barre. Darwin is a living place:  people work here, but also come to lunch (organic of course!), have drinks, stroll, read, discover street art…children can have fun freely and even animals are raised here. At Darwin, one can choose to consume differently. It is a rich, creative, alternative, lively, dynamic, and inspiring place.
Darwin, a name synonymous with creative, sporty, and alternative
With its wood, stone and metal buildings, Darwin evokes a Berlin atmosphere, where graffiti is king. At the entrance, even before you've walked in, your eye is drawn to the huge frescoes adorning the outer walls. Inside, images, drawings, and graffiti all take you on a visual journey to the land of street artists' imaginations. Among them is Zarb, from the full Color collective, and his impressive fresco of great apes.
A little further on, you'll see huge hangers whose walls are covered with street art, and where you can do urban sports. 
Tristan Barroso, president of Brigade, the association that manages the Darwin hangar and different sports on wheels (skateboarding, BMX and roller skating), emphasizes the importance of charging affordable rates: 

The indoor skatepark can accommodate 300 skaters. Membership in the association is 5 euros per year. The price to use the park is 5 euros a day or 40 euros a year. In any other city, be it Paris, Marseille or Berlin, membership costs closer to 300€.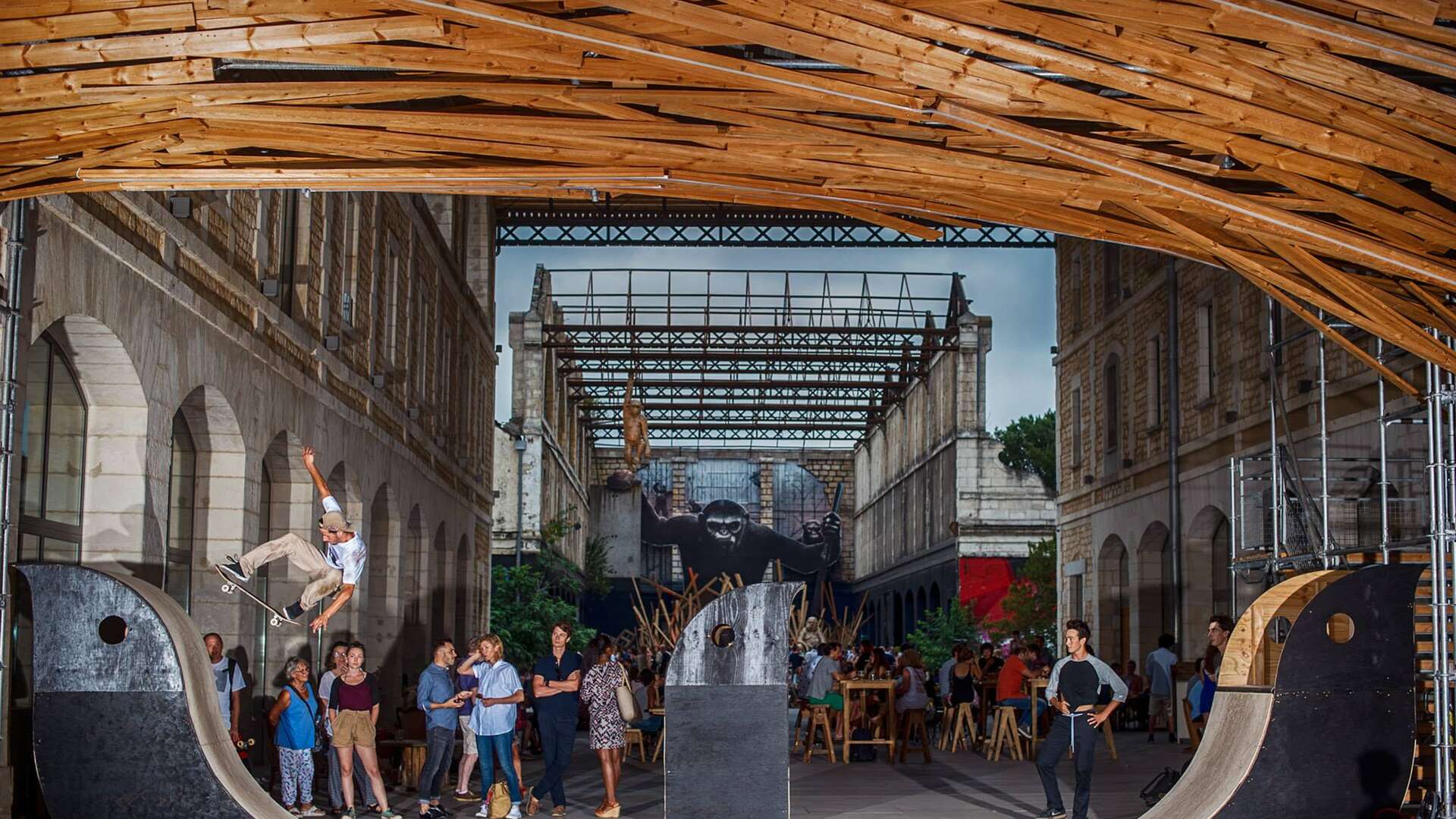 Just across from the skatepark, on the opposite side of the central walkway, Bric à  Brac  Emmaus calls you to come bargain hunting. Established since 2016 in an 800 m2 building, this spot is a real Ali Baba cave where everything is second-hand.
At Darwin, people also get their hands dirty. In the heart of the military wilderness, Niel farm has set up permaculture botanical and vegetable gardens. Here, nature is preserved and home even to frogs and bees.  "The urban farm is an urban agricultural experiment that produces hundreds of vegetables, aromatic plants and flowers," explains Tanguy Baron, who lovingly looks after hens and geese in the Poupoule henhouse.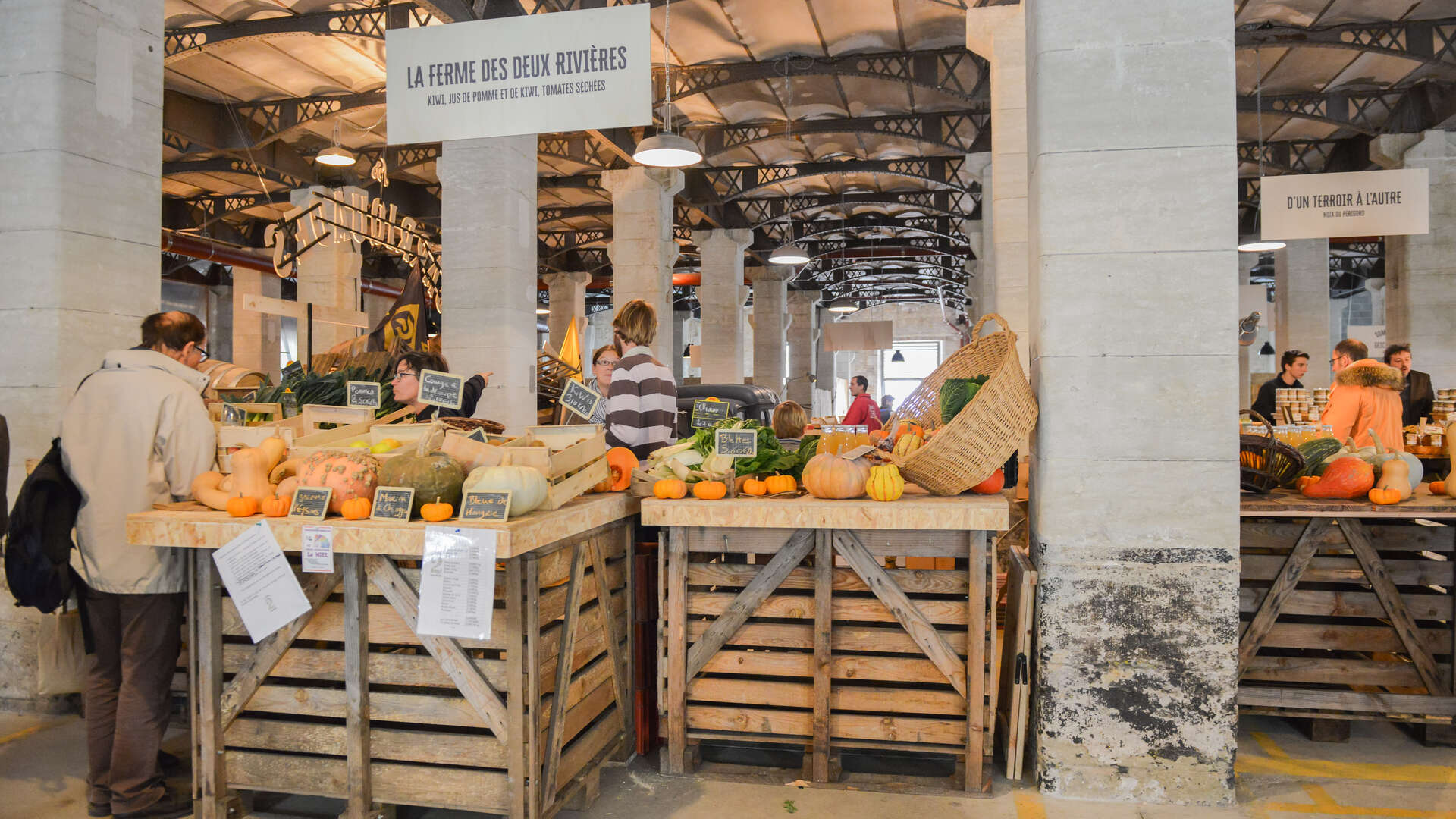 The general store, the largest organic bistro-dining hall in Europe

To take a break, sit in the large hall before the impressive Vortex (a large wooden scaffolding walkway connecting the barrack's main buildings), while sipping a Darwin  beer produced by local brewery Lalune at Chantiers de la Garonne. 
To eat, you will be welcomed by a gorilla mother and her baby, fashioned from recycled cardboard by the artist Laurence Valiières, as you head into the largest bistro-dining hall in Europe: the Magasin General.. Here,  "Everything is prepared from scratch in our kitchens," explains MG's manager, Maryline  Daugreilh.
"The menu is flexitarian to satisfy both vegetarians and vegans and those who are not. We work directly with suppliers and with partners whose products we use. We aim for zero-waste and collaborate with Detritivores, a local association that collects biowaste for composting. The organic store sells products from between 300 and 400 local partners."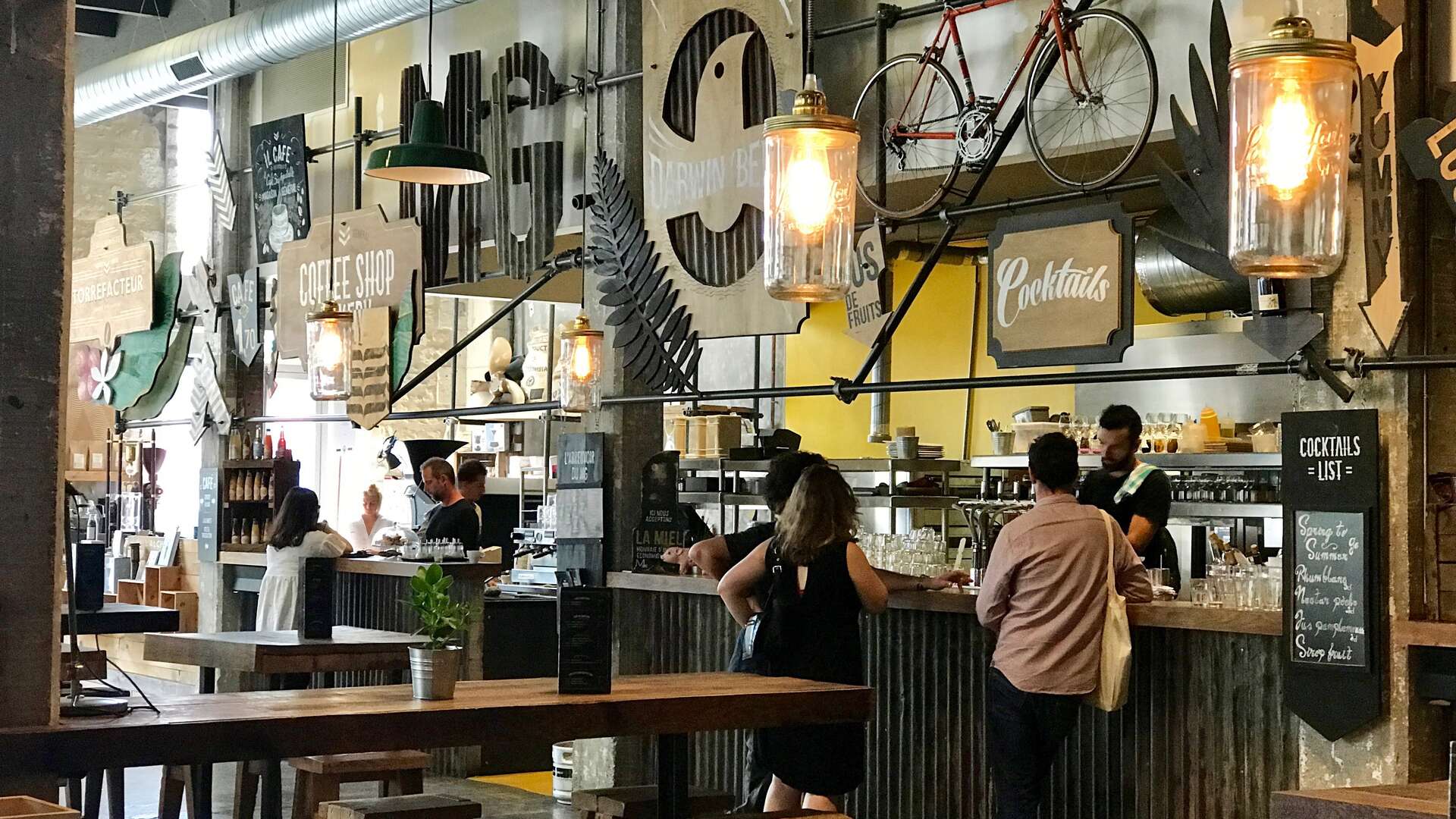 Darwin, a mix of creators, producers and traders
At Darwin, home to both a surf shop and a boutique dedicated to apitherapy, you can drink coffee roasted on site by Alchemiste roasters, all the while playing board games or browsing through books available from Le Passeur bookstore nearby. Created 2 and a half years ago by Martin Peix and Ingrid Lafon, Le Passeur offers a general selection, even if, as Martin Peix points out:

"Our selection revolves largely around ecology, nature, street art and surf culture. We also have a children's corner and we offer cards, notebooks, stickers and posters."

The furniture made by Camille Florent, one of Darwin's freelance craftsmen, brings a nice warmth to the whole experience.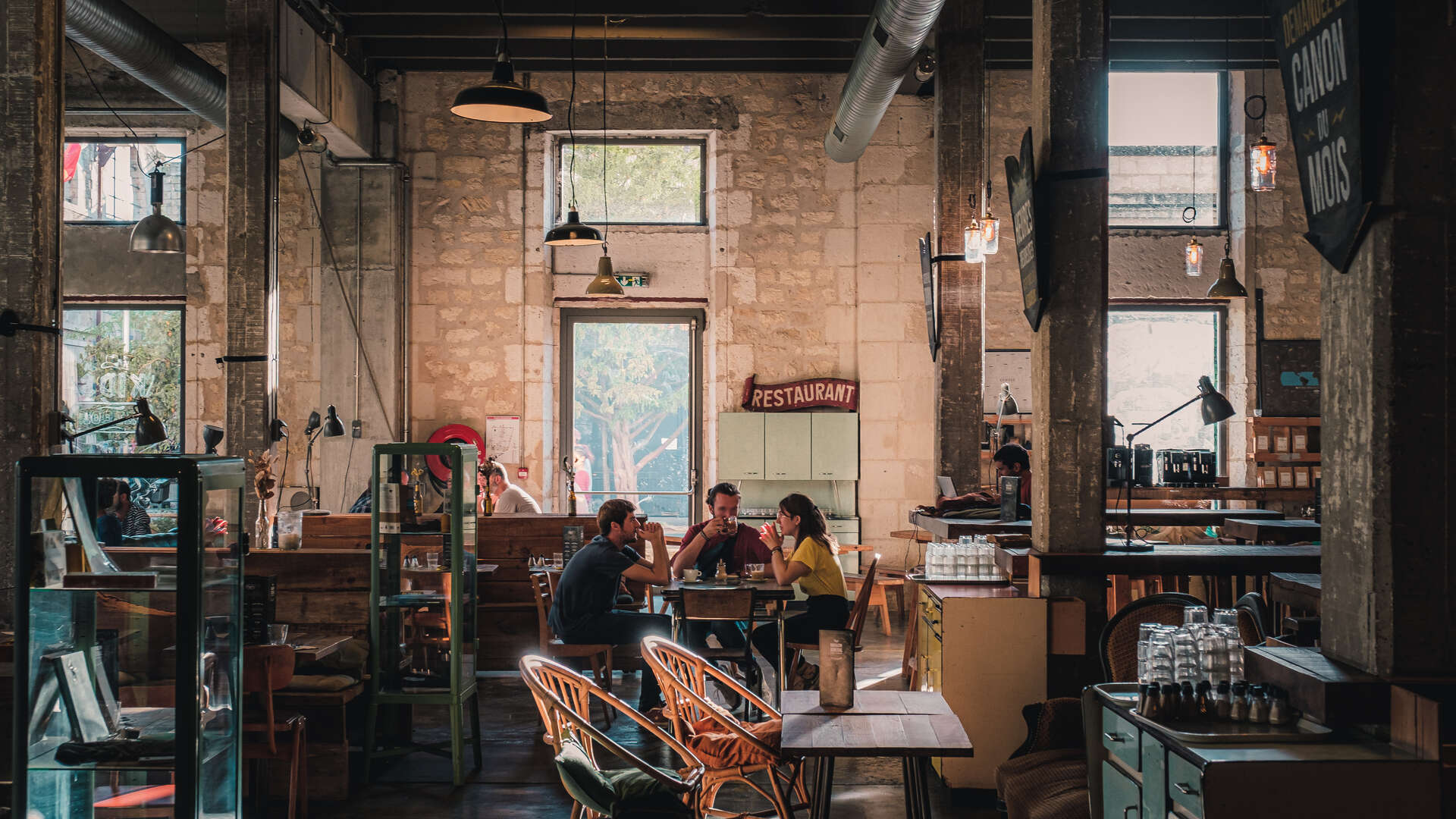 Darwin, a dynamic place!

Like any self-respecting village, Darwin offers plenty of entertainment: concerts, parties, exhibitions, films, sports competitions... There's always something going on at Darwin!
Darwin's cultural program begins with its springtime "Happy Hours", a series of after-work Wednesday evening events where the beer and music flow freely, and ends with a Christmas Market that brings together many local artisans and creators. Between the two comes the must-see Climax Festival which has been combining culture, concerts, conferences, arts and urban sports for five years come September in order to raise awareness for environmental and societal issues.