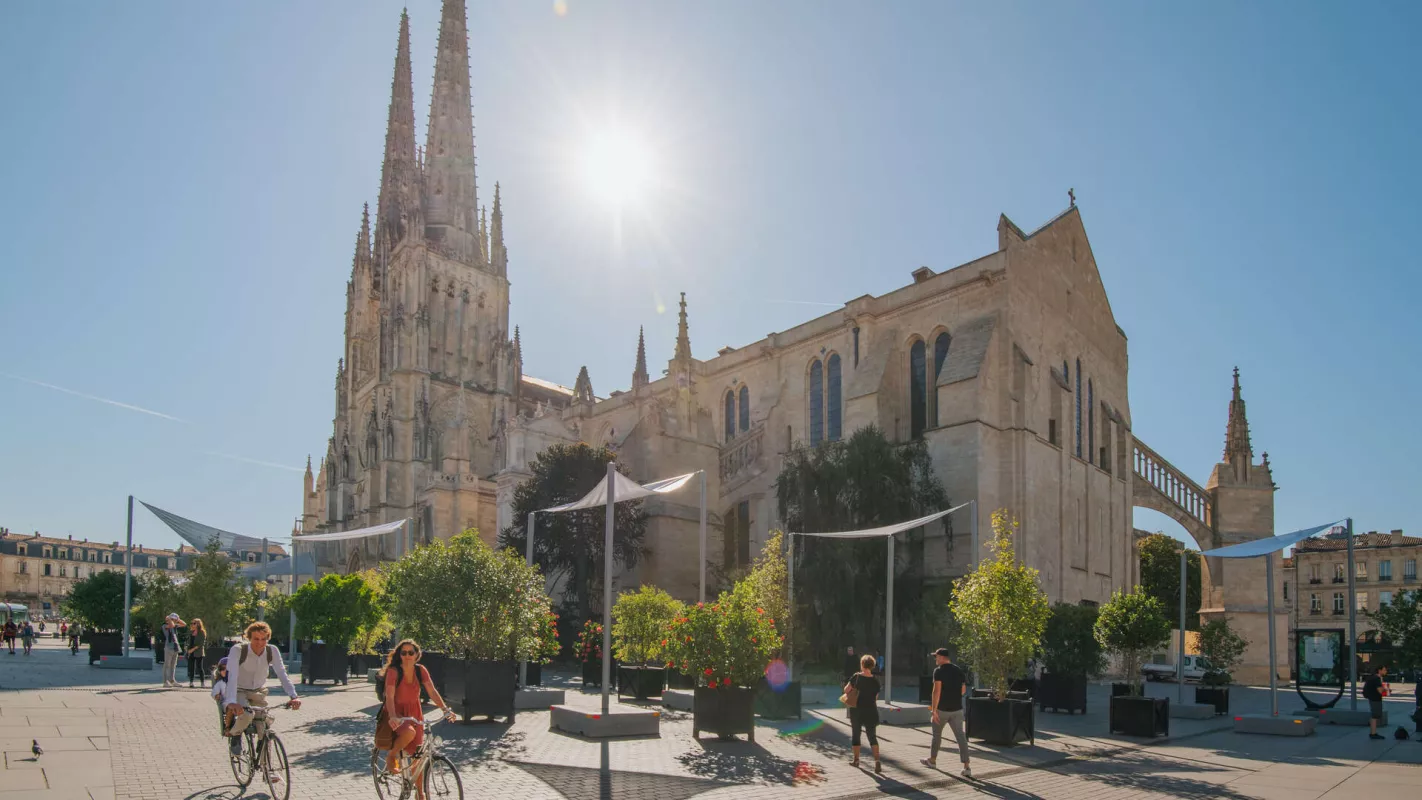 Cathedral & Pey-Beland tower
Near the Town Hall stands the most beautiful religious monument in Bordeaux, the scene of so many royal weddings and solemn funerals...
Separated from the Cathedral, its bell tower, the Pey-Berland Tower, provides a choice viewpoint over the surrounding area.
A ROYAL CATHEDRAL
Obviously, it is not like the cathedrals in the Paris region. Although it is not easy to compete with Amiens, Chartres or Reims, Saint André's heterogeneous style is nevertheless unexpected and endearing, especially because of its freestanding belltower. Eleanor of Aquitaine and Louis VII, the future king of France, were married here 1137, as were Anne of Austria and Louis XIII. The cathedral was used to store fodder during the French Revolution… a sad fate for this monument that also suffered from a devastating fire in the 19th century. All of the furniture was replaced with that taken from other churches.
The well restored royal entrance in the north wall of the nave epitomises 13th century French Gothic architecture. Like many other cathedrals, sculptures were painted in bright colours at the time to attract worshippers.
A SEPARATE BELL TOWER
Saint-André cathedral's original 12th century tower was insufficiently squat to support the weight of the tenor bell. It was thus decided to build a dedicated free-standing tower next to the cathedral in 1440. The Pey-Berland Tower was long one of the tallest buildings in the city. Unfortunately, a storm in 1617 ripped out the rostrum and this was replaced with a cross.
In 1853, a huge tenor bell was attached to the belltower's beams. Weighing 11 tonnes, it is the fourth largest in France. You need a good pair of lungs to walk up the 229 steps to the top of the tower (50 metres), but this is well worth the effort because the view of Bordeaux and its monuments is outstanding. The bell tower is open every day of the week except Monday.