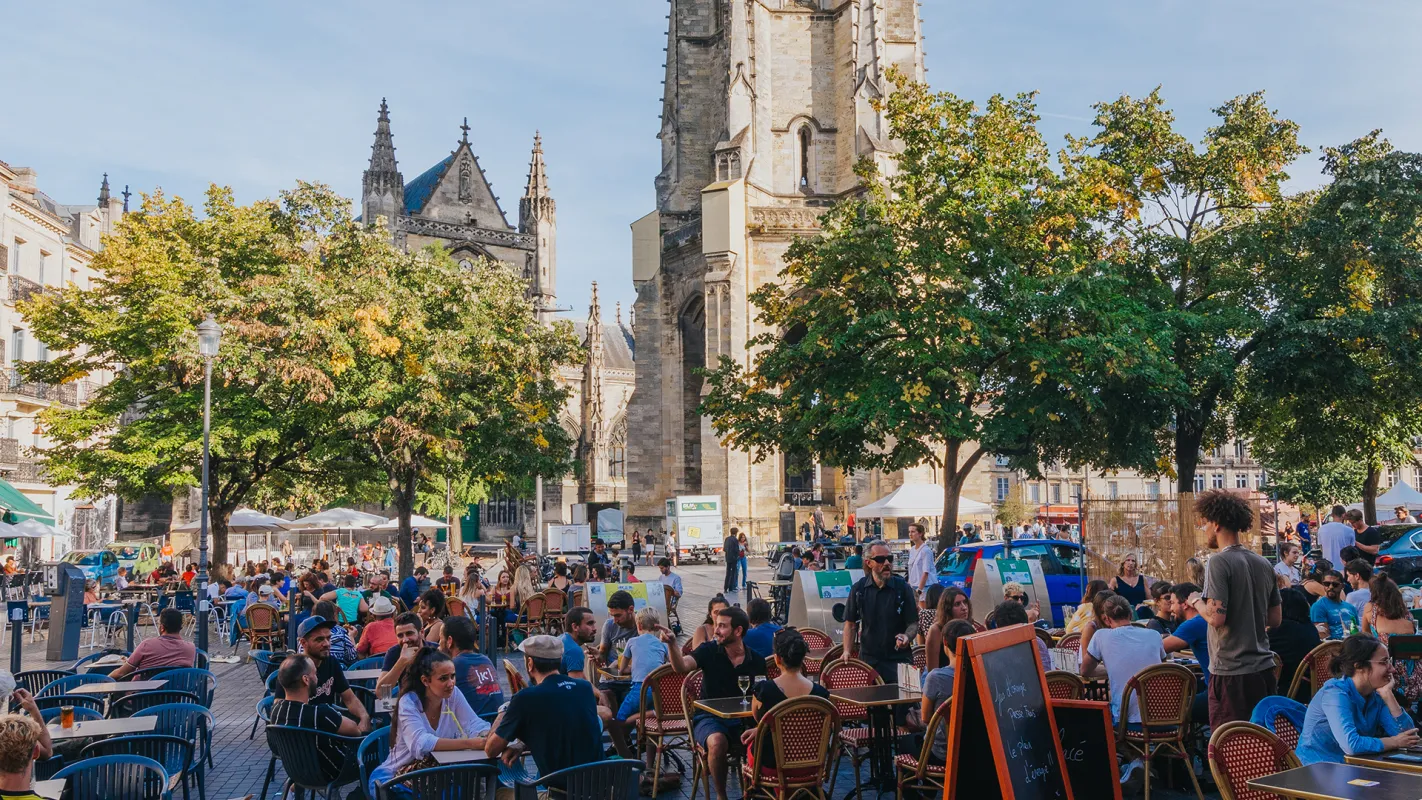 Beautiful terraces and charming squares
If you're looking for the best spot to bask on Bordeaux's sun-drenched terraces, the only issue is having to choose. Discover this useful little guide before wandering across the city from north to south.
Place du Marché des Chartrons - A village square, far from the hustle and bustle.

The Chartrons market square lies at the heart of the "village"; the market hall has become a cultural space, and the restaurants have extended their terraces. Lively conversations, laughter, and glasses clinking punctuate this friendly family atmosphere, exuding an authentic feeling of togetherness.
Pretty terraces also await you on the Quai des Chartrons and, even closer to the Garonne river, on the Quai des Marques where you can relax on a deckchair.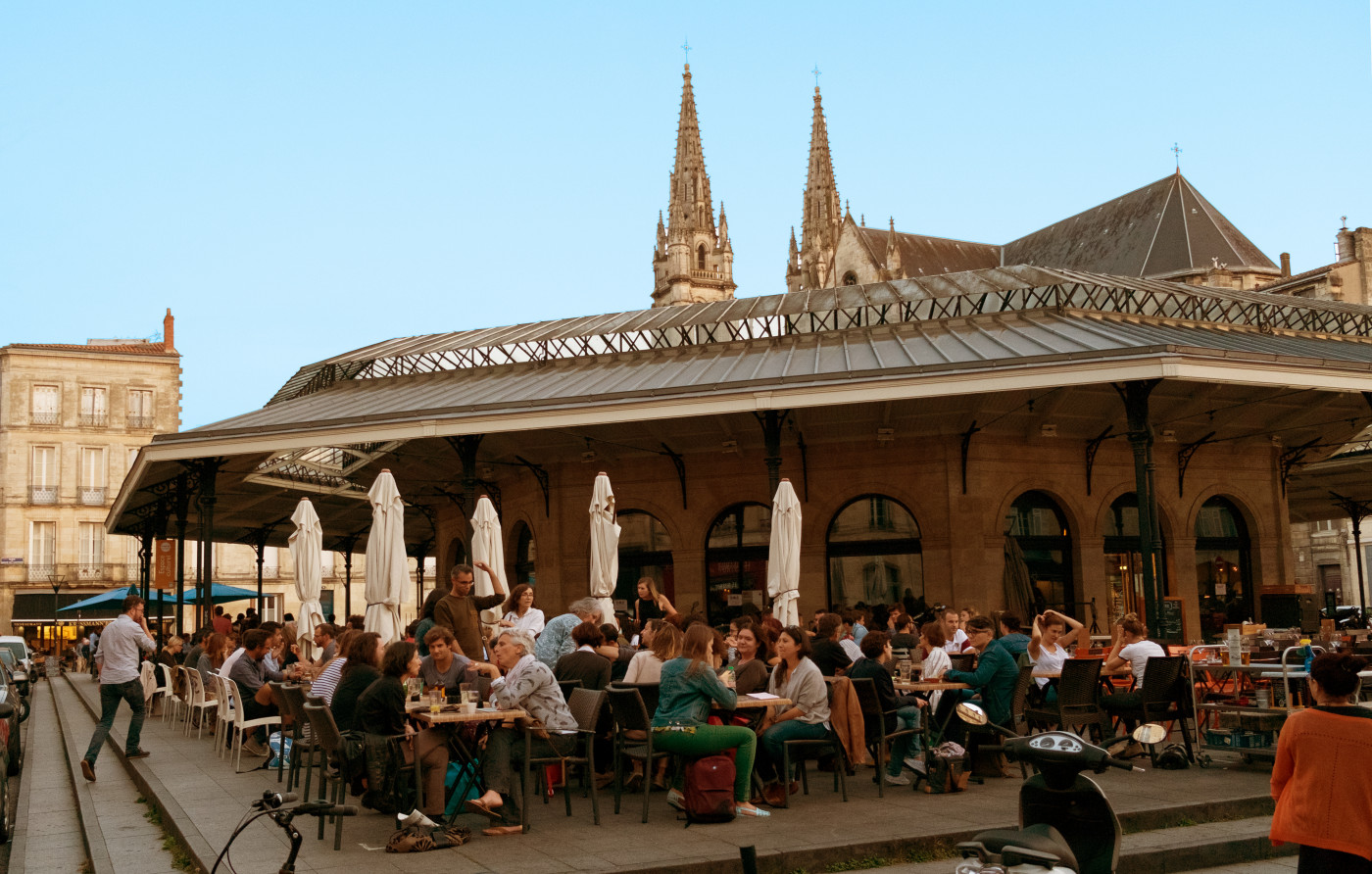 Place du Parlement - A way of life that spans the centuries
As you wander through Saint-Pierre, you'll find here and there more relaxed terraces attracting a cosmopolitan clientele. Another favourite local haunt is Place Camille-Jullian, a place where people of all styles and ages like to rub shoulders. Similarly, the magnificent Place du Parlement is just as lively.
Named Place du Marché Royal when it was first built in the 17th century, it later became Place du Marché de la Liberté during the Revolution, and finally Place du Parlement in 1848, in homage to the Second Republic. But its successive names have not been erased from the stone: keep an eye out!
Its baroque-style fountain dates back to 1866. Children love to dip their hands in the water under the watchful eye of their parents sitting on the terrace. Whether you wish to enjoy after-work drinks on a weekday, snacks on a Saturday or indulge in a Sunday brunch, Place du Parlement is the place to be. It is all about the French art of "easy living."
Only a stone's throw away, don't miss the Place Saint Pierre, which sits close to the église Saint-Pierre (church of Saint Peter). In the shade of trees, this square invites you to embrace the art of slowing down and enjoy the moment.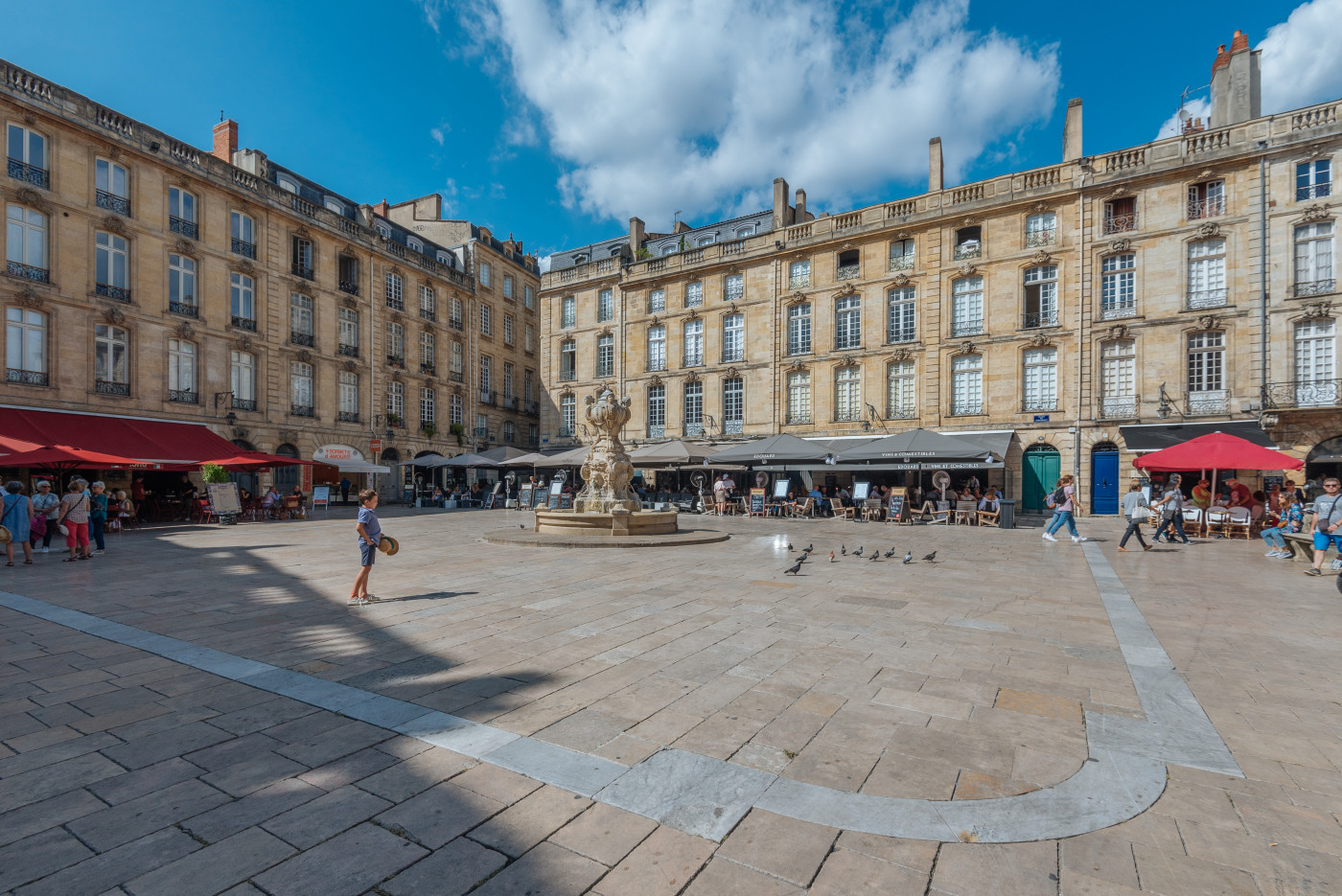 Place du Palais - for the trendy forty-somethings
A little further south, you will come across Place du Palais, boasting beautiful views of the Cailhau Gate. Built in the 15th century, this square was once the main entrance to the city from the port. It provided access to the Palais de l'Ombrière, the medieval residence of the Dukes of Aquitaine, which has now disappeared.
The square was completely revamped in 2009, in a way that beautifully highlights its unique triangular shape lined with restaurant terraces. Its featured artworks are very popular with children. Place du Palais is now a calm and friendly pedestrian gem, a little off the beaten path. A place you'll quickly learn to love!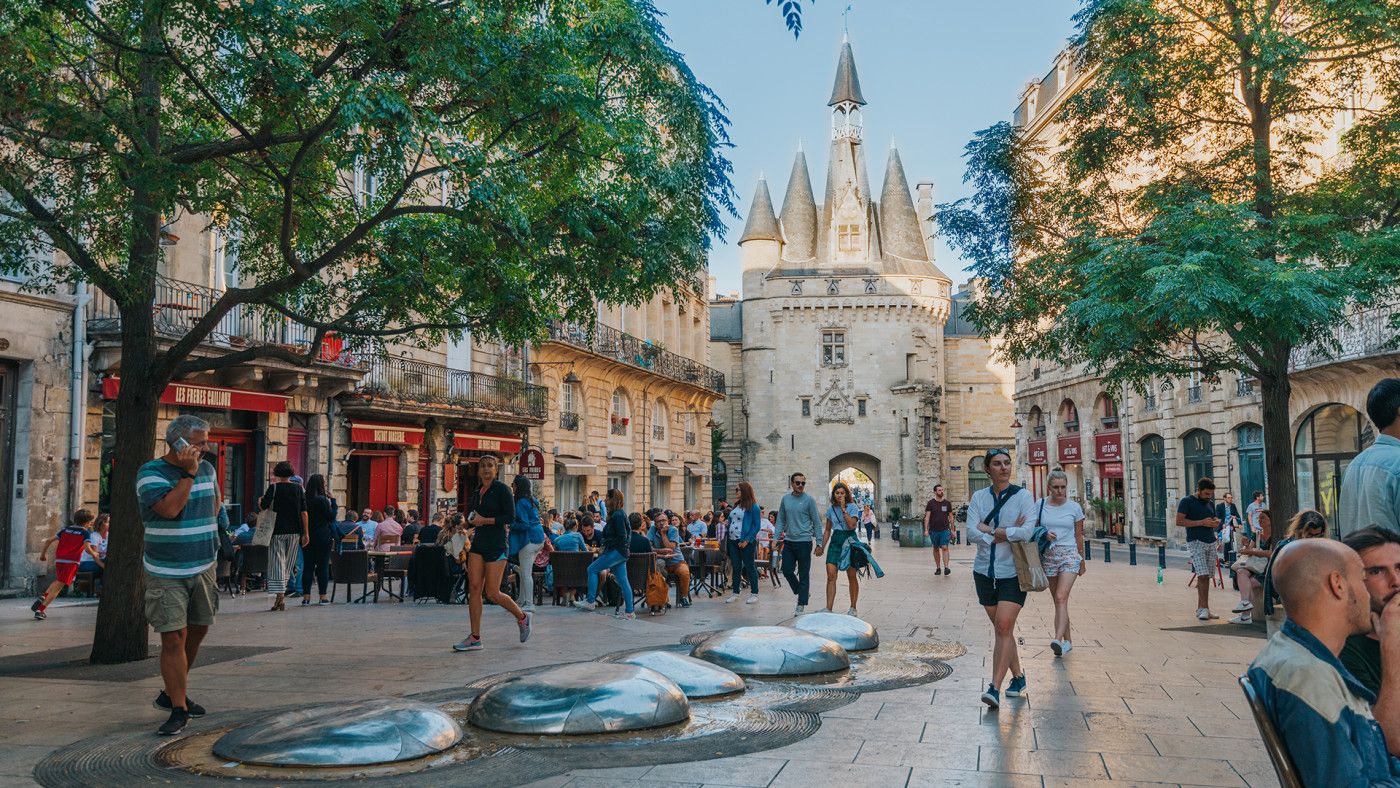 Place Fernand Lafargue - One of the city's trendiest hotspots
A few streets further on, make your way via Sainte-Colombe street to Place Fernand Lafargue. It was formerly known as the Place du Vieux Marché, surrounded by a myriad of stalls. Though its primary purpose was to cater to the people, it was also the place of choice for pillory punishments! Renovated in 2004, it is now a festive square, and one of Bordeaux's trendiest hipster haunts. 
These renovations have prompted many attractive shops, restaurants, and bars to open in the square's vicinity, attracting passers-by and guests. Whether you're keen on enjoying lunch, an ice cream, dinner, or a nightcap, you'll find it all here at any time.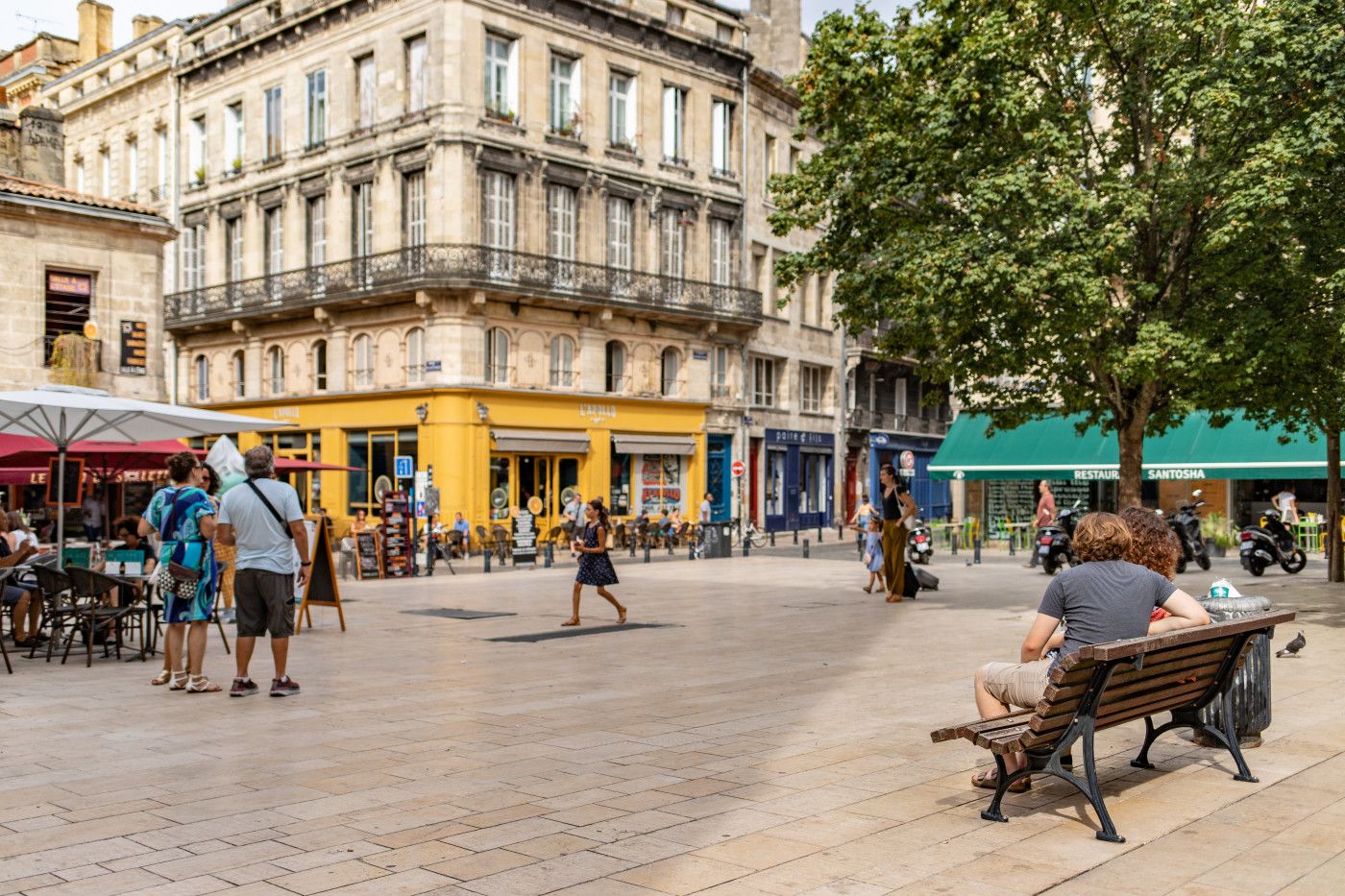 Place Saint Michel - Bordeaux from afar...
Place Saint Michel Often dubbed "Saint Michel" for short, but few know that its real name is Place Canteloup. With its tradition of welcoming foreign immigrants since the early 19th century, the square carries the memories of Bordeaux's cosmopolitan history.
Today, following its revamp, many comfortable terraces line the square. This hasn't stopped Saint Michel from retaining its vibrant soul, like a wild child born of all nationalities, resistant to any domestication. Every morning the square comes to life with its bustling market (bazaar and fabrics on Mondays, food on Saturdays, vintage clothes and bric-a-brac trade on other days, especially Sundays).
A favourite haunt for bargain hunters, this area is also known for its delicious mint teas, the best of Western France! If you have time, push along the rue Camille Sauvageau to discover the lovely age-old Sainte Croix church while sipping on a coffee under the trees of the Place Pierre Renaudel (... but remember to ask for the Place Sainte Croix!).