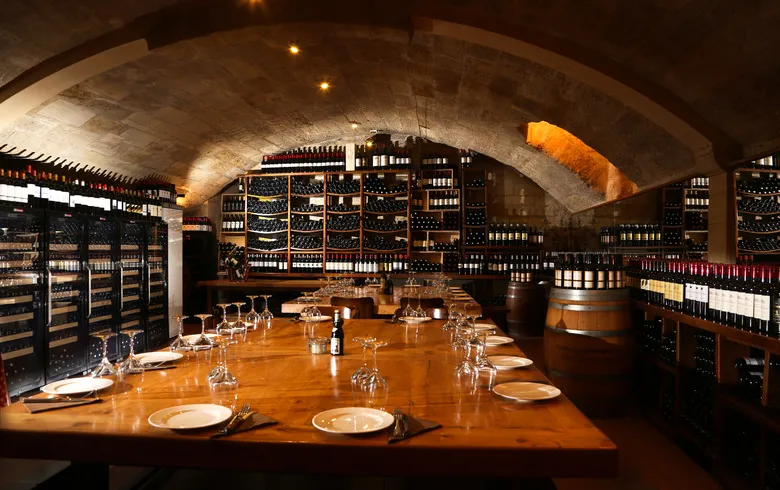 Bordeaux restaurants open past 10pm ?
You're just leaving the cinema, or predinner drinks that turned into dinnertime drinks, or simply you lost track of time… it's already 10pm and you're sure you've missed finding a restaurant in Bordeaux where you can eat with your family, friends, as a couple, or by yourself? Don't worry. Here are several suggestions for where you might pleasantly continue your night out.
The most festive spot: A Cantina – Comptoir Corse
On the ground floor, a tapas bar offers a variety of traditional bite-sized products in a festive atmosphere: bruschetta and piquillos stuffed with lamb, mini-burgers with veal and Corsican tome, cannelloni with Brocciu, breaded chicken accompanied with honey mayonnaise, apple friti with cheese and the unmissable assortment of cold cuts (lonzu, coppa, noce, prisuttu and sausage). For vegetarians: between zucchini fritters with mint and Cannelloni with Brocciu, mint, tomato sauce and fresh basil, there is sure to be something for everyone. As well, don't miss the famous Corsica Clementine confit served with grandma's favorite chestnut flour cake and hazelnut ice cream. Excited taste buds guaranteed!
For a more intimate atmosphere, we recommend the first-floor restaurant which takes reservations exclusively by telephone.
READ MORE 
14 Rue des Bahutiers
Du mardi au dimanche de 18 h 30 à 2 h.
+ 33 7 87 04 28 97
The most local restaurant : La Brasserie Bordelaise
A sonorous, warm atmosphere for all ages. A mix of quality products and hearty portion sizes. Just some of the marks of a good brasserie! These criteria have earned La Brasserie Bordelaise the reputation of a real Bordeaux institution. Businessmen, friends, lovers, and families all come together at this spot which celebrates the Aquitaine region from the appetizers on: try the delicious breadbasket and country pâté from Lou Gascoun. On the menu, find everything that's good about the Southwest: oysters from Charente Maritime and Cap Ferret, caviar from L'Esturgeonnière and Biganos, gratton de Bordeaux with foie gras, black pork ham from Bigorre, chicken des Landes roasted in juice, whole duck breast, lamproie à la Bordelaise with Saint-Emilion wine, etc. 
Last service at 11:30 p.m. (don't forget to book ahead!)
Read more
50 Rue Saint-Rémi
7j/7 de 12 h à 15 h et de 19 h à 00 h
+33 5 57 87 11 91
The most danceable restaurants: MAZAL AND YELED
Sarah and Samuel opened 'Mazal' (good star in Hebrew), this new culinary star in July 2021, and it was an instant success. The cuisine is Mediterranean with Levantine influences. The first service takes place in a cosy atmosphere, with subdued lighting, while the second is much more festive. From 11pm onwards, the sound goes up a notch, the team sets the counter on fire and customers are invited to dance on the bar - a festive atmosphere guaranteed!
A year later, the couple opened Yeled, with the same concept except that the menu focuses on seafood.

Read more
Mazal
4 Rue du Puits Descujols
Open daily from 7.30pm to 2am
+33 5 57 83 45 32

Yeled
14 Cours du Chapeau-Rouge
Every day from 12pm to 2am
+33 5 57 30 26 64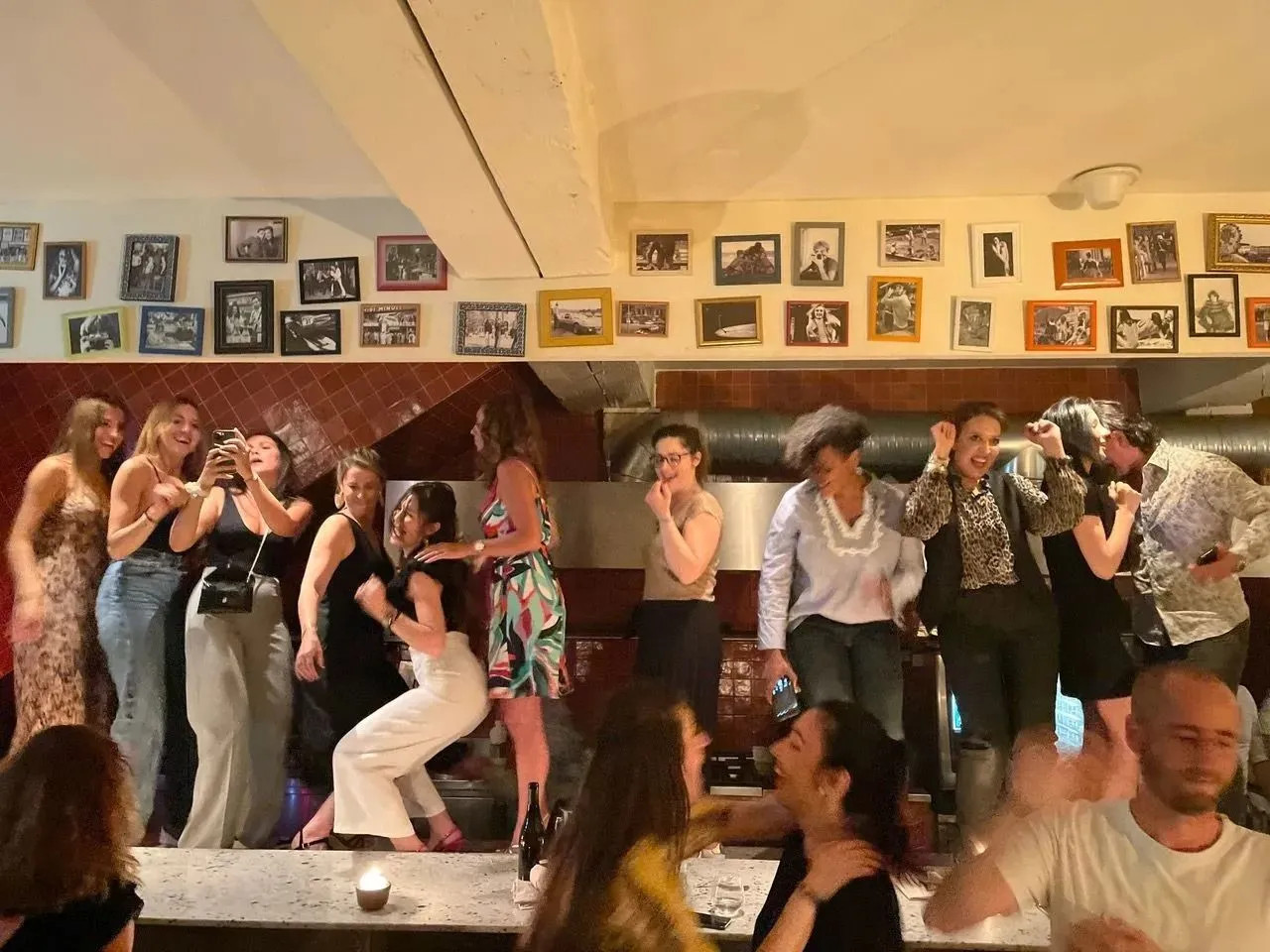 The most 90's restaurant: BRIQUE HOUSE
Welcome to the temple of beer in Bordeaux. Located on the Place des Quinconces, this new 300 m² taproom offers craft beers tastings in an colorful decor inspired by US pop culture. The concept, which has already proved popular in Lille, is already a big hit with Bordeaux fans of beer, pizza, burgers and other 90s specialities.
Read more
40 Allées d'Orléans
Monday to Wednesday 9am to midnight, Thursday to Saturday until 1.30am and Sunday until 11.30pm.
05 57 99 67 92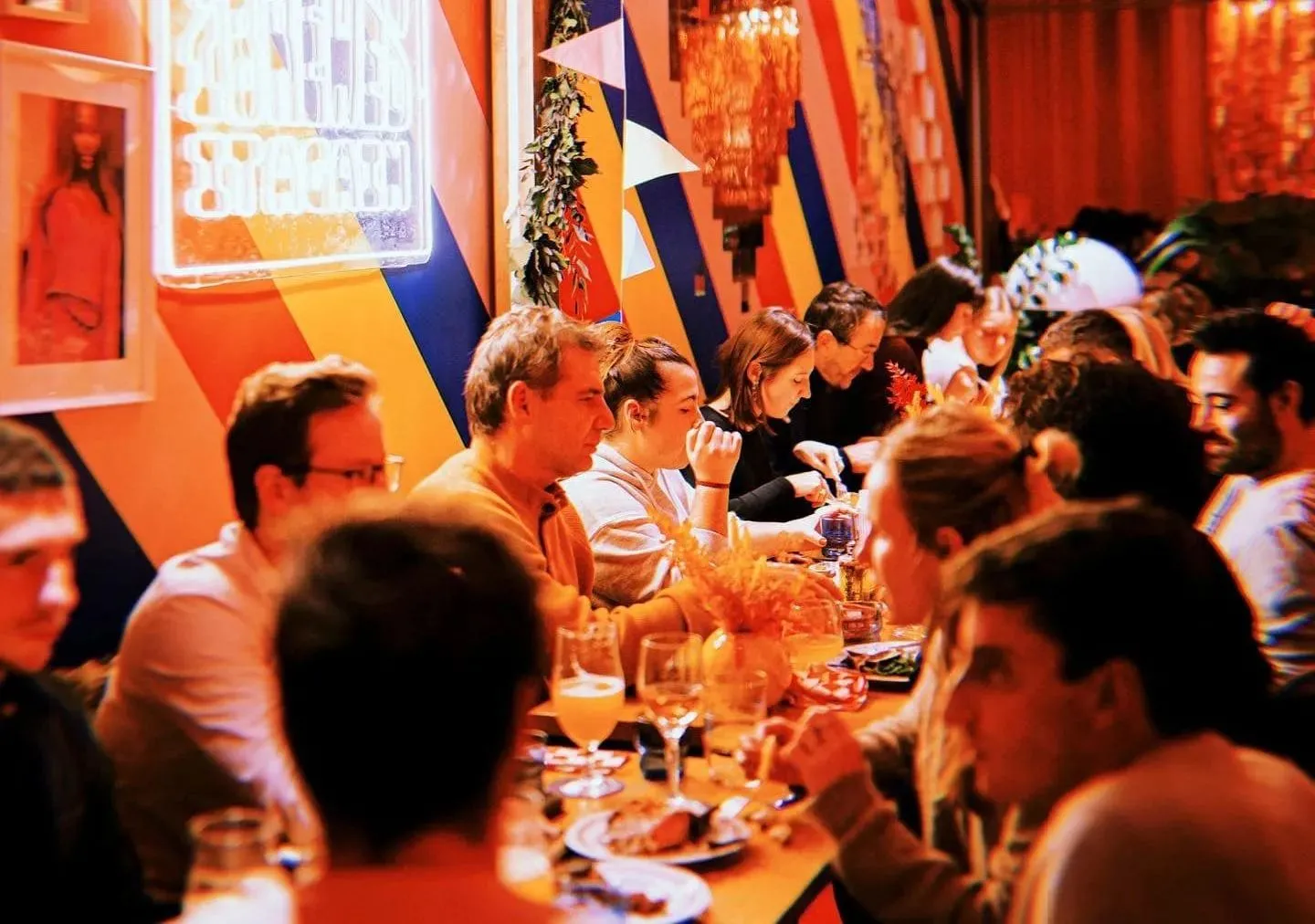 The most legendary restaurant: Le Cochon Volant
If this former Capus butchers has such notoriety, it's because for some time it was where partygoers and night workers would go to fill themselves with steak and fries or pork intestines at 4 o'clock in the morning. The hours have since been reduced but the atmosphere remains unchanged: the establishment is full of character. On this red and white walled bistro's menu: Bordeaux escargots (house special), sole, sweetbreads, lamb shanks, pigs' foot, prime rib of beef, Bordeaux eel, fried duck, head of veal, oysters, sausage, etc. 
Simple and friendly. 
Read more
22, place des Capucins
Du mardi au vendredi de 20h à 2h, samedi et dimanche de 12 h à 2 h (dernier service 1 h)  
+33 5 57 59 10 00.
The latest open restaurant: Chez Ludo
Theoretically this place, located just 50 meters from its pork-based, winged brother, is open until 4am. It is smart to make reservations, however, because service occasionally stops earlier. Simple, fresh, and tasty, the kitchen offers a nighttime meal centered around a piece of beef, tartare, or royal steak with foie gras (25 €). And for vegetarians, enjoy a delicious roasted camembert and homemade fries! For dessert, try clafoutis, strawberry pies or tiramisus.
read more
27, rue Emile Laparra
Du mardi au samedi de 22 h à 4h
Réservation + 33 9 81 49 36 47
The most parisian restaurant: Café des Arts
For those nostalgic for Parisian brasseries, the Café des Arts on the Cours Victor Hugo has retained all its art-deco bistro charm. On the menu, the great classics of French cuisine that delight all generations in all seasons.
read more
138 Cours Victor Hugo
Open daily from 8am to 1.30am
05 56 91 78 46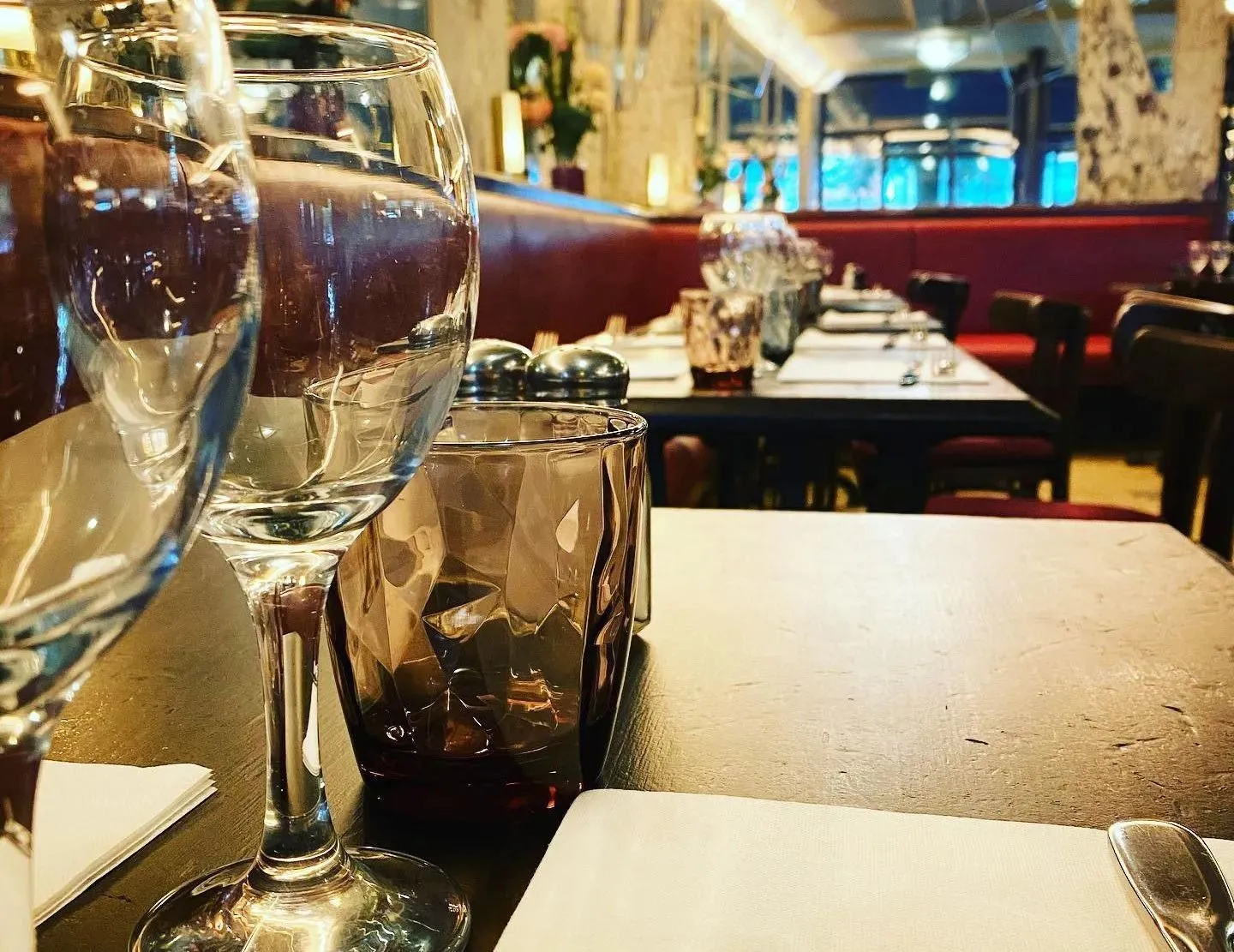 Hispanic atmosphere, a tapas bar?
When it's getting late and you want to chat and munch over a few glasses of wine, a tapas bar is definitely a good option, and there's no shortage of them in Bordeaux!
On Place St Michel, the Donostia welcomes you until 2am from Tuesday to Saturday, or the Auberge Espagnole, near Porte Cailhau, is open until midnight from Thursday to Saturday.
OR ARE YOU MORE INTO THE BRITISH PUB STYLE?
And if you prefer a pub atmosphere, you'll be spoiled for choice between the Frog & Rosbif, open every day until 1am, the Molly Malone or, on the right bank, the Central Pub, also open every day until 2am, and many others... In these establishments the beer flows freely and the food is rather basic, but suitable for the hungry.
The coolest restaurant: Mirabelle
Located in the Chartrons district (at the foot of the Camille Godard tram stop), this brasserie serves elaborate dishes made from quality seasonal produce at unbeatable value for money. The atmosphere is warm and friendly, in the kitchen, in the dining room and on the terrace.
read more
31 Rue Camille Godard 
Open daily from 11am to 1.30am
05 57 82 62 36