Visit a sustainable vineyard
60% of wineries are committed to adopting an environmental approach. Through the use of various methods including biodynamics, draught horses, and ecological corridors, they are paving the way for the fully sustainable vineyard of tomorrow. Via guided tours, Bordeaux wine estates are inviting visitors to discover these new approaches in the heart of the vineyards and the cellars.
Beehives and biodynamic winegrowing at Château La Dauphine
Among its varied tour options, Château La Dauphine offers a fun and instructive tour of its biodynamic vineyards, beehives, and vegetable garden grown through permaculture and aquaponics. Discover the multiple applications of the estate's unique environmental approach. The visit ends with a tasting of the château's wines, as well as honey and home-made merlot jelly.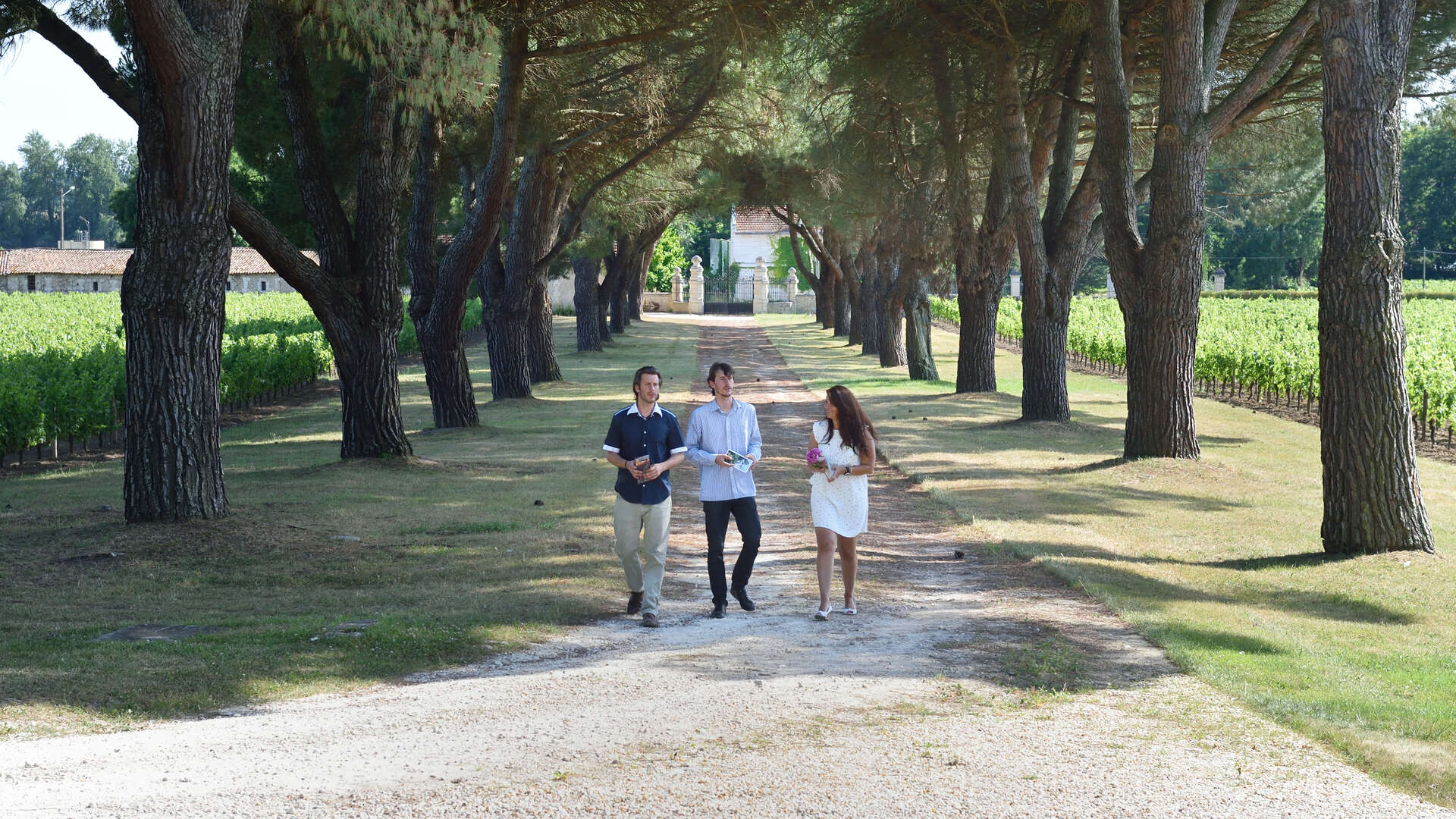 Rue Poitevine, Fronsac 
+33 (0)5 57 74 06 61  
To know more about it
The herbal tea house of Château Climens
Château Climens is one of the rare Bordeaux Grands crus classés to be certified as biodynamic. After visiting the vineyard and before heading to the cellars, you will discover the herbal tea room. This is where the owners concoct special herbal infusions specifically made to care for the vines and help them grow stronger. Visitors are then invited to learn more about this philosophy by watching a film on biodynamics, before taking part in a fun tasting session of the three Climens wines.
Lieu dit Plantey, 33720 Barsac
+33 (0)5 56 27 15 33
To know more about it
A conservatory of grape varieties and an organic vineyard
For more than 250 years, Château Guiraud has never ceased to pursue its passion: the making of great wine through organic farming and permaculture. Country hedges to promote integrated pest management, insect hotels and nest boxes, a conservatory of grape varieties, a natural water treatment plant... Discover all these environmental initiatives during a guided tour. Throughout the visit, you will familiarise yourself with all the mysteries of Guiraud by tasting the three wines produced at the estate, including the Premier Grand Cru Classé in 1855.
Château Guiraud, 33210 Sauternes
+33 (0)5 56 76 61 01 
To know more about it
A biodiversity trail
Twelve different ecosystems punctuate this 5-kilometre walk through the vineyard proposed by the Caves de Rauzan. Each of them is described on informative stands set up along the trail. In collaboration with the Conservatoire des Espaces Naturels, the Caves de Rauzan are carrying an inventory and monitoring of native species and local fauna and flora. The purpose of this mission is to analyse the interaction between the natural environment and the culture of the vine.
1 L'Aiguilley, 33420 Rauzan
+33 (0)5 57 84 13 22 
To know more about it
A wine storehouse made of local bio-bricks and lime plaster
Certified High Environmental Value Level 3, Château d'Eyran is also a "bat refuge". Having adopted a sustainable approach to winemaking, the estate grows green manure between its rows of vines to foster biodiversity. A windsock controls the direction and intensity of the wind to avoid treating the vines on windy days. This philosophy imbues the estate as a whole, down to the wine storehouse, comprised of locally-made bio-bricks, lime roughcast, and natural pigment-based paints. The building thus boasts remarkable thermal inertia.
20 Avenue du Sable d'Expert Saint-Médard d'Eyrans
+33 (0)5 56 77 54 37
Towards an eco-friendly vineyard
By 2030, all winegrowers will have to be certified as part of an environmental approach that meets the specifications of the Bordeaux AOC. To discover how the Bordeaux vineyard is making the transition to an eco-friendly vineyard, free of pesticide residues, the Winegrowers Cooperative of Tutiac offers a "Bordeaux vineyard 2030" tour. You will visit the experimental vineyard - more like an open-air research laboratory - where passionate wine professionals are inventing the vineyard of tomorrow. The tour will be followed by a tasting session of five wines from the Cooperative.
La Cafourche, 33860 Marcillac
+33 (0)5 57 32 82 83 
visite@tutiac.com 
To know more about it